If you don't have much credit history or need to improve your score, there are many ways to go about this.
Kikoff Credit promises to boost your credit score for a small monthly fee. Does it work? The team at Credit Summit signed up to find out.
Our Top Pick: Kikoff

No credit pull required
With 0% interest
Now available in all 50 states
Disclaimer: Credit Summit may be affiliated with some of the companies mentioned in this article. Credit Summit may make money from advertisements or when you contact a company through our platform.
Key Points
Kikoff is a legitimate program that can help you build credit
It costs $5 a month
The line of credit you get through the basic Kikoff account will boost your credit score, but you won't actually be able to spend any of your available credit anywhere but the Kikoff store, which only has a few options
Kikoff reports to all three major credit bureaus, depending on which products you use
There is no phone customer support, so you'll have to wait for an email reply if you have questions or problems
What is Kikoff and Will It Help Build Credit?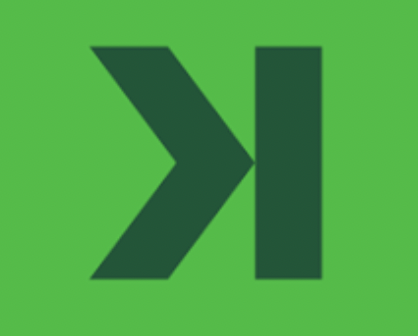 Kikoff is a credit-builder service. You pay $5 a month for access to "Kikoff Credit," which you can use for items in the Kikoff store, except you cannot use this to purchase Kikoff credit-building plans. You'll have to make that minimum monthly payment of $5 to build credit with the major credit bureaus.
Kikoff reports your payments to Equifax, Experian and Transunion — however, the credit bureaus Kikoff reports to will depend on which product you use. The Kikoff Credit Account reports to Equifax and Experian, while the Credit-Builder Loan reports to Transunion and Experian.
Kikoff at a Glance
Physical locations
None
How to get started
Sign up with Kikoff. You'll need to be 18 years old and have a Social Security number. As of July 2023, the service is available in all 50 states
Monthly service fee
$5, or $20 for the premium service
Credit check
No
Is this a credit card?
No
Which credit bureaus does Kikoff report to?
All three, but it depends on the product you use
Are there interest charges?
No
Is there a prepayment penalty?
No
Notable features
There are two kinds of accounts:
Kikoff Credit Account is a basic account to improve credit scores
Credit Builder Loan: Optional add-on to further build credit
Sign-up bonus
Earn $200 cash with qualifying deposits when you sign up for the Credit+ Cash Card
Pro tip: Kikoff is an excellent credit-building platform if you understand its limitations. Basically, you're paying $5 a month for a $750 "line of credit" that you won't be able to spend and the ability so save $10 a month as a credit-builder loan. But if your credit score needs significant work, this is a simple and inexpensive way to give yourself a boost. But if your credit score is already in the good to excellent range, this probably isn't the service for you.
Kikoff Accounts
They have two types of accounts and one credit-builder loan product:
Kikoff Credit Account: This is the standard product for all new Kikoff customers. This account builds monthly payment history and helps reduce your credit utilization. The Credit Account gets reported to Equifax and Experian every month and costs $5 per month.
Kikoff Credit Service Premium: The new premium service offers a larger credit line — $2,500 — that's reported to the credit bureaus. This will help lower your credit utilization, bumping your score higher. It also reports to TransUnion, meaning the account will be reported to all three credit bureaus once per month. The total cost for premium service is $20 per month.
Kikoff Credit-Builder Loan: This is an optional add-on for customers that want to build even more credit. Kikoff Credit-Builder is a 1-year savings plan for $10 a month. You'll be able to add this product after your first payment with the Kikoff Credit Account.
READ MORE: How to Check Your Credit Report
What Makes Kikoff Stand Out?
Here are a few of the notable features that make Kikoff stand out:
Revolving Line of Credit That Allows You to Purchase Items Through Kikoff
Kikoff can help people who otherwise wouldn't qualify for a credit card. The Kikoff Credit Account is a revolving line of credit that functions similarly to a credit card. It has a $750 credit limit that you can draw against to make purchases. Once you pay your balance off, you can reuse the funds. Note that all purchases must be made through the Kikoff store, which has a few disadvantages that we will get back to.
READ MORE: Insufficient credit or no credit score: What's the difference?
Credit-Builder Loan Option
After you commit to paying the $5 a month fee for 12 months, Kikoff members have the option to sign up for a Kikoff credit-builder loan. You can set up automatic or manual transfers from your bank account to deposit $10 monthly into the credit-builder loan. At the end of the year, Kikoff will give you the $120 you paid in. This can be a pretty easy way to build a small emergency fund and add a few extra points to your credit score, particularly if you don't have the discipline to save the $10 on your own. The extra payment will add a few extra points to your credit score over the course of a year.
READ MORE: Here are the seven best credit-builder loans
Kikoff Credit+ Cash Card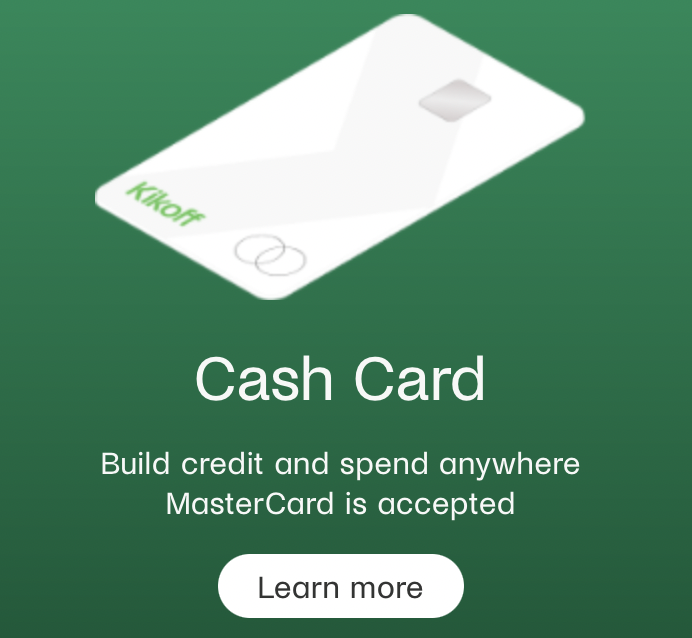 If you set up your paycheck to be directly deposited into your Kikoff account, you're eligible for Kikoff's "Cash Card," a MasterCard that works like a debit card. You can't spend more than the total that's in your account. The card offers access to your paychecks two days sooner than with a traditional bank account.
There's even a sign-up bonus: When you set up direct deposit on your new Kikoff Cash Card, Kikoff will deposit $200 into your account after three months of normal usage.
Deposit $50+ and your monthly spend will be reported to all three credit bureaus
No hidden fees or interest
Get cash-back rewards at grocery stores, restaurants, and more
With direct deposit, overdraw up to $20 without fees — the amount will increase the longer you keep your banking service with Kikoff, up to $200
Spend only the money you have (like a debit card) and avoid debt and missed payments
Your purchases are eligible for MasterCard fraud protection
The Cash Account is FDIC-insured up to $250,000 through Kikoff's partner bank
Reports to Some of the Credit Bureaus
Kikoff reports your monthly payments to Experian and Equifax. That's two of the three major credit bureaus. Kikoff says they report your payments to TransUnion only if you're "new to credit," upgrade to the premium plan or if you hold the Credit+ Cash Card.
READ MORE: Which credit bureau, report or score is most accurate?
Identity Theft Protection
If you fall victim to identity theft, Kikoff reimburses your expenses and helps cancel and replace ID and credit cards.
Spending Limits
When you sign up for Kikoff, you will be assigned a revolving credit limit. You'll see a listing for Kikoff Credit Account on your Equifax and Experian credit reported as a $750 revolving line of credit.
However, you will not receive $750 cash and cannot spend the $750 limit on purchases outside of Kikoff. Kikoff is not a spending account, and there is no physical card.
Instead, you are limited to making purchases from the Kikoff store. This will not be useful if you hope to use the $750 revolving line of credit to help with groceries or emergency car repairs.
What Can You Buy from the Kikoff Store?
Options at the Kikoff store are extremely limited — currently, it offers an array of video tutorials and ebooks, and ebooks are currently unavailable. And instead of deducting the items you purchase from your revolving credit limit, Kikoff extends your payment term. For example, if you purchase one video tutorial, your payment will be extended to $5 monthly for 16 months rather than the initial 12 months. But the extension will add a few extra points to your credit score. Unfortunately, at the moment there are very few items available in the "store."
Here are some of the options listed: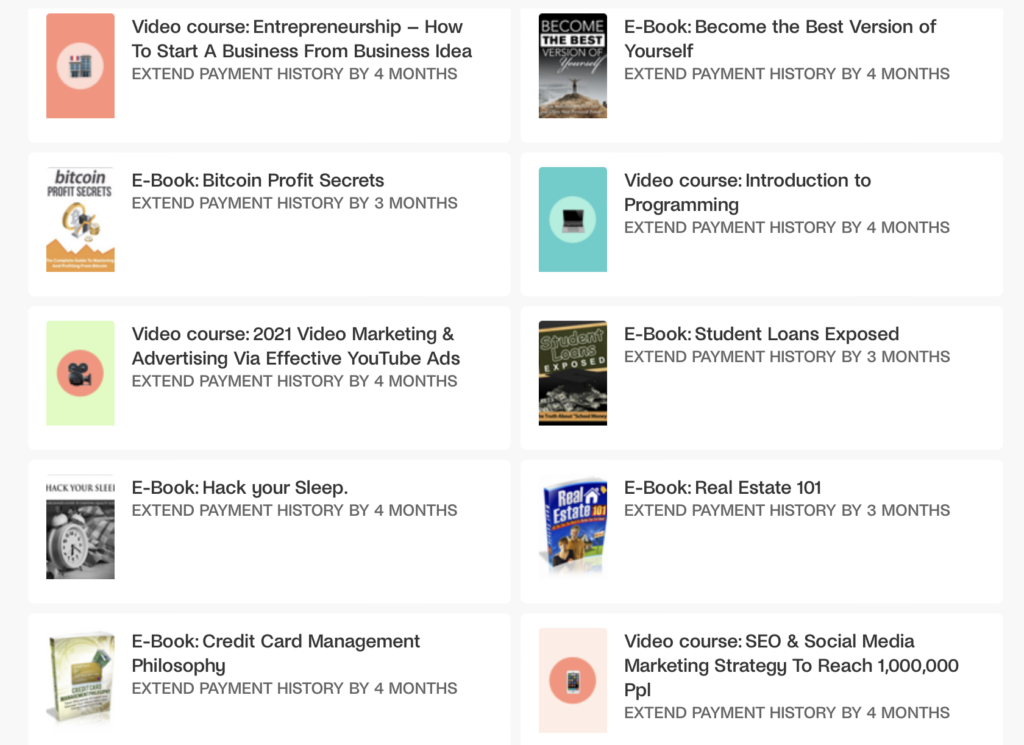 Some of the ebooks provide financial advice that could be useful, but ebooks were unavailable at the time this review was compiled.
For maximum value, Kikoff needs to add a few practical options to help people struggling to pay day-to-day expenses, like gas or meal credits.
The Kikoff store is difficult to find. It's buried on the mobile app at the bottom of the page with your credit card information under Visit Kikoff Store. It looks like this:

Pro tip: If you're signing up for Kikoff, you will be paying the monthly fee solely to boost your credit score and lower your credit utilization. At this point, the store offers no real value.
READ MORE: How to get a free credit score
Build Credit Responsibly
They have intentionally designed Kikoff products to help you build credit responsibly (and not increase your debt). Your $750 limit enables you to achieve a lower credit utilization rate, which benefits your credit.
READ MORE: Why Did My Credit Score Drop?
Limited Scope
Kikoff is not a bank. It offers a limited number of products, all of which are pretty bare bones. Customer service is responsive, but an average question took about three days for a response.
Update: As of July 2023, Kikoff is available in all 50 states. Previously it was unavailable in Delaware and Indiana.
Fees and Penalties
Kikoff doesn't charge interest, so if you don't pay off your balance, you won't accrue any interest charges.
Kikoff also doesn't charge fees — aside from the $5 monthly service fee — but missing a payment can hurt your credit score. Though there are no late fees, paying any bill 30 or more days late can seriously damage your credit, and Kikoff is no exception. If you go 180 days with no payment, your Kikoff account could be closed and you'll be unable to reopen it.
Pro tip: Kikoff uses Plaid to connect to your bank account. You can't just set it and assume that your payment will be made each month. You will need to log in periodically to ensure that your bank account is still connected. For some reason, Plaid will unlink your bank account over the course of a few months. And if your bank isn't compatible with Plaid, you won't be able to sign up for Kikoff.
READ MORE: Cash advance apps that don't use Plaid
Pros and Cons of Kikoff
Kikoff has some potential advantages but also a few disadvantages:
Pros
It may help you build credit
No credit check
No interest
No additional fees beyond the monthly subscription
Officially recognized by the big three credit bureaus
100% commitment to data protection and security
Easy to use — just set it up and forget it
Customer service is responsive
Cons
Not available in all states
The credit line is capped at $750
Can only use credit line at Kikoff store
$5 monthly subscription fee
The Kikoff store is not accessible through mobile apps, only through desktop
Kikoff store products are difficult to find on their site and selections are extremely limited
No phone support
The subscription fee is set to renew each year automatically. You must manually disable it if you only want the service for one year.
How does Kikoff stack up against other credit-builder loan products like Credit Strong or Self? Check out this video:
Does Kikoff Offer Cash Back?
No, Kikoff does not offer most traditional banking features. However, if you sign up for Kikoff's credit-builder program, you will give them $10 a month, and after a year, they will send you $120. That's your money being returned, but the credit-builder plan can boost your credit score and help you build a small nest egg.
The Kikoff App
Kikoff has both Android and iOS apps. Their app is the best way to get updates and ensure you get the best Kikoff experience, but you cannot access the Kikoff store through the apps. The store can only be accessed through desktop. Kikoff also has strong ratings on both app stores. It has a 4.9-star rating on the iOS app store, for example, with 31,000+ reviews, and a 4.7-star rating on the Android app store, with 22,600+ reviews.
Here is a review from Apple's App Store detailing some of the misconceptions people have: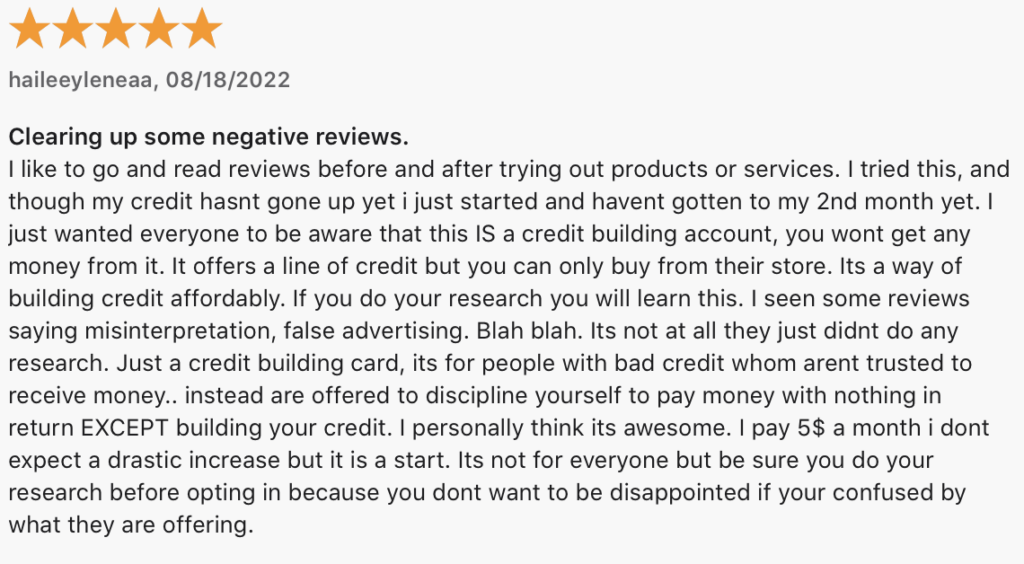 This review from the Google Play store clears up some of the confusion about how Kikoff works:

Is Kikoff Trustworthy?
Kikoff's site says they are 100% committed to your data privacy and security. They always use bank-level encryption in all data transmissions, use your data for identity verification with the credit bureaus, invest in fraud prevention, and comply with federal laws. They vow never to share or sell your data to third parties without explicit consent.
Kikoff Customer Service
Kikoff does not offer phone support, so if you have questions or problems the only option is to contact them by email. While a lot of reviewers claim that customer service is not responsive,
What are Customers Saying about Kikoff?
Kikoff's file with the Better Business Bureau (BBB) opened on July 13, 2021. Kikoff is rated C+ with 1.52/5 stars by the BBB. Most of the negative reviews are geared toward confusion about the service and/or limited customer service. There appear to be quite a few customers who sign up assuming that uses for the $750 revolving credit limit would be a bit more flexible. Other people said they never signed up for the service at all, or tried to cancel once they found out the limited scope of the service. Some tried to stop payments and ended up hurting their credit scores.

It's important to note that Kikoff is NOT a scam. It is a legitimate service, although the terms of how it works are unclear until you've signed up, at which point you're committed to giving them $5 a month for a year. If you then try to stop those payments, Kikoff will report your account as delinquent.
There have been a few people who've benefitted from Kikoff's service: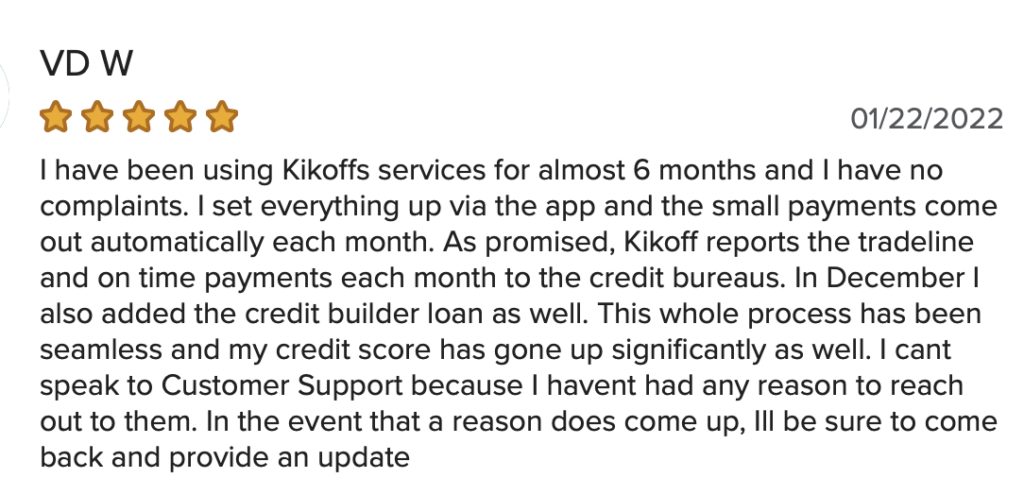 Trustpilot ratings have them at a 3.5/5. About 50% were 5-star ratings, and 44% were 1-star ratings.

Not everyone on TrustPilot has had such a positive experience: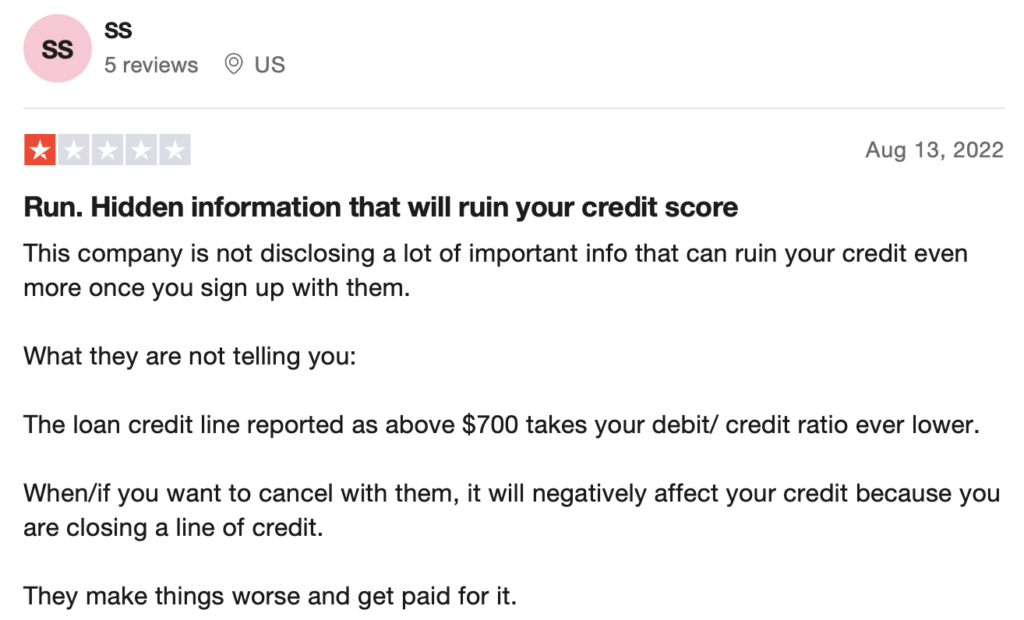 This reviewer raises an interesting point about credit utilization ratios. If you sign up for this service, use it to build your credit score and then close the account. You will lose the $750 revolving line of credit, your credit utilization ratio will increase and your average age of credit will decrease. These are both key factors in determining your credit score. To prevent your credit score from temporarily falling, you will probably need to maintain the service until you boost your credit score enough to qualify for a low-limit unsecured credit card or have enough savings for a secured credit card. Once you've opened a new account (and maybe use it responsibly for a couple of months), you can cancel your Kikoff service and shouldn't take much of a hit for losing that particular line of credit.
READ MORE: Credit Score Statistics
Is Kikoff a Scam?
Kikoff is not a scam. It is a legitimate company that will help you boost your credit score. But it will only help you if your score is already significantly damaged, or you're just starting out with credit. If you already have good to excellent credit, it won't be worth the service fee because your score will only increase by a handful of points.
Also, keep in mind that while Kikoff is issuing you a line of credit, you technically can't use it to buy day-to-day items like groceries. It's really only a credit line on paper. There is not much in the Kikoff store right now that's worth buying.
What are Some Other Credit-Builder Loan Options?
Self is an online lender is a credit builder who does loan amounts between $520 to $1663. Terms range from 12-24 months. You can choose from 4 plans with the payment term and dollar amount that fits your budget. You can build a credit history for as little as $25 a month. You can automate payments and track how your credit score changes over time. When you open a Self account, you can qualify for a Self Visa credit card in as little as three months.
CreditStrong starts at just $15 a month with seven plans to choose from and is available for up to 120 months. There is a $15-$25 non-refundable fee. You can close your account at any time with no cost or penalty.
Credit Builder Plus is MoneyLion's program to help build or rebuild your credit. They give you access to a portion of your loan funds right away and access to 0% APR cash advances of up to $300 per period. Loans up to $1000, sets up automatic payments timed to your pay cycle and establishes 12 months of payment history.
Grow Credit is one of the best credit cards to build credit using everyday purchases. It allows you to establish credit as you pay for qualifying monthly subscriptions, including eligible bills, TV, music, and other streaming services. You pay the bill in full each month and build credit. They have four membership tiers.
The Bottom Line
Overall, Kikoff is a solid product that lets you build better credit simply and for a very low price. It is one of the lowest-priced credit-building services out there right now. There's almost no reason not to use Kikoff if you want to improve your credit — as long as you're clear on how it works and willing to shell out the $5 fee.
Kikoff isn't the only tool available to boost your credit. It would be best to consider additional options such as secured credit cards, rent reporting, signing up for products like Experian Boost, Perch Credit, and Grow Credit Mastercard. By taking a more balanced strategy toward building your credit, you'll be able to consistently improve your credit scores and enjoy a brighter financial future.
FAQs
Is Kikoff a Scam?
Kikoff is not a scam. However, many customers seem to be confused about how it works, and then once they've signed up, they try to cancel. When you sign up, you are committing to pay Kikoff $5 monthly for 12 months, or $60. If you remove your credit card and stop payment after a month, they will continue to report any missed payments as delinquent. This can happen even if you cancel your service because you've already committed to 12 months. Be aware of how the service works before you sign up.
Is Kikoff Secure?
Their site says they are 100% committed to your data privacy and security. Kikoff always uses bank-level encryption in all data transmissions. It may seem like Kikoff needs a lot of personal information to set up your initial account, but the company must use that data for identity verification with the credit bureaus and to comply with federal laws.
What Items Can You Buy Through the Kikoff Store?
One of the biggest perks of a Kikoff account is the ability to use your credit limit to purchase items and build your credit score. Unfortunately, with Kikoff you can only shop through the Kikoff sore, where purchase options are extremely limited. The options are primarily outdated video tutorials and ebooks, with a disclaimer that ebooks are currently unavailable. So if you're hoping to use your Kikoff credit limit to cover day-to-day expenses, that won't work. Instead, you'd have to set up direct deposit and sign up for the Kikoff Credit+ Cash Card.
Are Apps Like Kikoff Better than Payday Loans?
Aside from tribal loans and title loans, just about anything will be better than a payday loan. Payday loans are short-term, high-interest, low-limit loan amounts, usually around $500, that help cover immediate, emergency cash needs that are meant to be repaid at your next paycheck. The average interest on these loans is 391% for a 14-day loan. Fast and easy is the draw for this type of loan. But quick and easy doesn't mean cheap. The interest rate says it all.
What is a Cash Advance App?
A cash advance app allows you receive a short-term loan of money you've already earned. They're sometimes called paycheck advance apps or earned wage access apps. They can be an excellent alternative to payday loans when you need some quick cash but your credit is too poor to qualify for a traditional loan. These companies don't charge interest on the loans. Some charge a small monthly fee, and request tips. If you pay careful attention to how much you're tipping, these can be an affordable alternative to other short-term loans.