Whether you need $500 to have a tooth pulled or $2,000 to purchase a used car to get you to work and back, you'll want to go with a company that is quick to fund their approved loans. Big Picture Loans fits this bill; however, their terms may make it difficult to pay back the loan in full. Will Big Picture Loans get you out of your immediate financial jam? Let's take a look at the bigger picture.
Featured Alternative: DebtHammer

Break the borrowing cycle
Can help with many types of debt, including payday and tribal loans
Friendly and helpful customer support – no judgment
What You Need to Know About Big Picture Loans
Big Picture Loans is a tribal lender that offers installment loans for personal use. The company states right on the homepage of its website that 94% of applications are accepted, and it begins originating all approved loans the next business day.
The company is owned by the Lac Vieux Desert Band of Lake Superior Chippewa Indians Tribe, which operates out of the tribe's reservation in Watersmeet, Mich. The company has been in business for eight years.
Extremely high interest rates that match, and often exceed, the rates of a payday loan are what you'll find at Big Picture Loans. The average payday loan APR is 391%, according to the Federal Reserve Bank of St. Louis. Big Picture Loans lists the APR range for first-time customers as 350% to 699%; the example used on its website has an APR of 350% (the minimum.)
Under this example, a borrower who takes out a $1,000 loan will pay $922.92 in interest (this is in addition to the $1,000). And that's only if every payment is made as scheduled.
Is Big Picture Loans Licensed?
What customers need to be aware of is that the Lac Vieux Desert Band of Lake Superior Chippewa Indians Tribe is a federally recognized Indian tribe that does not have to abide by state laws. That means they don't have to be licensed by the state and can charge interest rates that exceed the state's maximum of 390%.
Big Picture Loans proudly displays a "Financial Services License" on their website. Potential borrowers should be aware that this is not a state license and is issued by the tribe's own regulatory agency. There are zero checks and balances with this company, as they are not even members of the Online Lenders Alliance, which is an organization that other tribal lenders choose to join.
Typical Loan Terms of Big Picture Loans
Since Big Picture Loans offers installment loans, they are most like personal loans. The funds can be used for medical emergencies, big purchases, and even vacations. Unlike personal loans, these installment loans come with payday loan-type interest rates. Below is a list of the terms associated with Big Picture Loans' installment loans.
Ability to borrow between $200 and $3,500.
Loan ranges of 4 to 18 months.
APR ranges of 350% to 699% for new borrowers.
The lowest APR for a returning customer is 35%.
Funding available the next business day.
Online Reputation
After you've reviewed the terms associated with a Big Picture Loan, it's best to do a quick internet search to check the company's online reputation. This will give you a better idea of what actual customers have to say about the company.
The Better Business Bureau (BBB) is a good place to start.
In this instance, Big Picture loans earns a grade of A+, but a customer rating of 1.31 stars out of 5.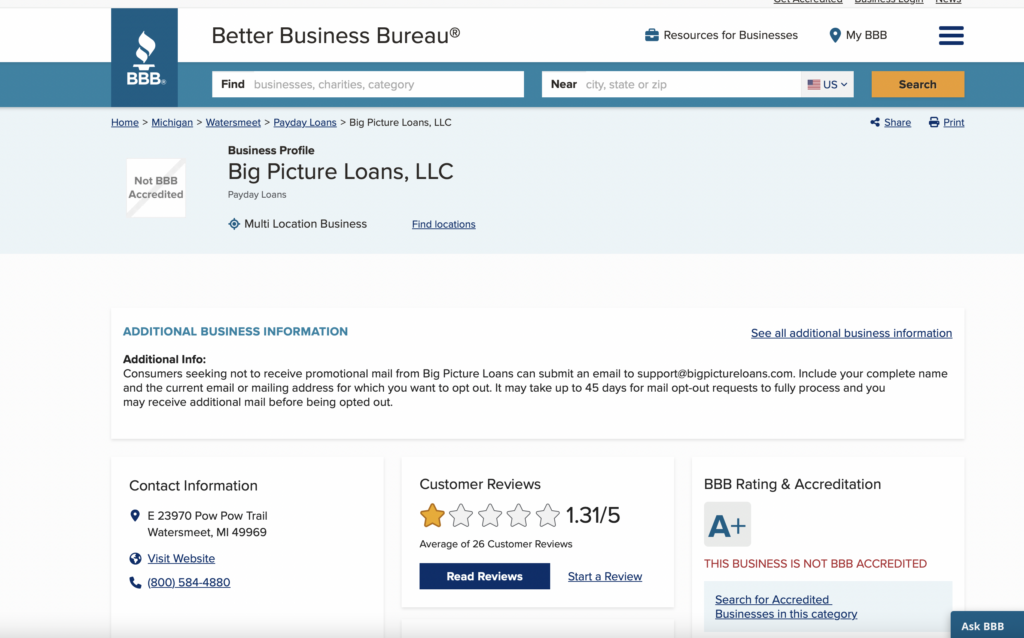 BestCompany.com collected more than 170 user reviews. Those users collectively rated Big Picture Loans at 1.2 stars out of 5. Again, the astronomical interest rates were a common complaint. Many customers also stated that Big Picture Loans wanted to do a three-way call with their banks. One customer even stated that Big Picture Loans requested their bank login information. Misleading information and poor customer service were also issues multiple users mentioned in their reviews.
Several Big Picture Loan customers also went on RipOffReport.com to warn other potential borrowers to steer clear of the company. One user called the loan "the worst mistake of my life."
Pros of a Loan with Big Picture Loans
Fast approval with funds available in as little as 24 hours.
Individuals with poor credit are considered.
No prepayment penalties.
Loans are available in all 50 states plus the District of Columbia.
Complimentary "Financial Wellness" program that provides customers access to information and resources that are designed to help improve one's financial health.
Cons of a Loan with Big Picture Loans
Returned payments, late payments, and non-payments may result in additional fees and charges.
Some of the highest interest rates on the market.
Customer service department has a bad reputation.
Does not have to follow state rules and regulations.
How to Apply for a Loan with Big Picture Loans
Should you wish to go forward with applying for a loan through Big Picture Loans, you'll be pleased to discover that it takes less than 5 minutes to fill out the online application. Follow the steps below to get started.
Check that you meet Big Picture Loans' minimum eligibility requirements. These include being at least 18 years of age, having a permanent U.S. residence, having a steady income of at least $700 per month, having a bank account that's in good standing, and having a valid phone number.
Click the green "Apply Now" button on the company's website.
Fill out your personal information in the provided boxes. Next, check whether or not you'd like to receive text messages. Read the Consent to Electronic Communications and Privacy Notice and then check the box that you have completed this task. Finally, create a username and password for your account.
Fill out your financial information in the provided boxes. This includes details about your current job, as well as the information associated with your bank account.
Review the application to ensure that the information you provided is correct. Click the "Submit" button.
Better Alternatives to Big Picture Loans
Loans with sky-high interest rates often cause borrowers to get trapped in a vicious debt cycle. While quick access to emergency cash may seem appealing, it is important to consider the long-term affects of the loan. Instead of taking a chance with one of Big Picture Loans' high-interest installment loans, consider one of the following alternatives:
Payday Alternative Loan (PAL): If you have an account with a federal credit union, you can apply for a PAL. The interest rate for a PAL never exceeds 28% and the application fee is always $20 or less. With a PAL I, borrowers can request up to $1,000. A PAL II loan ups that amount to $2,000. This is a much better deal than what you'd get with Big Picture Loans.
Negotiate a payment plan: Depending on what you need the loan for, you may be able to negotiate a payment plan. Dentists, for example, are often willing to set up a payment plan for emergencies, such as root canals and tooth extractions. Utility companies can also average out the costs of their services over the course of a year and put customers on a budget plan. It never hurts to ask!
Payoff: Borrowers looking for a loan to pay off their high-interest credit cards will want to consider Payoff.com. This company charges between 5.99% APR and 24.99% APR on loans of up to $40,000. Loans are available in all states except Massachusetts, Mississippi, Nebraska, and Nevada. The best part about a loan with Payoff is that it's designed to give your credit rating a boost of 40 points or more.
Hold a yard sale: Almost everyone has a house full of stuff they just don't need or use. These items can be sold at a yard sale or online venue, such as Craigslist or a local Facebook Swip-Swap group. Start off going through each room in your home and taking out any items that you haven't used in the last 12 months. Next, put the items up for sale via your preferred platform. In just one week, you may have enough to completely cover your unexpected expense.
Get a pawn shop loan: If there are a few valuable items in your collection that you just don't want to part with at a yard sale, you can take them to a pawn shop to be used as collateral for a loan. As long as you pay the pawn shop loan back on time, your items will be returned to you. You may only wish to go this route if you're sure that you can meet the terms set forth in the loan agreement.
Cash advance apps: Try downloading a cash advance app (Earnin is a good one) right to your smartphone. It's free. These apps allow customers to get an advance on their next paycheck. Users usually aren't charged any interest or fees, instead they ask customers to leave a "tip" for the service.
The Bottom Line
If you feel like Big Picture Loans is your only option, be sure you're checked out all of the other alternatives before completing the application, and carefully read the terms and conditions. You don't want to end up paying an extra $1,000 to borrow the initial $1,000.