Personal loans are often a great way to meet unexpected needs. Of course, not all lenders are equal in what they offer their borrowers. If you're considering a personal loan with American Web Loans, here's what you need to know.
Featured Alternative: DebtHammer

Break the borrowing cycle
Can help with many types of debt, including payday and tribal loans
Friendly and helpful customer support – no judgment
What is American Web Loan?
American Web Loan is a lender that is wholly owned by the Otoe-Missouria Tribe of Indians. Since it is federally recognized as a sovereign American Indian nation, it is not bound by any state laws. The tribe itself has lived in the Missouri River Valley since the 1600's. The business, however, has only been in operation for the last 10 years.
The personal loans offered by American Web Loan resemble payday loans in two ways. First, they have astronomical interest rates. The average payday loan APR is 391%, according to the Federal Reserve Bank of St. Louis. American Web Loans charges a whopping 600% to 780% APR. Second, the company bases their repayment schedule on the applicant's payday schedule. Unlike payday loans, which have to be paid back with the next paycheck, American Web Loans' personal loans can be paid back over a longer period of time.
READ MORE: What is a tribal loan?
Is American Web Loan Licensed?
As a tribal lender, American Web Loan is not required to be licensed. They list their physical address as Stillwater, Okla. The Better Business Bureau (BBB) actually conducted an investigation on the company and contacted the Oklahoma Department of Consumer Credit. The Oklahoma Department of Consumer Credit confirmed that American Web Loans does not possess a deferred deposit lender license. The department commented that while all payday lending companies in the state are required to obtain a license, they don't have to follow the rules if they are owned by a Native American tribe.
American Web Loan states that they are licensed and regulated under the Otoe-Missouria Tribal Consumer Financial Services Ordinance. Note that this is not the same as a state license and doesn't meet state requirements. Additionally, the Otoe-Missouria Consumer Finance Services Regulatory Commission is listed as the regulatory agency for American Web Loan, yet at the time of writing this article, the website for the commission is expired.
On the American Web Loan website, you'll also see the logo for the Online Lenders Alliance (OLA). This organization requires members to abide by a list of Best Practices and a Code of Conduct. Customers who feel that American Web Loan isn't living up to these standards are free to contact the OLA Consumer Hotline at 1-866-299-7585.
Typical Loan Terms of American Web Loan
There are no restrictions on how you can use the funds provided by an American Web Loan personal loan. In fact, the company won't even ask you what you need the money for. You can use the loan to pay for college textbooks, an auto repair, a new refrigerator, and even a family vacation.
Below are the specific terms you'll find when taking out a loan with American Web Loans:
Loan amounts between $300 and $2,500.
Repayment terms of 6, 9, or 12 months.
Payments are made weekly, every other week, twice per month, and monthly, depending upon how often you receive a paycheck.
Interest rates between 600% and 780%.
Online Reputation
All of American Web Loan's customers are online customers, so it makes sense to check online reviews to see what type of reputation the company has. The Better Business Bureau (BBB) is a good place to begin that search.
Currently, the BBB has a number of complaints about American Web Loan. Of those complaints, many are in regard to the high interest rates and an unclear payment plan. Another quarter of the complaints were from consumers who received wire transfers from American Web Loan even though they had never applied for a loan. American Web Loanas not BBB accredited. It also awarded the company a "B+" rating, even though customers give the company just 1.15 stars out of 5.
Here are some sample reviews: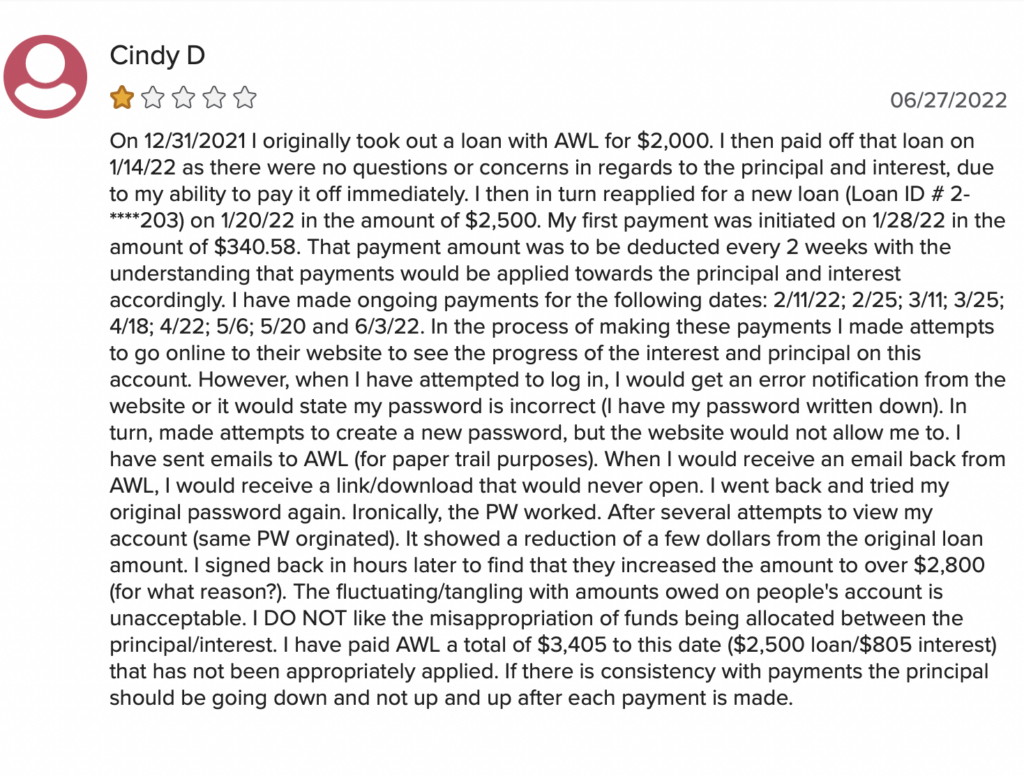 WalletHub is another company that allows consumers to leave reviews on various lenders. Reviews from more than 60 American Web Loan customers have earned the lender a rating of 1.3 out of 5 stars. Several of the customers called the company a "predatory lender," stating that the loan terms were either not made clear or were different than what was originally quoted. For example, many of the customers believed the repayment amount they were quoted was monthly; however, it turned out to be biweekly. One reviewer urged others to read the fine print, as she ended up paying $1,300 in interest on her $500 loan.
Class-Action Lawsuit
American Web Loan was involved in at least one class-action lawsuit. Anyone who took out a loan with this company between the dates of February 10, 2010 and June 26, 2020 may be entitled to a cash payment. For more information, head to AWLsettlement.com.
Pros of American Web Loan
Quick decisions after submitting an application.
Loans approved by 11:00 a.m. can be funded the same day.
Ability to manage your account using an app on your phone.
No prepayment penalties.
Loans are available for individuals with poor credit, as well as no credit.
Cons of an American Web Loan
Loans are not available in Arizona, Connecticut, Georgia, New York, and Vermont.
Exuberant interest rates that can trap you in a cycle of debt.
Hard pull on your credit during the application process.
Does charge origination and late fees.
Only small loans are available.
How to Apply for a Loan From American Web Loan
Before applying for a loan with American Web Loan, you must first make sure you meet the company's eligibility requirements. These include:
Being at least 18 years of age.
Having no bankruptcy history or any plans to file bankruptcy.
Not being in active duty for the military.
Not being a dependent of someone who is in active duty for the military.
Meeting certain income requirements.
Having an active bank account.
Not having any current loans with American Web Loans or a previous history of defaults on an American Web Loans loan.
Once you know you meet the company's eligibility requirements, you can click on the yellow "Apply Now" button on American Web Loan's homepage. Follow the prompts to enter your name, address, birthdate, social security number, driver's license number, and telephone number. The next page will require you to enter all of your financial details, such as income information. Click the "Submit" button after you've verified that all of the information you entered is correct.
Better Alternatives to American Web Loan
A loan with American Web Loan may not be the best solution to your money troubles. Instead, consider one of the following alternatives, which offer better terms and aren't designed to keep you trapped in debt.
Credit counseling services: Many banks and credit unions partner with credit counseling agencies to offer free services to their customers. For example, Franklin Mint Federal Credit Union partners with Clarifi. Other financial institutions employ their own credit counselors, giving customers direct access to help when they need it. Pelican State Credit Union is one such company. They have seven credit counselors on staff.
Payday alternative loans: These are small loans that are issued through credit unions. They're paid off over a longer period of time than payday loans, so you have some time to get your financial situation back on track.
An advance from your employer: If you've been with your current place of employment for longer than a year, you can ask your boss for an advance on your paycheck. As long as you've proven yourself to be trustworthy and a hard worker, there's a great chance the employer will say yes.
Take out a personal loan with Signature Loan: SignatureLoan.com has personal loans of $1,000 to $35,000. Their interest rates range from 5.99% to 35.99%, which is a heck of a lot better than American Web Loan's 600% to 780% interest rates. Signature Loan also gives customers the option to repay the loan in as little as 90 days or as long as 72 months. If you have poor credit, they will accept a co-signer.
Join a lending circle: If you have a steady income and a debt-to-income ratio that is less than 50%, you can join a lending circle. A lending circle requires its members to contribute a certain amount of money each month (some circles are bi-weekly). Typically, these circles are made up of 6 to 12 individuals. Terms are set when the circle is formed, including how much can be borrowed from the group at once. Members then take turns obtaining a loan, as a need arises.
Get a part-time job: A temporary part-time job is a great way to raise the money needed for important home repairs and past-due medical bills. Although you may be tired from working your regular full-time job, the second job on nights or weekends is only necessary until the debt is paid off. Let's say you need $500 for a new washing machine. If you work an extra 10 hours a week at $15 an hour, you only have to work the part-time job for a little over three weeks to have the $500.
Cash advance apps: Download a cash advance app (Earnin and Dave are good ones) on your smartphone. It's free. These apps allow customers to get an advance on their next paycheck. Users usually aren't charged any interest or fees, instead they ask customers to leave a "tip" for the service.
The Bottom Line
American Web Loan has an established pattern of predatory lending. The class-action lawsuit and reports of excessively high interest rates are good reasons to look elsewhere before you consider borrowing from American Web Loan.