When you need to come up with cash quickly, payday lenders, tribal lenders, and short-term installment loans can seem like your best bet. After all, they're everywhere and they all promise that getting and paying back the loan is super easy. What's not to love? A lot, as it turns out. If you can't pay the loan back on time, interest rates and fees can leave you drowning in debt.
Let's take a closer look at just one of these lenders: Little Lake Lending. 
Drowning in online payday loan debt?
Credit Summit may be able to help.
Key takeaways: Little Lake Lending is unlicensed and generally has poor customer reviews. It offers short-term loans of up to $2,500, but the interest rate you'll pay will likely range between 720% to 795%, depending on your repayment schedule. Little Lake's status as a tribal lender allows it to sidestep state laws intended to cap interest rates on short-term loans. It's best to check your other options before committing to a loan from Little Lake Lending.
Borrowing from Little Lake Lending
Little Lake Lending is a "short-term loan" lender based in California. They offer short-term, small-balance installment loans to people who need cash ASAP. According to the front page of their website, they offer "loans up to $2,500" and promise that, most of the time, loan funds will be deposited into a borrower's bank account the business day after the loan is processed (and, presumably, approved).
Here's a quick snippet from their website:
"Little Lake Lending wants to make borrowing easier by making sure you receive your funds as quickly as possible and by not charging you penalty fees for paying off your loan early. In most cases, we can have funds delivered to your account the business day after your application has been processed.* Our highly-rated Relationship Managers are available 24/7 to answer your questions, assist with payments, and provide any additional support you may need."

Little Lake Lending website
Is Little Lake Lending Licensed?
Little Lake Lending is headquartered in Lakeport, Calif., but is not licensed by that state. Nor is there a business license for a company named "Little Lake Lending" listed anywhere on the website.
Instead, the license published on the lender's website is issued to a company called Layma, LLC by the Big Valley Band of Pomo Indians Consumer Financial Services Regulatory Authority.
According to the Little Lake Lending website, "Little Lake Lending" is a "doing business as" name used by Layma, LLC. A search for this company in the database of businesses licensed by the state of California came up empty, but the Little Lake Lending site does reference Layma, LLC as "a wholly-owned and operated limited liability company of the Big Valley Band of Pomo Indians of the Big Valley Rancheria" on its Privacy Policy Page.
So, what does this mean? It means that, from the look of things on the website, Little Lake Lending is a tribal lender that is licensed by the same tribe that owns and operates the company.
A tribal loan, on the surface, is like any other loan. It is issued by a lender to a borrower and then the borrower pays the lender back—sometimes in installments over a period of weeks, months, or years.
Unlike non-tribal lenders, however, tribal loans are not regulated by any of the consumer protections put in place by the formal city, county, state, or even the federal government. Instead, they are subject only to the laws and regulations put in place by the tribe that licensed the lender.
READ MORE: Tribal loans and tribal lenders to avoid
Tribal Loans vs. Payday Loans
In a lot of ways, tribal loans can feel a lot like payday loans. Their rules are more relaxed than the rules governing loans made by traditional banks, credit unions, and financing companies.
The primary difference between payday loans and tribal loans is that payday loans are regulated by the states in which they operate as well as by consumer protections enacted at the federal level — which is why many states have been able to make payday loans illegal.
Tribal lenders, on the other hand, claim that they should be able to get away with their predatory practices by claiming tribal immunity.
Tribal immunity is exactly what it sounds like: the ability of a tribe to claim that they are immune to the laws and regulations of the United States because they are sovereign and independent nations unto themselves. Tribal lenders will use their "immunity" to thwart laws that are put into place to protect borrowers. For example, they will:
Charge interest rates that are far above state limits
Provide loans with balances that are higher than state minimums
Break the terms of their loan agreements
Little Lake Lending is affiliated with the Big Valley Band of Pomo Indians. The members of this tribe are descendants of the Xa-Ben-Na-Po Band of Pomo Indians and have called the area near Clear Lake home for almost 12,000 years.
From the Big Valley Band of Pomo Indians website:
"The Big Valley Band of Pomo Indians is a self-governing tribe, which means we have the right to govern our lands in much the same way that the Board of Supervisors governs the lands within the boundaries of Lake County. We have the powers to write and enforce ordinances, regulate commerce, tax, set up a judiciary and police enforcement system and other powers delegated to local governments. Because of our interrupted past, our tribal government is still weak and developing, but our membership is strong and our people are wise. Our government is similar in many ways to that of the local county government."
Both the Consumer Federal Protection Bureau (CFPB) and the Supreme Court have been trying to crack down on tribal lenders for a while, but the process is a slow one. Tribal lenders are holding tightly to their belief that they are not subject to any laws but their own. Meanwhile, lenders like Little Lake Lending continue to offer loans that violate California and other states' laws and that have the potential to ruin the financial well-being of many desperate borrowers whose credit is poor and cash flow is minimal.
What to Expect When Taking Out a Loan from Little Lake Lending
Unlike some other tribal and payday lenders, Little Lake Lending provides quite a bit of information about their processes upfront. Their website claims that they have 24/7 customer support agents on hand, that the application process is quick and easy, and deposits are made quickly. They also claim that borrowers can pay off their loans early without having to pay any penalties or fees. That's the good news.
The bad news is that, like most other tribal and payday lenders, their rates and fees are grossly high. They are so high, in fact, that borrowers, even those with stable and high incomes, could potentially have a lot of trouble paying the loan off in time. These rates and fees are prohibitive for anyone who is hoping to be on solid financial footing during the repayment process (which could take years).
Here is an example from Little Lake Lending's website on the repayment terms for a $400 loan. It is repaid in 12 payments of $127.50. That means it will cost $1,130 in interest to borrow $400 for about six months.
Typical Loan Terms with Little Lake Lending
An APR between 720% to 795% depending on the repayment schedule
$25 fee for payments that are more than three days late
$25 fee for payments that are returned or not processed because of insufficient funds
Principal balances up to $1,200 for first-time borrowers
Loans up to $2,500 available to repeat customers after they make enough successful payments
It looks like the payment schedule requires borrowers to make payments every two weeks
There isn't a standard repayment period; it depends upon how much you borrow, and several other factors
Zero penalty for paying the loan off early
Some of the rates, etc. aren't available without having an application approved. This information was taken from the company's website and the sample payment plan published there.
Online Reputation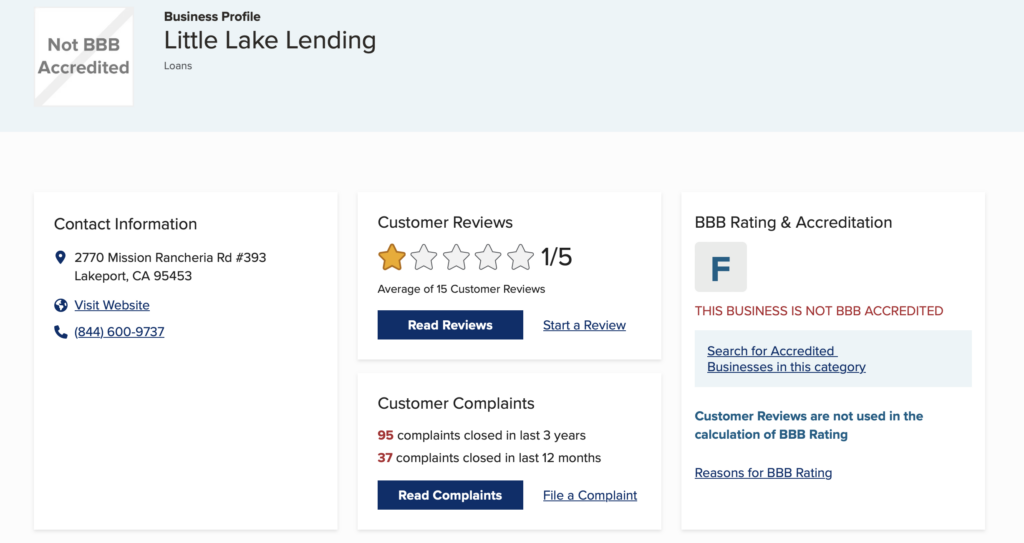 Before applying for any loan, it is important to thoroughly vet its lender. As of this writing, there are 95 complaints listed with the Better Business Bureau against Little Lake Lending. The BBB also gives the lender an "F" rating, though Little Lake Lending is not currently accredited with the bureau.
The BBB site is filled with reviews from people whose financial situations were decimated by these loans, including Kevin C., who writes:
"On 10/27/22 I received a $1500 loan from Little Lake Lending and thought I only had to pay back only $1950. After a Revised Loan agreement, now I have to pay back $4852.22 at a 600% rate! While I did miss the 2nd payment, I did make arrangements with Little Lake to have the $352.79 lowered to $201 for today's payment. I knew something was "Fishy" after Little Lake sent me an email at 4:15 this morning saying( Thanks for your payment) $201.20. I' m thinking ok. Then I look at my bank account and see they took an additional $352.79 on top of the $201.20!! During the phone call with a LLL representative, I was told that they would accept my credit card to pay off the loan! That was a lie!! Little Lake Lending is Shady and ALL of their Representatives are LIARS. STAY AWAY!!! YOU'LL BE SORRY IF YOU DONT!!"
Trust Mamma and Scam Pulse both have reviewers who said that the terms of their loan were changed after they signed their loan agreement.
For example, one reviewer posted:
Borrowed 800 dollars with intention to pay off in 15 days. Knew it would cost me $277 but It was unavoidable. Called to pay off and did. Verified my account. They then put through a payment of $330 (monthly payment) after I already paid it off and had an email stating account was paid off. I called and the man said he could not verify my account and needed to put a skip trace on me. I had my bank list it as an unauthorized charge and the bank reversed the payment. Today I am told I now owe $374.95 for missed payment and interest. On a loan that was paid off! When I called the man again told me the birthdate that I gave them was incorrect and I was being sent to collections. Avoid this company at all costs. I paid back $1,077 15 days after I took the loan of $800 and told no prepayment penalties. Now they are saying i still Owe the $374 (which would be almost $800 in interest on an $800 loan for 15 days). I stopped all payments from/to this company except the $1077. Beware. They are fine taking your money but when they overcharge they don't want to return the money they took unauthorized.
Interestingly, TrustPilot gives Little Lake Lending a 4.7 out of 5 rating. The site lists more than 1,300 reviews for this lender, more than 80% of which are positive. Many of the positive reviews are from customers who just had their loans funded and haven't get been hit with payments. Many seem to be satisfied with the lender until they figure out exactly how much they repaid. Also, when scrolling through the reviews, many of them said the exact same things, which feels a little shady.
Pros and Cons of a Loan with Little Lake Lending
It's important to weigh the pros and cons before handing over your personal data.
Pros
Quick application process
Quick approval
Quick funding
Cons
Astronomical APRs: A minimum APR of 720% means that you'll repay at least $7.20 for every dollar borrowed
Not licensed
Runs a hard credit check, so your credit score will take a hit
Not available in all states
Not available for active-duty military
Class Action Lawsuit
Little Lake Lending was named in a class action lawsuit in 2022 alleging that it was using tribal immunity to charge interest rates in excess of 800%. Before you complete an application, please be sure to check out some better alternatives.
How to Apply for a Loan From Little Lake Lending
To apply for a loan from Little Lake Lending, all you have to do is fill out a simple form on their website. It asks for the applicant's usual information: name, address, SSN, whether they rent or own, and their income and banking information.
Yes, you have to give them your banking information before you can submit your loan application for processing. Considering that multiple borrowers have complained about Little Lake Lending changing the terms of their loan after they've signed contracts, having to give up your routing and account numbers prior to approval feels super sketchy.
Better Alternatives
There are so many great alternatives to tribal loans. Here are a few you should try before you even start looking for money from a tribal lender:
OneMain Financial: they made Credit Summit's list of best personal loans
PenFed credit union: their rates are great, and you no longer have to be in the military to be eligible
Prosper: They made Credit Summit's list of top peer-to-peer lending companies for bad credit
Borrowing from friends and family: you can set up money pools on Facebook if you can't find one person who can loan you everything you need. Even strangers on Reddit will loan money
Credit card advance or low-interest balance transfer offer: make sure you can pay this off quickly or you could run into trouble later
Home equity loan or home equity line of credit: this is best for those who need large sums of money and, of course, who own their own homes
401k loan: talk to the company that manages your 401k first! They might have programs you can use to keep from paying big fees or losing a chunk of your retirement fund
Earnin: a paycheck advance app that has a stellar online reputation
The Bottom Line
Nobody is going to judge you for needing to take out an emergency loan. It is important, though, that no matter how desperate you feel, you explore all your options before jumping into a deal with a shady payday or tribal lender. Doing a bit of homework can help you keep your head above water. After all, the purpose of a loan is to improve your financial situation. You don't want to end up setting yourself back.
FAQs
How Can I Contact Little Lake Lending?
You can call (844) 600-9737 or visit littlelakelending.com.
Where is Little Lake Lending Based?
Little Lake is based in California, at 2726 Mission Rancheria Road #393, Lakeport, Calif., 95453
What Will I Need to Provide When Applying for a Little Lake Loan?
Applicants must have:
–An active checking account
–A driver's license
–A government issued photo ID
–Proof of identity
–Proof of citizenship or residency permit