Plain Green Loans promises "Cash When You Need It Most." Sounds simple, right? But it's anything but.
Plain Green Loans offers tribal payday loans that are just a plain old bad deal.
More than 12 million Americans use payday loans each year, and as of 2021, there were more than 23,000 payday loan storefronts in the United States. For comparison, the U.S. has 13,438 McDonalds locations.
Payday lenders like Plain Green Loans are known for getting you the money quickly, but are they the best option? Probably not. To learn why, read on.
Do you have $500 or more in payday loan debt?
We help people get out of loans like Plain Green Loans every single day. Reduce payments by up to 80%.
What is Plain Green Loans?
Plain Green, LLC is a tribal lending entity that is owned by the Chippewa Cree Tribe of the Rocky Boy's Indian Reservation in Montana. They are a subsidiary of Atoske Holding Company and they have been in business since 2011. Currently, the company operates entirely online and offers small personal loans to customers that must be repaid in installments.
The loans offered by Plain Green Loans are similar to payday loans when it comes to the loan amount and extraordinarily high interest rate. This is troubling because the average interest rate for a payday loan as reported by the Federal Reserve Bank of St. Louis is 391%. When visiting Plain Green Loans' online calculator, you'll find they charge between 210% and 438% in interest, depending on the amount borrowed.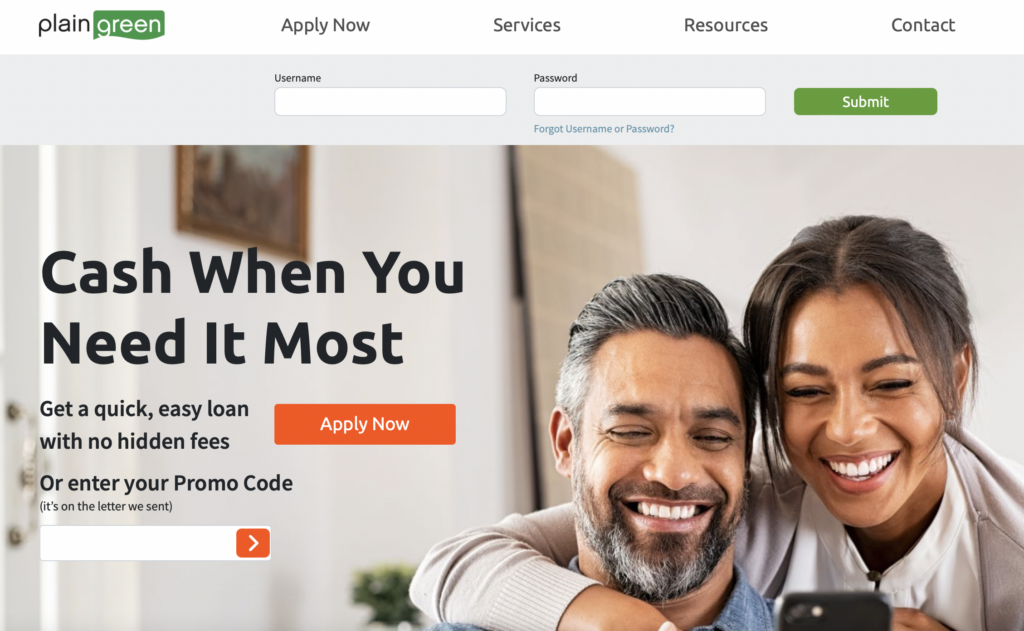 Is Plain Green Loans Licensed?
The Washington State Department of Financial Institutions, after receiving several complaints from residents of the state in regard to Plain Green Loans, issued an alert warning potential borrowers that Plain Green Loans is not licensed in the state of Washington, as it operates as an online lender under the protection of a federally recognized Indian tribe.
It turns out that Plain Green Loans isn't licensed in any state, including its home state of Montana. The company claims tribal immunity and is only subject to tribal and federal laws. That means Plain Green Loans is able to charge exorbitant interest rates, even if those rates violate the state laws capping interest rates in your particular state.
The company states that the Tribal Consumer Protection Bureau (TCPB) is its regulating body, and that the TCPB is responsible for overseeing all lending activity on the Rocky Boy's Reservation. The bureau is run by an unnamed commissioner. In fact, it's a bit suspicious that the company's website talks about the commissioner's accomplishments without ever mentioning his or her name.
The Chippewa Cree Tribe themselves created its own "Business License," which they issued to Plain Green LLC. Note that this license is not the same as a state license. Additionally, Plain Green LLC. also holds a "Certificate of Good Standing;" however, this certificate is also issued by the Chippewa Cree Tribe.
Bottom line, don't put any weight into this 'license' — this lender is skirting by through the loophole of tribal immunity.
READ MORE: Doing your best to avoid payday loans? Try these alternatives
Typical Loan Terms
Just like other personal loans, a loan from Plain Green Loans can be used for just about any expense. In addition to emergencies, you can use the funds to pay for a wedding or to take a vacation with the family. Plain Green Loans differs from other personal loans in that it charges astronomical interest rates and its loan amounts aren't as high. On a positive note, Plain Green Loans does give borrowers a choice between making bi-weekly or monthly loan payments.
Below are the specific terms you'll find when taking out a loan with Plain Green Loans:
First time customers may borrow between $500 and $1,000.
Repeat customers may borrow between $500 and $3,000.
Payment terms range from 20 to 52 biweekly payments or 10 to 26 monthly payments.
Interest rates range from 210% to 438%.
No collateral required.
READ MORE: Got $50,000 in debt? Here's how to pay it off fast
Online Reputation
It's always best to research a company before you do business with them. You'll want to check out reputable sites, including the Better Business Bureau (BBB), as well as trusted review sites that allow you to read reviews from customers who have already done business with the company. So what do these sites reveal about Plain Green Loans?
Although the BBB has Plain Green Loans rated as a B, it has a big current alert for the business posted at the top of the page. The alert reads, "On August 8, 2017, BBB recognized a pattern of complaints from consumers regarding service issues."

It seems that Plain Green Loans' customers weren't properly informed about the loan's high interest rates and that those rates were not subject to state laws, but tribal and Federal laws only.
A total of 17 customers submitted reviews directly on the BBB website, granting the company just slightly more than one star out of five stars. Several of the customers commented that the high interest rates were making it impossible to keep up with and pay off the loan.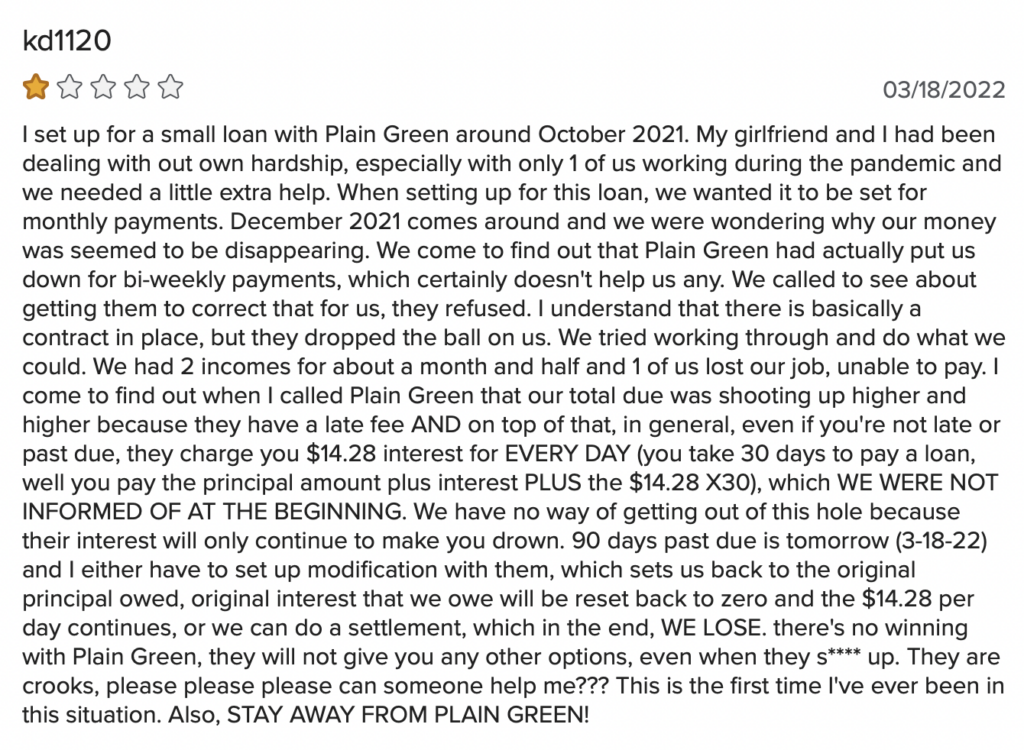 There have been more than 100 BBB complaints. Most involve fees, but this one in particular stands out:

Two other websites, ComplaintsBoard.com and PissedConsumer.com seem to echo the complaints made with the BBB. Customers reported that they did not understand the high interest rates. One borrower even stated that his $1,200 was going to cost him $5,000 by the time he finished making all the payments. Other complaints included issues with customer service and loans still showing as active on credit reports months after they had been paid off.
READ MORE: Need cash today? Same-day loans that aren't payday loans
Pros of a Plain Green Loan
Customers aren't charged an application or origination fee.
Payments are made in installments over time, instead of all at once.
Ability to receive funds in as little as one business day.
Available to individuals with fair or poor credit.
Cons of a Plain Green Loan
The company only does business with 26 states.
The interest rates are higher than that of a payday loan.
Only small loans between $500 and $3,000 are available.
Customers are charged a $30 fee for all returned payments.
Poor customer service ratings.
How to Apply for a Plain Green Loan
In order to apply for a loan with Plain Green Loans, you'll need to be at least 18 years of age. If you happen to live in Alabama, Nevada, or Virginia, the age requirement gets upped to 19. Applicants will also need a valid email address, an active checking account, proof of income and residence in one of the 26 states that the company does business with.
After you confirm that you meet all of the above requirements, you can continue on by following the steps below to apply for a loan.
Head to PlainGreenLoans.com and click on the "Apply Now" button.
Enter your desired loan amount and select between having the funds electronically deposited in your account or having the funds mailed to you in the form of a check.
Complete all of the required personal information and set up a username and password. Submit your application.
Watch your email for notification of loan approval. This sometimes happens in a matter of minutes.
Submit any requested documentation, such as proof of income, if your approval was listed as subject to verification.
Read and sign the loan agreement.
Receive the funds in as little as one business day.
Use the funds to take care of your emergency.
READ MORE: 10 signs your credit card debt is out of control
Better Alternatives to Plain Green Loans
When it comes to obtaining money during an emergency, you have better alternatives. Here are a few options hat will help you meet your pressing needs.
Paycheck advance: Talk to your boss and ask for some overtime. If the schedule doesn't permit, see if your boss would be willing to give you an advance on your next paycheck. Since this option isn't a loan, you won't have to worry about interest payments.
Paycheck advance app: In the event that your employer isn't keen on paycheck advances, you can turn to a payday advance app (sometimes called a cash advance app) instead. The Earnin app is a great choice, as it comes with zero fees or interest charges. The company actually allows its customers to decide how much they want to "tip" for the service, even if that amounts to $0.
Local emergency hardship program: Depending on the nature of your emergency, you may be able to seek help from an emergency hardship program in your area. Most communities have food pantries to provide free food for those in need, and churches and Catholic charities that may assist with utilities and rent. Hospitals even have charity care programs to cover your medical expenses.
Pawn shop loan: if you have an item or two of value, you can visit a pawn shop to request a loan. The pawn shop owner will hold the items as collateral so that he or she can sell them if you default on the loan. As long as you pay the loan back, including any fees, by the due date, you'll get your items back.
Find a side hustle: Pick up an extra job or two that you can do on the weekends or in the evenings. For example, you could dedicate your Saturdays to mowing lawns during the summer to earn the extra cash you need. Other options include driving for Uber or Lyft, petsitting, taking on babysitting gigs, teaching English as a second language online, offering house cleaning services, photographing weddings or cleaning pools.
Peer-to-peer lending: Instead of applying for a loan through a traditional bank, consider peer-to-peer lending. Kiva, Lending Club, Peerform and Funding Circle are all excellent peer-to-peer lending sites. This option allows you to connect directly with an investor. You'll need to create a more detailed proposal than you would with a bank or credit union, but the interest rates are often comparable to other funding sources. In fact, if you have excellent credit, you could get a peer-to-peer loan with a 6% APR. Those with less-than-stellar credit may have to pay as much as 36% in interest.
Credit card cash advance: Those with credit cards will find that getting a cash advance is quite easy. You can call the customer service number on the back of your credit card to inquire about your cash advance limit, as most cards don't allow you to take an advance on your entire borrowing limit. Typical interest rates for a credit card cash advance are higher than your card's purchase APR and generally fall between 15% and 30%, but are still lower than what you'd pay a payday lender.
Personal loan: Anyone who has an existing relationship with a bank will want to see if they qualify for a personal loan to cover their emergency expense. Most personal loans offered by traditional financial institutions have low interest rates that won't trap you in a vicious debt cycle. For example, TD Bank offers personal loans with an APR range of 6.99% to 21.99%. The repayment terms are longer, too.
Payday Alternative Loan: Contact your federal credit union and apply for a payday alternative loan (PAL). There are currently two types of PAL loans, each of which is offered with a maximum interest rate of 28%. The PAL I loan requires you to have been a member of the credit union for a minimum of 30 days, while the PAL II is available immediately after you become a member.
Borrow from a friend: Although it's hard to ask someone you know for a little help, it's an option worth considering. In most cases, a friend won't charge interest on the money they lend you, which makes paying the individual back much easier. A friend will also be more flexible with the repayment schedule.
READ MORE: 15 ways to get out of payday loan debt for good
The Bottom Line
Although Plain Green Loans is able to provide quick cash to customers in need, their interest rates are so high that they aren't a good choice for anyone. The company themselves uses an example in the FAQs section of their website that is a real eye-opener. It states that a $700 loan with a 413% APR will require 24 bi-weekly payments of $106.43 before it's fully paid off. If you multiply 24 by $106.43, you get $2,554.32. That means you just paid $1,854.32 in interest to borrow $700! Instead of getting trapped in debt, go with one of the alternatives mentioned above.