Many cash-advance apps use Plaid to connect with your bank before you can borrow money. If your bank doesn't work with Plaid, you may have difficulty using some of the most popular cash advance apps, and this can be frustrating for people trying to avoid payday loans.
But you still have a few options if you've been shut out from cash advances simply because your bank and Plaid aren't compatible.
Our Top Pick: Dave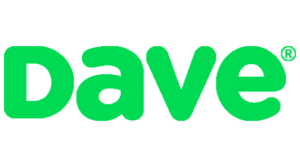 Borrow up to $500 and spend it instantly
Get paid up to 2 days early
Dave provides other banking and budgeting solutions
Disclaimer: Credit Summit may be affiliated with some of the companies mentioned in this article. Credit Summit may make money from advertisements or when you contact a company through our platform.
These 8 Apps Don't Require Plaid for Cash Advances
If your bank doesn't connect to Plaid, you have eight options. These are:
Pro tip: CashMaster is another app that doesn't require Plaid. However, in Credit Summit's analysis, we found that it was lacking in several areas (more on this below.) Use this app at your own risk.
Read on for a breakdown of what you need to know about each.
Key Points
Plaid is a third-party service that connects financial apps to your bank account.
Some of the major banks aren't compatible with Plaid. This includes Wells Fargo, PNC, JPMorgan Chase, Bank of America, Capital One and American Express.
Despite what you may read elsewhere, most of the most recognizable cash advance apps require Plaid to borrow money. These apps include Albert, Brigit, Chime, Cleo, Earnin, Empower, FloatMe, Klover, Possible Finance, MoneyLion and Varo.
If your bank doesn't use Plaid, you may be shut out from using some cash advance platforms.
There are a few hacks and loopholes listed below that could help you bypass Plaid.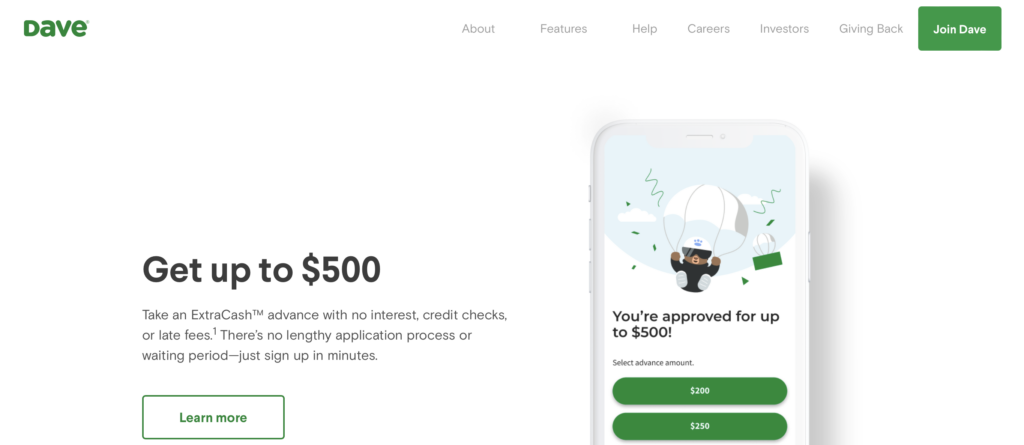 Dave
Dave is a well-known banking app that has added "ExtraCash," which allows users to borrow up to $500.
While Dave does use Plaid, it also uses Galileo to transfer information between the platform and your financial institution, providing an option for subscribers whose bank accounts aren't compatible with Plaid.
Users with the Dave Debit Mastercard can even get instant access to these advances. There is no waiting period or lengthy application process and no direct deposit into a Dave account is required. You will repay the loan on the date specified when you request your "ExtraCash," but if you miss your repayment date, Dave doesn't charge late fees.
You will, however, have to sign up for Dave and pay the $1/month subscription fee.
Dave offers some other notable features, including:
Access to your paycheck up to two days early
Help to find side hustles to earn even more extra cash
Pro tip: Dave also has no direct deposit requirement, making this an ideal option for gig workers or others who have a steady income but don't always have a steady paycheck.
To sign up:
Open the app and tap Join Dave
Create a sign-in ID using your email address and create a strong password
Agree to Dave's privacy policy
Enter your first and last name
Enter your mobile phone number (this is required for two-factor ID)

B9 App
B9 offers advances up to 100% of your paycheck (for the premium plan) and up to 15 days early. You'll open an account through B9 and receive a debit card with cash-back rewards. There's no credit check, overdraft fee, or minimum balance.
B9 is not a bank and accounts are offered through an FDIC-insured partner bank. You will need to have your paycheck deposited directly to your B9 account to draw cash advances, and your account will have to be verified.
In other to apply, you must meet the following requirements:
Valid phone number and email
Full name and date of birth
Mailing address
Social Security number or ITIN
Government-issued photo ID
B9 offers two plans.
The basic plan costs $9.99/month and offers cash advances up to $300, along with free transfers to other members, free ACH transfers, and a rewards debit card.
The premium plan costs $19.99 a month with a discount for a 3-month package. You can advance up to 100% of your paycheck and get access to credit reports and scores, along with the features of the basic plan.
Cash advances are deposited directly to your B9 account, where you can access them with your debit card or transfer them to another account.

Venmo
Venmo uses Plaid, but if your bank does not connect to Plaid, you can still use Venmo with manual verification. You will have to provide your account number and the bank's routing number, and Venmo will confirm the account with two micro-transfers.
Venmo does not offer a cash advance function, but there are ways to get a cash advance through Venmo.
If you have an American Express card, you can use Venmo to send money to yourself with no transaction fee or interest as long as you pay it back by your card's due date
If you have a Venmo Visa card, you can take a cash advance. You'll pay $10 or 5% of the advance, whichever is higher
You can't get a cash advance from a Venmo debit card, but you can use it to make purchases beyond what you have in your Venmo account. Venmo will draw the money from your linked bank account. You will have to enable the "reload" feature
READ MORE: How to get a cash advance through Venmo

Cash App
Cash App lets you send and receive money, make payments, and even invest in stocks or cryptocurrency. There's an optional Visa debit card that you can connect to your Cash App account.
Eligible Cash App users can use the app to borrow from $20 to $200. Eligibility is determined by your state, your credit history, your cash app history, and whether you receive your salary through Cash App. If you are eligible, you will see the "borrow" option on your account.
Cash App Borrow is still a pilot feature with limited availability. Active Cash App users may be more likely to qualify.
Loans from Cash App Borrow must be repaid in four weeks with a one-week grace period for an effective five-week term. You'll pay a 5% fee, translating into a 60% APR. If you don't pay the loan in five weeks, you'll pay an additional 1.25% weekly. While that's higher than a typical credit card APR, it's significantly lower than what you'd pay a payday lender or title lender.
Cash App uses Plaid, but as with Venmo, there's a manual account linking option that allows you to set up an account without using Plaid.
READ MORE: How to borrow money through Cash App

BranchApp
Branch is an earned-wage app that allows you to take advances on wages you have earned before your scheduled payday. You won't be able to use the app unless your employer uses it.
You won't pay interest, and there are no fees. You will be prompted to give an optional tip.
The Branch digital wallet comes with built-in cash rewards on purchases of food, fuel, and other categories.
How To Apply
Confirm that your employer uses Branch
Download the Branch App
Create a Branch Wallet
Find the Instant Pay tab. If you're eligible for an advance, you'll see the borrowing amount available here
Tap "Take Advance"
Enter the amount you want to borrow
Confirm the loan total and payback date
Swipe up on the screen and you'll get a "Money in the Bank" notification
Advances are deposited to your Branch digital wallet. You can use them immediately.

Line
Line offers cash advances with no credit checks and no interest. You get a personalized overdraft and NSF (nonsufficient fund) alerts and a full range of credit monitoring and identity theft protection services. Line is only available in the U.S.
How to Apply
Download the Line app
Create an account
Apply for pre-approval: You'll need to provide a phone number and answer a few questions
Complete the application: You will need to include personal information including your Social Security number, date of birth, employment details and bank information. Line may also ask to review your income and expenses
Qualification: Line will inform you of whether you meet the qualification criteria
Subscribe: Choose a plan and link your debit card to pay for it. You must have sufficient balance to pay the subscription fee
Line offers two plans and a third is advertised as "coming soon."
The small plan costs $1.97/month. You can draw advances of $20-$50, rising to $100 if you make regular on-time payments. You can draw via ACH for free or pay $4 for instant delivery. Identity theft monitoring and insurance are included.
The medium plan costs $9.97 a month and offers advances of $50-$500, rising to $1000 with regular on-time payments. You get all the small plan inclusions plus one free instant transfer a month.
The large plan is not yet active and no price is cited. It will offer larger advances payable over a 3-month period.
Line is only available in the U.S.

Grid Money
Grid is a money management app that offers three primary services.
Grid Tax analyzes your pay stub and tax return to optimize your withholding amount. If your withholding amount is too high, you can add up to $250/month to your pay by adjusting it. You'll need to submit an updated W-4.
Grid Advance offers advances up to $200 against your salary.
Grid Card is a debit card linked to your Grid account. Grid will "spot" your purchases briefly and report the transactions to the credit bureaus, which could help you improve your credit.
The Grid Tax service is free. To access the other services you will need to open an account and pay a $10/month fee. There is no credit check and you will not need a cosigner. There are no fees or tips.
How to Apply
You'll need a Grid account to get a Grid cash advance.
Download the app
Follow the directions to set up an account
Set up direct deposit of your paycheck to your account
You'll need to use the app consistently, make a minimum of $1,000 in deposits each month, and spend a minimum of $1,000 per month through the app to gain access to cash advances.
Grid is a relatively new company and provides very little information on its website. Reviews on both Apple's App Store and Google's Play Store are strong, but there are complaints of customer service and account problems and their Facebook page has numerous complaints.
DailyPay
DailyPay isn't a cash advance app. Instead, it offers what's known as early wage access. In other words, you can access your pay without waiting until payday. It doesn't use Plaid, but you will only be able to use the service if your employer participates.
It allows you to request up to 50% of your earnings without affecting your credit score or connecting to a bank account.
Kroger, Dollar Tree, McDonald's and T-Mobile are some companies that have partnered with DailyPay. This app allows you to track your earnings and request up to 50% of them in advance at any time without affecting your credit score or requiring the use of Plaid. There is no application process.
The drawback is that unless you work for a company that has partnered with DailyPay, this app won't be able to help you at all.
Use Caution with CashMaster
An additional app, CashMaster, also reportedly doesn't use Plaid. However, CashMaster details are scarce and the app is only available to Android users. Because of that, we have been unable to try it out or gather valuable information about the platform. Therefore, we cannot recommend it. It appears to offer installment loans with high fees. If you choose to proceed with CashMaster, please use caution.
Hacks and Workarounds to Bypass Plaid
If your bank doesn't use Plaid (and you don't want to change banks), here are a couple of tips and tricks to try.
Don't Try to Log In Through Your Bank — Manually Enter Your Checking Account Number Instead
If there's a particular app you prefer to use, try this hack that allows you to sign up using checking account information.
First, you will have to log in using a PC browser.
Look for an option to sign up or link your bank account.
When you get to the page to link with Plaid, scroll to the bottom and see if there's an option to click "Bank not in this list." If so, click on it.
The next screen should allow you to sign up by entering your routing and account numbers.
Pro tip: This won't work with every app but it's worth trying if there's one particular app you prefer to use.
Change Your Direct Deposit
If you want to sign up for a cash advance app with banking services (like Albert), you can bypass Plaid by asking your employer to deposit part of your paychecks directly into that account. Many employers will allow you to split direct deposits, so you can route some of your pay to your traditional bank account and the rest to your new account, which you can then use to pay a few bills and establish a pattern of use and regular income. This will allow you to borrow cash advances, get them instantly and spend them using the debit card linked to the app providing the cash advance.
What is Plaid?
Plaid is a company that provides a software platform to connect different financial accounts and services. Plaid's platform allows developers to connect with users' bank accounts, credit cards, and other financial accounts to access financial data, initiate payments, and provide various financial services.
Plaid's technology is used by many companies in the financial services industry, including banks, lenders, investment firms, and fintech startups.
Cash Advance Apps That Require Plaid
Many of the most recognizable cash advance apps require Plaid. This is a massive source of frustration for people looking for a short-term loan whose banks don't work with Plaid.
These apps include Albert, Brigit, Chime, Cleo, Earnin, Empower, FloatMe, Klover, Possible Finance, MoneyLion and Varo.
Why Do Apps Require Plaid for Cash Advances?
Plaid is an intermediary that connects your bank account to financial apps. Different banks and financial institutions have different account management systems and it's very difficult for each app to integrate with thousands of different banks.
Plaid allows an app to connect to a large number of banks and other financial institutions through a single portal.
How Plaid Works
Plaid does not have its own app and you will never have to open an account with Plaid. It is a third-party service that apps use to connect to banks. You don't have to pay Plaid: the app does that.
Plaid may collect the following data points and use them in the connection process:
Contact information, such as your name, address, phone number, and email address
Transaction details, including balances, the dates and amounts of transactions, and descriptions of the transactions
Account details like your account name or type, account number and balance, and your bank's routing number
Plaid uses sophisticated data security and encryption and is generally recognized as secure. If several accounts use the same username and password, information from your accounts could be shared with the service you choose. Always use different passwords!
Want to learn more about Plaid? Check out this video:
Banks That Don't Use Plaid
Plaid serves over 10,000 financial institutions, but not all banks will connect to Plaid.
Some of the major banks that do not currently use Plaid include:
Wells Fargo
PNC
JPMorgan Chase
Bank of America
Capital One
American Express
If your bank is not part of Plaid's network or is unable to connect to Plaid, you will not be able to use apps that rely on Plaid to manage their connections to user accounts. This includes the most popular cash advance apps, including Dave, Albert and Brigit.
Cash advance apps are accessible even to people with poor credit. They have emerged as popular and valuable alternatives to predatory payday loans, title loans, and tribal loans.
Is Plaid Trustworthy?
Plaid is a regulated financial institution and must meet the same security and privacy regulations as other lenders. They use encryption and secure data storage to protect sensitive financial information. However, no technology or system is 100% secure, and there is always a risk of a data breach.
Even with these safeguards in place, Plaid faced a class action lawsuit over data use, alleging it accessed login credentials of users through its interface, Plaid Link. Plaid users between January 2013 and Nov. 19, 2021, may have received a monetary settlement. However, since then Plaid has been acquired by Visa, the U.S's largest credit card network.
The Bottom Line
63% of Americans live paycheck-to-paycheck. When you're in that position, any unexpected expense can leave you without enough cash to keep you going until your next paycheck arrives.
Cash advance apps can provide a way to bridge these gaps without resorting to predatory lenders that will only make your situation worse.
If your bank doesn't connect to Plaid, many cash advance apps can't serve you. These cash advance apps that don't use Plaid can provide the advantages of cash advances whether your bank connects to Plaid or not!
FAQs
Does Possible Lending Use Plaid?
Possible Finance relies on Plaid to connect to customer bank accounts. If your bank does not integrate with Plaid you cannot borrow from Possible.
Does CashApp Use Plaid?
Cash App uses Plaid, but you can bypass the Plaid requirement by linking your account manually or using your debit card to connect to Cash App. You don't have to link a bank account at all: you can use your Cash App card to withdraw funds through an ATM. 
Does Venmo Use Plaid?
Venmo uses Plaid to connect to your bank account. If your bank does not connect to Plaid, you can still use Venmo by using manual verification. You will have to provide your account number and the bank's routing number, and Venmo will confirm the account with two micro-transfers.
Does Chime Use Plaid?
Chime requires Plaid to link to your bank account, and you cannot use Chime without a Plaid-compatible bank account.
Does CashMaster Loan use Plaid?
CashMaster is an app that appears to be exclusively available for Android devices. There is no website and there is minimal information about the app available online. It reportedly does not use Plaid. However, there are many red flags and we cannot recommend it.
Cashmaster is a personal loan app rather than a cash advance app. While most cash advance apps require a monthly subscription fee, CashMaster operates more like a traditional lender.  
CashMaster's Play Store page states that it charges a $75 administrative fee and a late fee of $15 for every payment that is 15 days overdue. That's pretty high.
There are significant questions about this app. There's no website or iOS version and no discussion online.
The screenshots on the PlayStore page are inconsistent: one displays a loan amount of "$5,000+", more than the cited range, and a screenshot of glowing customer reviews includes reviews that refer to LendKing, not CashMaster.
We recommend extreme caution if you are considering this app.