If it seems like Chime is everywhere, you're not wrong. Dallas Mavericks players sport the logo on their jerseys, commercials are on constant TV rotation and the Chime card even made an appearance on Riverdale. Why is it so popular? And is a Chime banking account the right choice for you? Read on to learn more.
Chime: What You Need to Know
Technically, Chime is not a bank. It is a financial technology company. But, since it partners with the Bancorp Bank and Stride Bank (both Member FDIC), it can offer users the same basic functions of a traditional bank. This means that, in addition to financial advice, Chime users get spending accounts, savings accounts, access to credit-building tools, direct deposits, Visa debit cards, ATM and cash back access, etc.
Chime at a Glance
| | |
| --- | --- |
| Physical locations | None |
| How to get started | Apply through the website |
| Monthly service fee | None |
| In-network ATM fee | None (unless the ATM provider charges a fee) |
| Out-of-network ATM fee | $2.50 (plus whatever fees the ATM network charges) |
| Credit Card | Yes — but it is linked to a credit-builder account so it is a secured card |
| How to deposit | Direct deposit, mobile deposit, transfer from another account, or make cash deposits at Walgreens or other retail partners |
| How to withdraw | Get cash at 60,000+ Moneypass and Visa Plus Alliance ATMs, transfer to different accounts, make purchases with your Chime debit card |
| Notable features | Get paid early (with direct deposit), credit building tools, high yield savings rates, Spot Me program |
| Sign-up bonus | $100 when you sign up via a referral link and have a $200 (or larger) qualified direct deposit within 45 days of opening the account |
What Makes Chime Stand Out
Chime stands out from traditional banks and credit unions for many reasons. One of the biggest is that just about anybody can open a Chime account. The company doesn't do credit or ChexSystems checks. This makes it a fantastic choice for people who have had banking issues in the past. It's also cheaper than other "second chance" accounts that are out there.
Here are some other ways that Chime stands out.
One Stop for Your Banking Needs
When you set up your Chime account, you will have access to a spending account, a savings account, and — if you opt-in — a credit-building account. This makes transferring money between accounts much simpler than if would be if you used different companies for each type of account.
Chime Savings Account
Chime offers an online savings account with a 2.0% annual percentage yield (APY), a pretty competitive interest rate compared to other high-yield savings accounts. It also offers automatic savings by allowing users to round up purchases to the nearest dollar, and there's no fee. To open a savings account, you'll have to have a Chime checking account.
Chime Spending Account
This is a full-featured deposit account. Your account can receive direct deposits and it supports pre-authorized withdrawals and interbank transfers through the automated clearing house (ACH) Network.
Chime's checking account has no overdraft fees, monthly maintenance fees, foreign transaction fees or minimum balance fees, and offers free ATM withdrawals as long as you stay within its network. There's no minimum deposit to get started, and no credit check. The account includes a Chime debit card, allowing you to make debit card purchases even if you aren't eligible for a traditional credit card.
Chime Credit-Builder Products
Chime's Credit-Builder Account is sort of like a secured credit card. You deposit money into the account and that deposit is what determines the spending limit on your credit-builder card. Then you use the account to fund your purchases. The amount you spend in a month is what determines your "balance" and what you need to pay back by depositing more funds into your account.
Chime reports these deposits to the credit bureaus as payments on your balance. As long as you're depositing money in the account every month, you're making on time payments against your balance due. These on time payments help you build credit.
You can increase your credit score even more by spending less than 30% of your deposits. This will keep your available credit ratio low.
READ MORE: Best credit-builder loans
Minimal Fees
Chime only charges one fee: it's a $2.50 out-of-network ATM fee when you get cash from an out-of-network ATM.
Chime is otherwise fee-free. There are no overdrafts, returned payments, insufficient funds, minimum balance requirements or annual fees.
Accounts are FDIC-Insured
Chime offers spending and savings accounts through FDIC-insured banks. That means that your Chime account balances are also FDIC insured.
FDIC insurance protects your money (up to $250,000 per account) if your bank fails. In other words, if your bank goes out of business or fails, it can't use your money to cover its losses or expenses.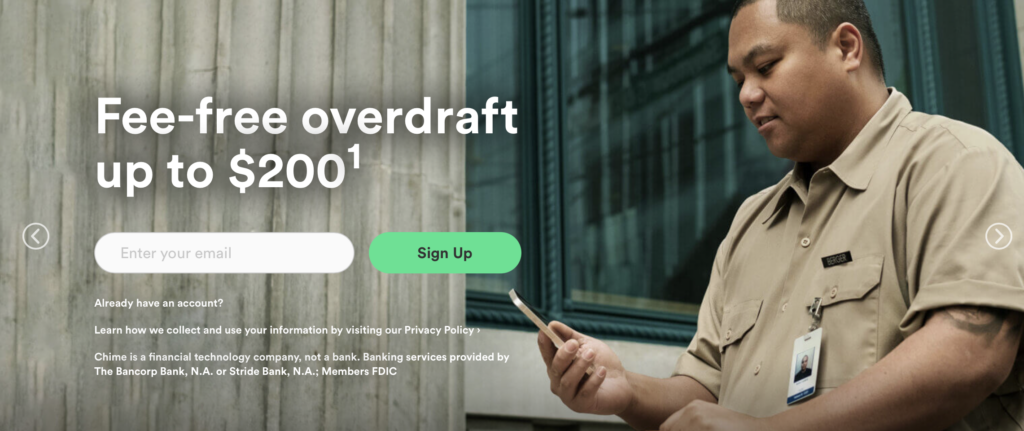 Cash Advances of Up to $200
Chime's SpotMe program offers users early access up to $200 from future deposits. It's sort of like a cash advance, but it is only used to cover expenses that would ordinarily overdraft your account. Chime will cover up to $200 of those payments and then deduct the amount from your next deposit.
READ MORE: Cash advance apps that work with Chime
No Physical Branches
As mentioned in the chart above, there aren't any Chime "branches." This means all your banking is done online/in the app. If you have banking needs beyond the basic checking, saving, and credit building accounts, Chime probably isn't your best option. If you feel better actually going to your bank and taking care of your banking needs in person, you should look for a traditional brick and mortar bank.
If your needs are simple, however, and you feel comfortable with online banking, Chime can be a great option!
READ MORE: Lenders that accept Chime
Does Chime Have a Withdrawal Limit?
Yes. There are two types of withdrawal limits. Account holders are limited to $515 in cash withdrawals per day. This is a cumulative amount for all cash access including cash back at point of sale, ATM withdrawals, and over-the-counter withdrawals. This includes whatever fees you are charged for out-of-network withdrawals, etc.
Your spending/purchase total is limited to $2,500 per day total.
Chime Controversy
It's important to note that there has been some controversy recently surrounding Chime.
In July 2021, ProPublica reported that the service has racked up many consumer complaints. Customers said that they were locked out of accounts and unable to access funds, then when they reported the issues, the resolution times were slow. According to the ProPublica article, Chime customers had filed more than 900 complaints with the Consumer Financial Protection Bureau (CFPB) in just over one year. Thousands of complaints were also reported to the Better Business Bureau.
The company said the closures were part of a crackdown on fraudulent deposits. But many customers were unhappy — and a bit alarmed — when they couldn't access their money.
Class-Action Lawsuit
In 2020, Chime also settled a class action lawsuit over a service disruption that occurred in 2019. The suit alleged that the disruption caused users to suffer financial damages. Chime paid $1.5 million to settle the claims. Customers received compensation of up to $750.
How to Sign Up
Signing up for Chime is super easy. Here's what you do:
1. Make sure you have all of the information you need on hand. To open a Chime account, you will need to provide:
Your legal first and last name
Your social security number
Your email address
2. Go to Chime's enrollment page to apply for an account. You'll need to do this in your web browser.
3. Enter the required information and choose an account password.
Chime will verify your information (this doesn't take long at all). When that is done, you will need to download the Chime app for your mobile device. At this point, you are good to go for basic spending and saving.
If you want to be able to access the SpotMe program, credit building tools, and mobile check deposits, you will need to complete one more step: setting up a qualified Direct Deposit. A qualified Direct Deposit is one that is at least $200. It also needs to come from an employer, payroll provider, gig economy payer or government benefits provider. These deposits must be made via the Automated Clearing House (ACH) system or as an Original Credit Transaction (OTC).
Peer-to-peer deposits via PayPal, CashMe, Venmo, and Chime's "Pay a Friend" system will not be considered "qualified" deposits.
Pros and Cons
No financial institution is perfect, even Chime. Here are Chime's benefits and drawbacks.
Pros
No monthly fees
Fee-free overdrafts
Large network of free ATMs
Access your pay up to two days early with direct deposit
Provides options for second-chance checking
Offers an array of credit-builder products
Account notifications
Chime Checkbook lets you mail checks directly from your app (and it's free)
Ability to round up purchases for automatic savings
Cons
Requires access to your primary bank account
The monthly fee is higher than other comparable options
Payments aren't reported to the credit bureaus
Could encourage overspending
Must have a Chime checking account to open a Chime savings account
Chime does not currently offer joint accounts or secondary debit cards
You may have to visit a retail location to make cash deposits
Limited banking services: no certificates of deposit (CDs) or money market accounts
Eligibility requirements mandate that you have to be at least 18 to open an account
No joint accounts
Mobile banking isn't for everyone
Chime Debit Card
Chime offers spending account holders a Chime Visa Debit Card. You can use it everywhere that Visa is accepted. Rest assured that your Chime Debit card is a legit debit card. It isn't a pre-paid card that will charge you a fee every time you try to use it.
READ MORE: Here are the best checking accounts for teens and college students
Where Can I Load My Chime Card?
You can load your Chime Card by putting money into your Chime Spending account. This can be done via direct deposit and through P2P transfer programs like PayPal. You can also deposit cash into your spending account at several retail locations.
Does Chime Require Plaid?
Yes. Chime accounts are linked with external bank accounts through ACH transfers using Plaid. If your bank isn't compatible with Plaid, your Chime account will have limited functionality.
To link an external account:
Log in to your Chime account at www.chime.com.
Select Move Money.
Select Transfers.
When you're prompted, enter the login credentials for your other bank (your external account).
Your external account will be instantly linked to your Checking Account.
READ MORE: Cash advance apps that don't use Plaid
Does Chime Offer Cash Back?
If you'd like to get cash out of an ATM or get cash at the Point of Sale in a store, you can get cash back.
If you're hoping to get cash back by purchasing specific items or shopping at specific stores, you're out of luck. At the time of this writing, Chime doesn't offer this benefit.
READ MORE: Here are the best ways to earn cash back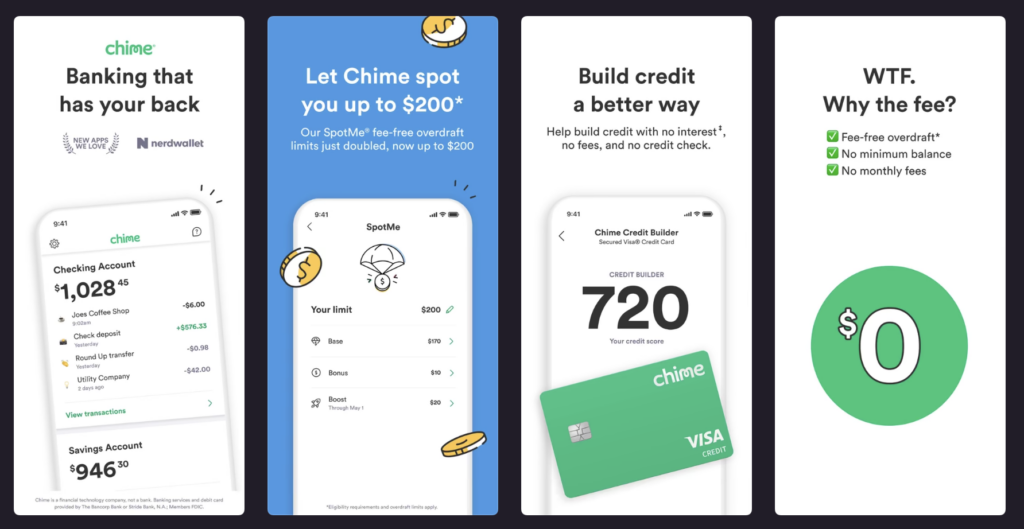 The Chime Mobile App
Chime offers its app to both Apple iOS and Android device users.
Currently, Chime is #9 in Financial apps in the iOS app store. It has been rated more than half a million times and is rated 4.8 stars. Here is a typical review: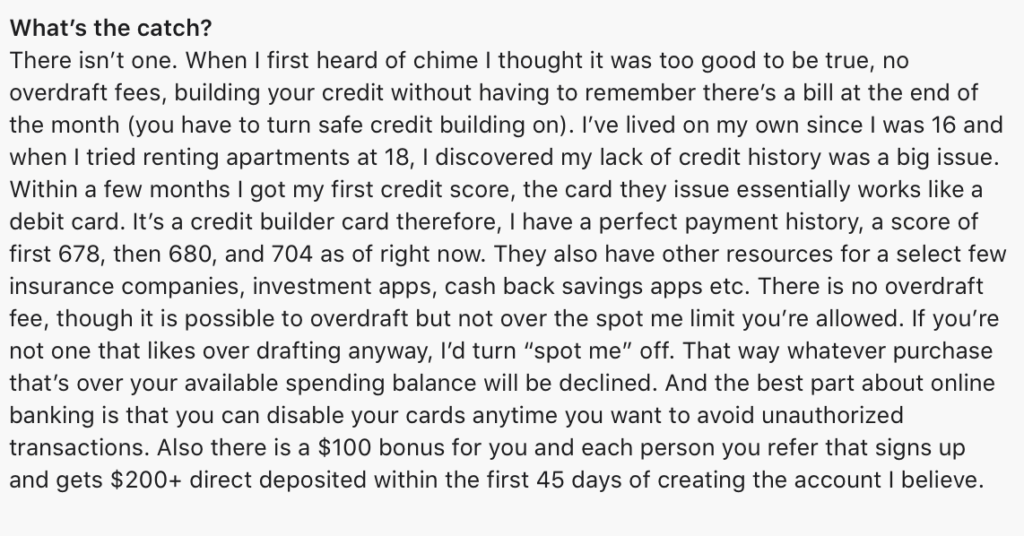 Android users give the Chime app 4.7 stars. Chime has been downloaded from the Google Play store more than ten million times and has more than four hundred thousand ratings. It is currently #7 in Finance at the Google Play store.
Here is a sample review with more than 300 "useful" upvotes:

Chime Customer Service
Chime offers several different methods for contacting its customer service department. The company says that the easiest way to reach customer service is via the app. Users can also email customer service or call them on the phone.
Is Chime Trustworthy?
Your account balances are FDIC insured, so if something happens to Chime, your money is still safe.
Where personal information is concerned, Chime has encryption protocols in place. They also offer a "Zero Liability Policy" that protects users from fraudulent account charges.
Want to know more? Check out this commercial from Chime:
What are Customers Saying about Chime?
Even though they haven't accredited the company yet, the Better Business Bureau gives Chime Financial a B- rating. BBB reviewers give Chime 3.73 stars.
Most of the complaints are a little alarming and indicate some major problems with customer service. Those who are dissatisfied reference missing money or hacked accounts.
For example: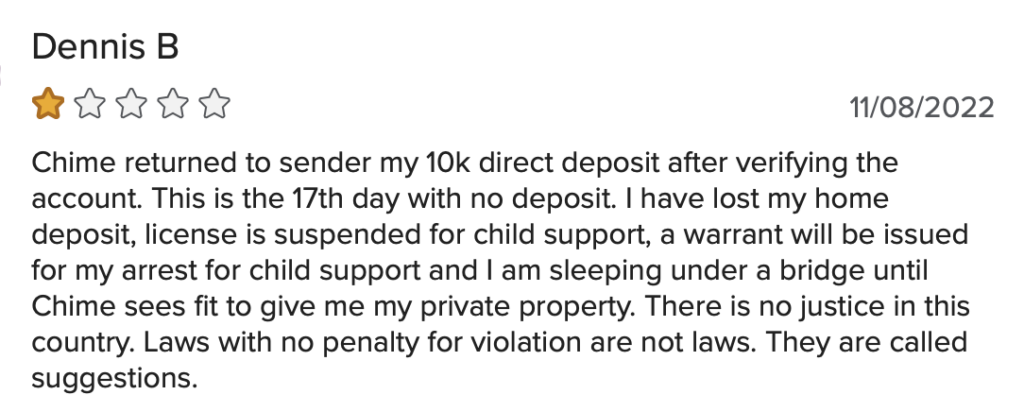 Trustpilot reviewers also have a mostly favorable view of Chime. Chime currently scores 3.1 stars on the Trustpilot platform. Out of the more than 8,000 reviews, 75%+ have given Chime 5 stars.
The Bottom Line
Chime is a great option for people who need a simple or a second-chance approach to banking. If you need investing help or have more complicated banking needs, Chime might not be all that you need it to be.
FAQs
Are Apps Like Chime Better Than Payday Loans?
Since Chime is more of a banking/financial management app it's hard to compare it to a payday loan. That said, the SpotMe program is definitely a better option for people who need a small, short-term loan to keep their expenses covered. Learn how cash advance apps can be a better alternative than payday loans.
Which Banks Does Chime Work WIth?
Chime is partnered with FDIC members Bancorp Bank and Stride Bank, so your deposits are insured. Chime is also compatible with several lenders and cash advance apps. 
Is Chime Secure?
According to the company, it's very secure! It offers several layers of protection for customers to keep their private information and their account balances secure. That said, many negative reviews on both BBB and Trustpilot cite hacked accounts, so be sure to do some research and take extra precautions.
Which ATMs are in Chime's Network?
Chime offers access to 60,000+ fee-free in-network ATMs. This includes any Moneypass ATM in a 7-Eleven retail location and at any Allpoint or Visa Plus Alliance ATM.