Empower is a cash advance app. You pay a monthly fee and get the option of drawing an interest-free cash advance that can save you from turning to a payday loan.
Empower: What You Need to Know
Empower is a financial technology company, not a bank. Banking services are provided by NBKC bank, which is a member of the FDIC.
Empower is available as an Android and iOS app. There is no desktop version.
Empower at a Glance
| | |
| --- | --- |
| Physical locations | None |
| How to get started | Download the app or visit the website. You will need two valid IDs and proof of address. |
| Monthly service fee | $8 |
| ATM access | 37,000 in-network MoneyPass ATMs nationwide |
| Overdraft protection | Empower will refund overdraft fees caused by automatic withdrawals by Empower from your external account in some circumstances. |
| Overdraft fee | None. |
| Deposit requirements | The Empower debit card account has no minimum balance. |
| Withdrawal limits | Cash advances of $10-$250. Your limit may be lower. |
| Notable features | Cash advances with no interest or fees, budgeting and expense tracking tools, debit card account, autosave feature. |
| Sign-up bonus | None |
Empower Cash Advances
Empower provides a range of tools and options, but the core attraction is the cash advance feature. Members can borrow up to $250 without interest or fees as an advance against their next paycheck. Empower will withdraw the payment automatically on your next payday.
Empower also offers budgeting and expense tracking, access to your paycheck up to two days early, and an autosave feature that places extra funds directly into a savings account.
A new product, Empower Thrive, will offer an interest-free credit line of up to $1,000 and is listed as "coming soon" on Empower's website.
Empower offers a 14-day free trial. After the trial, you will have to pay a subscription fee of $8/month. The payment will be automatically deducted from your account until you close it.
The first time the automatic withdrawal causes an overdraft, Empower will reimburse the fee. Subsequent overdrafts may cause fees from your linked bank.
You will have to link Empower to an existing bank account or open a debit card account with Empower. Empower will need access to the account that receives your salary.
Empower uses Plaid, a third-party service, to connect to your account. Not all banks and credit unions are compatible with Plaid. Your linked account must be Plaid-compatible. If your bank is not compatible with Plaid, you will need to find another option.
READ MORE: Cash advance apps that don't use Plaid
History of Empower
Empower was founded in 2017 and is based in San Francisco. The app has been downloaded over 3 million times.
Empower claims to have issued over $500 million in cash advances.
What Makes Empower Stand Out
Empower offers multiple features, and if you're going to pay $8 a month for an app, it makes sense to use all of them.
Cash Advances of up $250
Empower offers cash advances of $10 to $250 with no interest or fees. Your approved limit will depend on your income and other factors.
To use this feature, you must receive your salary through a direct deposit to your linked bank account. The app will repay the advance with an automatic withdrawal from your linked bank account when your next paycheck arrives.
If Empower's withdrawal causes an overdraft, they will reimburse the fee.
If you choose instant deposit for your advance, you will pay a fee of $2 to $8, depending on the amount. If you don't choose instant delivery, your advance may take up to two days. You will be prompted to pay an optional tip, but there's no fee. There's no tip prompt for instant delivery.
Budgeting and Expense Tracking
You can link multiple accounts to the Empower app. The app can then act as a central budgeting and expense-tracking tool. You'll get regular reports on your spending and alerts if spending in any category exceeds your budget's limit.
AutoSave
The AutoSave feature monitors your income and spending. You can instruct it to set regular amounts aside as savings, or it can automatically detect extra funds and divert them to savings.
Empower Thrive
Empower Thrive is listed as "coming soon" on the Empower website.
Empower Thrive will give you a $200 line of credit that grows every time you pay back a loan, up to a maximum of $1,000. If you pay the loan in full on your next payday, there's no interest. Otherwise, the APR will be a fairly steep 35.99%.
Delivery is instant, and there's no security deposit or minimum credit score. You cannot use an Empower cash advance if you have an Empower Thrive balance outstanding.
An Empower Thrive account is reported to the credit bureaus as a revolving credit account. On-time payments will help you build credit. However, if you use more than 30% of your limit, your credit utilization on the account will be high, which could harm your credit.
The Empower Bank Account
You can open a debit card account through Empower. If you choose to have your salary deposited directly to your Empower account, you can access the money up to two days before your payday.
You can use your debit card with no fee at 37,000 MoneyPass ATMs nationwide. ATMs in other networks may charge a fee. There's a 1% foreign transaction fee.
The daily ATM card withdrawal limit is $500, with a daily purchase limit of $2,000. This limit will be increased to $5,000 after 31 days. There's no minimum balance. You cannot deposit cash or checks.
The debit card account does not offer an overdraft feature. That means no overdraft fees, but transactions that exceed your balance will be declined.
The Empower debit card allows you to receive advances faster, but it is not mandatory.
Does Empower Offer Cash Back?
The Empower card offers up to 10% cash back on certain purchases and merchants. No list of eligible transactions is provided.
This is the information that Empower provides on the cash-back feature:
"Cashback deals on Empower Card purchases, including categories, merchants, and percentages, will vary and must be selected in the app. Cashback will be applied automatically when the final transaction posts, which may be up to a week after the qualifying purchase."
Pros and Cons of Empower
Pros
Cash advances without interest or fees
Could be a better option if you're regularly paying overdraft fees or payday loan interest rates
Offers 0.01% APY (annual percentage yield) on balance kept in your Empower account
Receive paychecks up to two days in advance
Budgeting, expense tracking, and savings tools
Cons
$8 monthly subscription fee
Requires access to the bank account that receives your salary
May create the habit of overborrowing from your paycheck
Does not work for those who are unemployed
Foreign exchange fees are charged on international debit card transactions at 1% of the total transaction amount
READ MORE: Find the best cash advance apps
The Empower App
The Empower app is available for both Android and iOS devices. The interface is simple, straightforward, and easy to use and generally gets high reviews from users.
On the Google Play Store, the Empower app gets an average of 4.7 of 5 stars from over 64,000 reviews. On the Apple App Store, it receives an average of 4.8 of 5 stars from over 65,000 reviews.
Positive reviews typically focus on the usefulness of the cash advances and the generally user-friendly nature of the app.

There are complaints, most centered on frequent changes in advance limits, inability to connect from banks or credit unions that don't use Plaid, and delays in crediting payments, but the overall feedback is overwhelmingly positive.

Eligibility
These are Empower's eligibility requirements:
For the Empower App
Must be 18 years of age or older
Must have a bank account with a U.S. financial institution that is compatible with Plaid
Your account must have two deposits of $200 or more in the last two months
Must have a mobile number that can operate in the United States and receive SMS messages
For the Empower Bank Account
Must meet all Empower app requirements
Must also have a valid Social Security number
Must also have a residence in the United States
Is Empower Trustworthy?
Any time you hand over personal financial information to a third party, there is some risk of your data being exposed. In Empower's case, the risk appears to be extremely low.
Empower uses 256-bit SSL end-to-end encryption, multi-factor authentication, and touch ID and has strict access controls. As with most online financial accounts, the biggest risk factor is you: be sure to use strong passwords, secure your data, and watch out for scammers!
What are Customers Saying about Empower?
The Better Business Bureau (BBB) gives Empower a B rating based on responsiveness to complaints. User Reviews on the BBB page a generally negative, with an average of 1.67 out of 5 stars from only 6 reviews. 38 complaints are listed as closed in the last three years.
Most complaints deal with allegations of unauthorized charges, and all have detailed responses.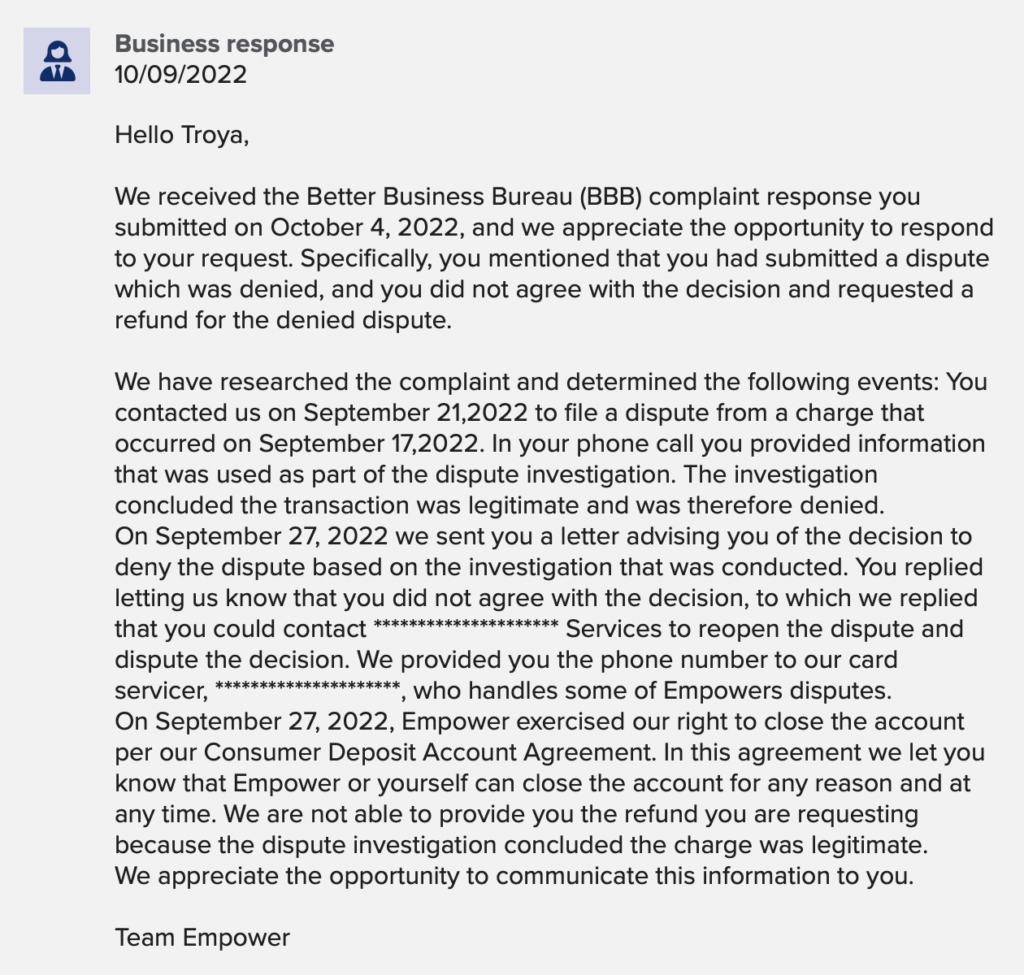 On Trustpilot, there are only three reviews, all negative. Two deal with account freeze issues.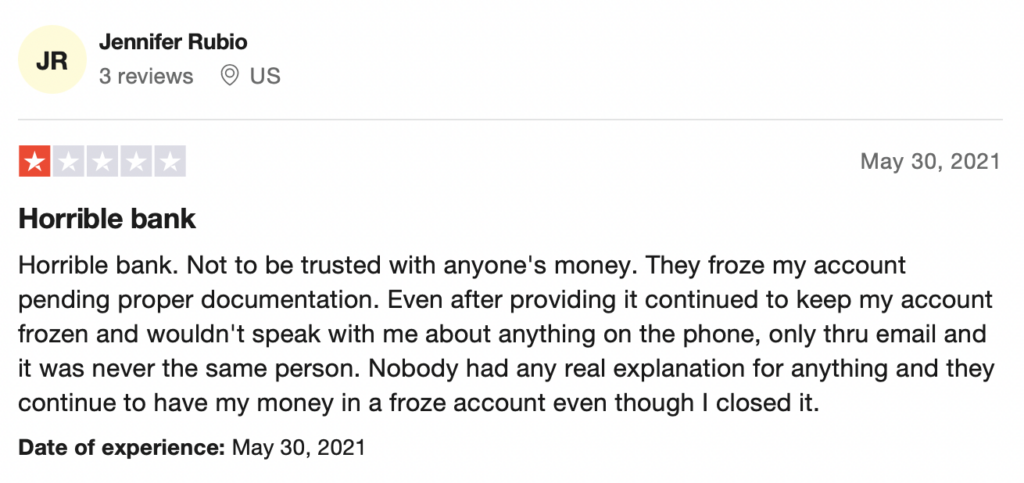 The number of reviews on these sites is too small to reach any conclusion, and the BBB in particular tends to attract customers with complaints. The reviews on the App Store and Play Store are probably a better indication of consumer sentiment.
Some apps will loan you money instantly. To learn more about these, check out this video:
The Bottom Line
Cash advance apps can be a lifesaver if you're living paycheck to paycheck and you run short before your next paycheck arrives.
There are also risks. It's easy to depend on cash advances, and if you're using them often, there's probably something wrong with your finances. If you use cash advances often enough to justify the monthly fee, you're using them too often!
The key here is the other features of the app. If you are using the expense tracking, budgeting, saving, and other management features regularly, it's probably worth the cost. If you're only looking for a cash advance app, there are cheaper options.
FAQs
Are Apps Like Empower Better than Payday Loans?
Almost anything is better than a payday loan. The exorbitant interest on payday loans can quickly trap you in a cycle of high-interest debt. Cash advance apps aren't perfect – there's a monthly fee, and you can get in the habit of taking advances – but they are better than payday loans.
Is Empower Secure?
Empower uses a sophisticated security system, including 256-bit SSL end-to-end encryption, multi-factor authentication, touch ID, and strict access controls. There's always some risk when you give out financial information, but the risk, in this case, is very low.
What Steps Do I Need to Take to Close My Empower Account?
Select your profile, go to "subscription," and find "close account" at the bottom of the page. Tap that and follow the instructions. Remember that deleting the app does not cancel your subscription. You will still be charged monthly until you cancel.