Axos Bank is one of the oldest and largest online banks in the U.S. It has only three physical branches and conducts almost all business online.
Let's take a closer look at what this digital bank offers.
Axos Bank: What You Need to Know
Axos offers a wide range of online financial services.
Five checking account options, including rewards and cash back
Two savings account options
Certificates of deposit
Mortgages
Auto refinance loans
Personal loans
Managed and self-directed investment accounts
Small business and commercial banking
While Axos doesn't offer the highest yields on savings products, it does offer simple, low-fee or no-fee online banking across a wide range of service lines, many with no minimum balances. There's a well-regarded mobile app and fee reimbursement at most ATMs.
Axos at a Glance
How to get started
Visit the Axos Bank website, select the product that interests you, and follow the instructions!
Fees
No maintenance fees or minimum balances on savings or checking accounts. Some checking accounts have insufficient funds and stop payment fees.
Checking account setup
Five Checking account options are available, and account setup is fully online.
Savings account setup
High-yield savings, Money market savings, and CDs are available with online setup.
What is the APY offered?
Checking accounts: up to 1.25% with the use of multiple Axos products.
High Yield Savings: Up to 0.61%
Money Market Savings: Up to 0.25%CDs: Up to 0.20%
Does Axos offer a free debit card with signup?
Checking and money market accounts offer a free debit card automatically. High Yield Savings offers a free debit card on request.
BBB rating
A+ from BBB*, 1.09 of 5 stars from 112 customer reviews
Trustpilot rating
1.3 of 5 stars from 68 reviews
Noteworthy features
No minimum balances or maintenance fees, and generally low-cost fee structure.
*BBB ratings are based on a company's responsiveness to complaints, not its customer reviews.
History of the Company
Axos Bank was founded in 1999 as Bank of Internet USA and opened for business in 2000. It changed its name to Bofi Federal Bank in 2011 and to Axos Bank in 2018. The bank began trading publicly on the NASDAQ exchange in 2005 and moved to the New York Stock Exchange in 2018.
READ MORE: Best bank accounts for teens and college students
What Makes Axos Bank Stand Out
Axos bank is known for simple, practical banking and investment products, often with no minimum balances and no or very minimal fees. Here's a summary of what they offer.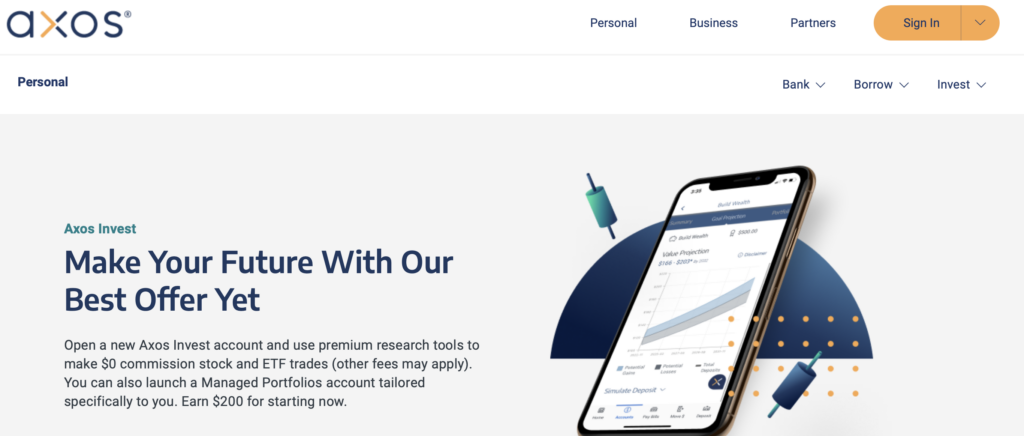 Banking Options
You can open any Axos checking account with a $50 deposit. Most accounts have no minimum balances, maintenance fees, or insufficient funds fees. You can make peer-to-peer payments, automate bill payments, and get bonuses for inviting friends.
Essential Checking is a basic checking account with unlimited domestic ATM fee reimbursements. If you select direct deposit, you can get your salary up to two days early.
Rewards Checking offers 0.70% interest if you use direct deposit and Axos' free personal finance manager, with up to 1.25% possible if you use Axos loans. Domestic ATM reimbursements are unlimited.
Cashback Checking offers 1% cash back on all signature-based transactions. You get unlimited domestic ATM reimbursements. There is a $25 insufficient funds fee.
First Checking is for 13-17-year-olds. It's an interest-bearing (0.1% APY) joint account opened with a parent, offering up to $12 in ATM reimbursements every month.
Golden Checking is designed for customers aged 55 and older. You'll get 0.1% interest and $8/month in ATM reimbursements. There's no minimum balance, but you'll need a $250 initial deposit to open the account.
There are three savings options.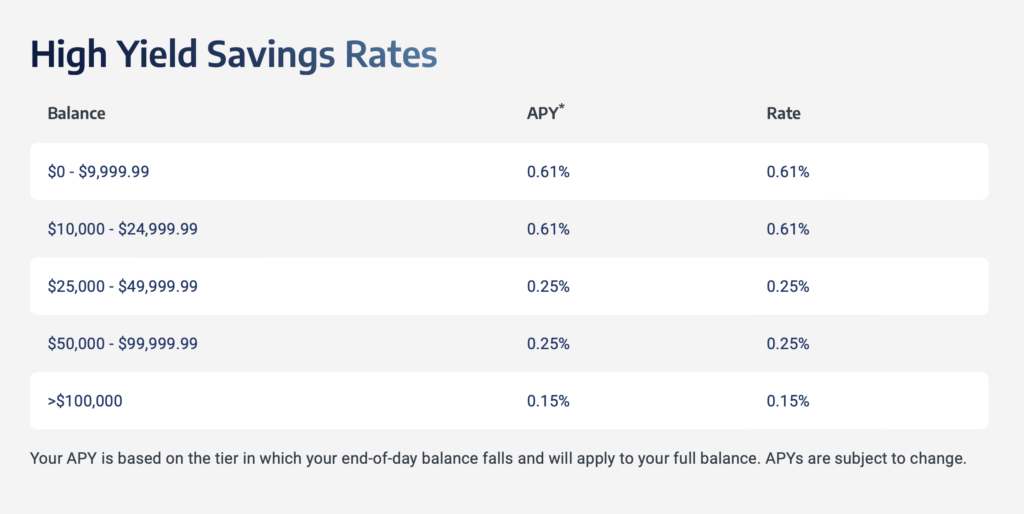 High Yield Savings offers up to a 0.61% yield, compounded daily. There's no minimum balance or maintenance fee, but you'll need to make a $250 initial deposit. You get a free ATM card on request and a free suite of money management tools.
High Yield Money Market Accounts earn 0.25% APY with no minimum balance or maintenance fee. You can write checks or access your savings with a debit card. The minimum initial deposit is $1000, and accounts are FDIC-insured.
Certificates of Deposit earn up to 0.20% interest and have terms of 3 to 60 months. They are FDIC-insured. There are no setup or maintenance fees. The minimum deposit is $1,000. You can transfer your interest electronically for free.
These interest yields are not exceptional, but many of the banks offering higher rates also have much higher minimum balances and less friendly fee structures. Axos is a strong contender for smaller depositors who may not meet the requirements for higher-interest accounts.
Borrowing Options
Axos offers a range of loan products
Mortgage loans: Axos offers loans for buying or refinancing a home, including VA, FHA, jumbo, and super jumbo loans. There are no lender fees (under certain conditions), and loans with low down payments are available.
Personal Loans range from $5,000 to $50,000, with fixed rates and no prepayment penalties. You can prequalify with no credit score impact. Terms are from three to six years. External reviews cite a minimum credit score of 700 to 720.
Debt Consolidation Loans have terms essentially identical to Axos personal loans.
Auto Loans: Axos will finance or refinance new and used personal-use cars, minivans, SUVs, and light trucks. Loans range from $10,000 to $100,000. There's no prepayment penalty. Commercial vehicles and older vehicles are not eligible.
Axos loans are available in all 50 states.
READ MORE: Best debt consolidation loans
Investing Options
Axos offers investment accounts, ideal for people who like to keep their banking and investing in the same system.
Managed Portfolios build a portfolio based on your specified risk tolerance, time horizon, and expected returns. You can modify these parameters at any time. The management fee is a reasonable 0.24%.
Self-Directed Portfolios offer commission-free trading of equities and ETFs and over 10,000 mutual funds. You get margin trading, advanced trading options, and real-time data. Market information is provided by TipRanks.
Retirement Accounts include Roth, Traditional, and Rollover IRAs, with starting balances as low as $500.
These accounts offer easy setup and the ability to view and manage bank, loan, and investment accounts from the same interface.
Sophisticated investors will prefer a dedicated brokerage, but if you're an Axos customer who wants to move into investing with a minimum of fuss these accounts could be exactly what you're looking for.
How to Sign Up
Axos makes it as easy as possible to open accounts: the bank actively works to woo depositors away from brick-and-mortar banks and offers a "switch kit" to help depositors move from their old bank to Axos.
Accounts are only available to US citizens or resident aliens. You'll need the following:
Your Social Security number
Valid ID
A US address (PO box addresses are not accepted)
Live agents are available by phone 24/7 if you need assistance. There's an automated chat assistant that will connect you to a service representative if you have a question it can't answer.
Is Axos Bank a Scam?
Axos Bank is a legitimate online bank with a Thrift Charter that authorizes it to operate in all 50 states. It has an extensive operating history and is insured by the Federal Deposit Insurance Corporation (FDIC). It is not a scam.
Legal Actions Against Axos Bank
Axos has had its share of controversies. In 2021 a class-action suit accused the bank of imposing overdraft and insufficient funds fees repeatedly and without warning, even when the account balances could cover the amounts. The lawsuit has yet to be resolved.
In separate cases, Axos has been sued by a group of investors for allegedly concealing financial information and by a former auditor who claims to have been fired for revealing unsavory business practices.
The Axos App
The Axos app offers management of all Axos banking, loan, and investment products from a single interface. You get transaction history, mobile check deposit (just take a photo of your check), customized alerts, spending pattern analysis, and other mobile banking features.
The app uses biometric identification and two-factor authentication to assure security.
The app generally gets positive reviews. It doesn't have extravagant or complex features, but for many users, that's an advantage. If you're looking for a straightforward, no-frills banking app that performs basic functions easily, this could be your choice.
Pros and Cons
There are several benefits and drawbacks of using Axos.
Pros
No upfront fees; generally low fee structure
Most accounts have no minimum balance
Early Direct Deposit: get your paycheck up to two days early
Unlimited ATM Fee reimbursements for most accounts
Offers personal and debt consolidation, mortgages, and car loans
Manage bank accounts, loans, and investments from one app
Easy account setup
Cons
Online bank with little or no personal service
Interest yields are relatively low compared to other online banks
Not all ATMs qualify for fee reimbursement
Early access to your paycheck could cause you to spend more
Some customers report customer service issues
You will need access to the internet
Who Should Bank with Axos
Customers who have a smartphone and are comfortable with handling finances online or through an app
Customers looking to start a checking or savings account with no minimum balance and minimal fees
Depositors who want access to basic banking, loan, and investment products online through a single app
Who Should Not Bank with Axos
People who prefer to go to an in-person location or drive-through bank
People without internet access or a smartphone
People who are looking for the highest possible yields on savings and checking products
The Website
The Axos Bank website gives a well-organized, easily manageable view of what the company has to offer.
You will see the usual glowing testimonials and promotional offers, but the meat of the site is a list of all product categories. Click the one that interests you, and you'll get a thorough product description and a signup link.
The website is an excellent way for a prospective customer to review what Axos has to offer. Once you've signed on, you're more likely to use the app to actually manage your accounts, though you can do that from the website as well.
Customer Service
Axos Bank gets mixed reviews from customers. In the J.D. Power 2022 U.S Direct Banking Satisfaction Study, customer satisfaction with Axos savings accounts was ranked 13th of 16 banks surveyed, and checking accounts were ranked last out of 10 banks surveyed.
These rankings seem negative, but the overall scores in the survey were quite close together: based on a 1,000-point scale, the bottom checking account got a 627 score, and the top got 715, indicating that the competitors are closely grouped.
Customer reviews give the impression that most users have a simple and satisfactory experience, but there's a significant minority that have problems. These may be due to unrealistic expectations or poor understanding of the systems in some cases.
Is Axos Bank Trustworthy?
Axos Bank has multiple security measures in place, including state-of-the-art 128-bit encryption, two-factor authentication, automatic logout for inactive sessions, account monitoring, and protection from malware and viruses. Fraud specialists are available at all times.
Any online system has some risks, but the risk, in this case, is very low. The most vulnerable part of the system is usually the customer: using strong passwords and maintaining awareness of common fraud techniques is a big part of online banking security.
What are Customers Saying?
Axos Bank generally gets negative reviews on the Better Business Bureau and Trustpilot sites, but the number of reviews is too low to reach any meaningful conclusion. BBB gives Axos an A+ rating based on its responsiveness to complaints.
On BBB, Axos gets 1.09 of 5 stars from 112 customer reviews.
On Trustpilot, Axos gets 1.3 of 5 stars from 68 reviews.
There's a much larger review base on the Google Play Store and the Apple App Store, where customers download and rate the app they use to manage their Axos accounts.
On the App Store, Axos gets 4.7 or 5 stars from 10,700 reviews.
On the Play Store, Axos gets 4.5 of 5 stars from 4,500 reviews.
Based on the sample size, the app reviews would seem to have a higher level of credibility.
The review pattern suggests that customers with issues go to BBB and Trustpilot to complain, while ordinary users are more likely to review the app where they downloaded it. Some customers have had bad experiences, but the number seems relatively low.
What are the differences between mobile banking vs. traditional banks? To learn more, check out this video:
The Bottom Line
If you're looking for basic online banking with minimal fees, no minimum balances, and the option of managing loans and investments from your banking app, Axos will likely be on your shortlist.
If you're looking for highly specialized products or the highest possible yields on savings products, you may want to look elsewhere.
FAQs
Does Axos Bank Work With Experian Boost?
According to several reviewer complaints, Axos Bank does not work with Experian Boost, a service that helps you boost your credit score by making standard monthly payments on everyday items like subscriptions. Reviewers say that they signed up for Axos Bank accounts, not realizing that their payments would not be credited through Experian Boost. If credit building is important to you, you may want to choose another bank, like Ally or TD Bank.
Are Online Banks Secure?
No online system is 100% secure, but online banks use sophisticated encryption, two-factor authentication, and other systems to provide security. In most cases, the weakest link in the security chain is the user: always use unique passwords and watch out for scams!
How Do You Withdraw Money From an Online Bank?
Most online banks offer ATM withdrawals. Most Axos accounts will reimburse fees for an unlimited number of withdrawals at most ATMs. You can also transfer funds to an account at a physical bank branch if you have one.
Are Online Banks Better than Traditional Banks?
Online banks can often offer higher interest yields on deposits and lower interest on loans due to their low overhead. That makes them a good choice for customers who are comfortable with a fully online banking experience.
If you prefer face-to-face customer service, a bank with physical branches may suit you better.