If you're looking for a payday loan from Blue Trust, you're too late. They've transitioned to eLoanWarehouse.
What does that mean? It's hard to say because there isn't any other information provided. But both are part of LCO Financial Services.
Featured Alternative: DebtHammer

Break the borrowing cycle
Can help with many types of debt, including payday and tribal loans
Friendly and helpful customer support – no judgment
Key Points
eLoanWarehouse is a tribal lender
eLoanWarehouse is owned and operated by Lac Courte Oreilles Financial Services, the same company that operated Blue Trust Loans
Due to sovereign immunity, eLoanWarehouse does not have to follow state laws that outlaw payday loans
This means that no matter what limits your state sets, you could end up paying interest rates of more than 1,000% APR
The lender has earned an A+ rating from the Better Business Bureau, but customer reviews give it 1.07 out of five stars
Is eLoanWarehouse Real?
Yes, eLoanWarehouse is a legitimate lender. That's one of the FAQs the company sees so often it's answered on its web page. It states:
This site is owned and operated by Lac Courte Oreilles Financial Services II, LLC. Our management team has over 20 years of experience in online lending and we are members of the Online Lenders Alliance (OLA) which supports the review and establishment of best practice standards in this industry.
Blue Trust Loans offers "Installment Loans for Hard Working Americans." That sounds great, but it's really payday loans in disguise, and because the company is owned and operated by a Native American tribe, the company is not obligated to follow any state laws capping interest rates.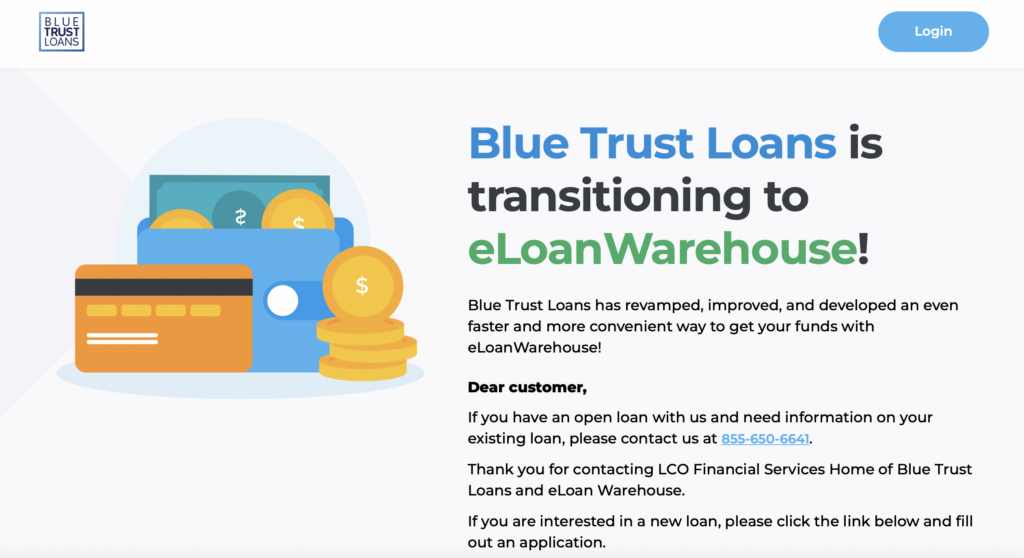 Warning! Don't take a tribal loan just yet. See what better options you may be eligible for.
I acknowledge that I have read and agree to the Terms of Service, and agree to be contacted about my situation by email, sms, and / or phone including automated dialers by Credit Summit and its affiliates.
Tell us about your loans
Please enter the lender and the approximate amount you owe. Don't worry if it's not exact.
Connecting You With a Debt Expert
Please stay with us for a moment so we can review your options.