If you're desperate for cash, Uprova's website looks like the perfect solution. The promises are outstanding. Start your journey to financial success! A roadmap to a healthy financial future! Bad credit borrowers welcome! Does the product live up to the promises? Read on to find out.
Featured Alternative: DebtHammer

Break the borrowing cycle
Can help with many types of debt, including payday and tribal loans
Friendly and helpful customer support – no judgment
Key Points
Uprova offers short-term loans between $300-$5,000 repaid over terms ranging from nine months to three years
Uprova is a tribal lender, owned by the Habematolel Pomo of the Upper Lake Tribe of Pomo Indians
Tribal lenders are not required to follow state laws
If payday loans are illegal in your state or the interest rates are capped, these laws do not apply to Uprova. This leads to many confused and angry borrowers
Uprova lists a maximum loan APR of 35.99% APR, but reports indicate most borrowers pay significantly higher interest rates — sometimes even the equivalent of a 1,000% APR or even higher
Uprova's customer reviews are mostly negative, and it has a B- rating and 1.2 stars out of five with the Better Business Bureau
Don't try to borrow from Uprova until you've exhausted all of the more-traditional alternatives
What You Need to Know About Uprova Credit
Uprova is an online lender. According to their website, they make installment loans from $300 to $5000. Their website states that their goal is "to help borrowers level the financial playing field and improve their financial health."
The Habematolel Pomo of the Upper Lake Tribe of Pomo Indians owns Uprova. The tribe's reservation in northern California is a federally recognized sovereign nation. That status exempts Uprova from state laws and regulations.
Uprova only makes online loans. Their office address is 635 East Highway 20, Upper Lake, Calif.
READ MORE: What is a tribal loan and lenders to avoid
Is Uprova Licensed?
Uprova holds a license from the Habematolel Pomo of the Upper Lake tribe. The only regulatory authority it acknowledges is that of the Habematolel Pomo of Upper Lake Tribal Consumer Financial Services Regulatory Ordinance.
The fine print at the bottom of the Uprova site states that "By obtaining services from this site you are submitting to the jurisdiction of the Habematolel Pomo of Upper Lake."
That means that Uprova is regulated by its owners. It has no license from any state or federal authority.
READ MORE: Need money now? Here's how to make some quick cash
What to Expect if You Borrow From Uprova
If you choose to apply for a loan from Uprova, you will follow these steps:
Fill out an online application. You'll have to provide personal and financial information.
Uprova will review your information. If they decline your application, they may refer you to their affiliate, Mountain Summit Financial.
Uprova may approve your application. If they do, they will send you an offer.
If you accept the offer, Uprova will make an ACH transfer to your bank account.
Uprova states that "some loans" report payments to the major credit bureaus.
You pay the loan back.
That's the process that Uprova describes on their website. Many customer reviews — we'll discuss those later — say that what actually happens may be different.
Typical Loan Terms with Uprova
Uprova's website describes these terms.
Scheduled automatic payment options.
No origination fee or prepayment penalty.
Loans from $300-$5,000, even for first-time borrowers.
Terms from 9 to 36 months.
APRs from 34.5% to 35.99%.
The website states that "short-term loan rates vary" and "complete disclosures of APR, fees, and payment terms are outlined in the loan agreement." Reading and understanding the agreement before agreeing to the loan is essential. Its terms may be different from those advertised on the website.

Note the last sentence in the fine print above. This means Uprova can be an expensive way to borrow, particularly if you don't have an ideal credit score.
Online Reputation
Uprova's website looks friendly and appealing.
Customer reviews are not great.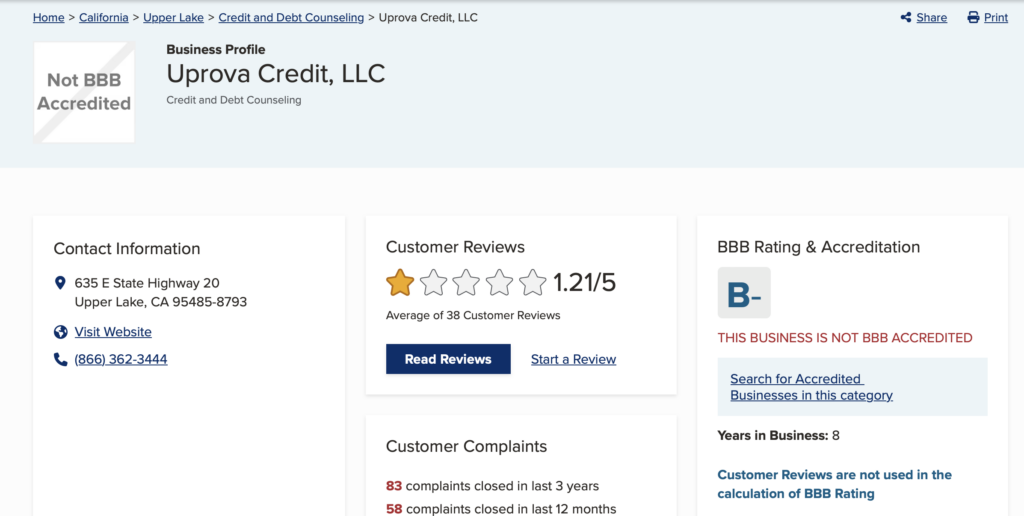 It's difficult to tell much from Uprova's Better Business Bureau page. While the rating is a B-, there are only 38 customer reviews and 58 customer complaints over the past year. The reviews are resoundingly negative, even some of the five-star ones.

The BBB does include a list of related businesses. It's worth taking the time also to check reviews of these lenders because those could indicate the kind of service you can expect from Uprova.
Reviews on Trustpilot are uniformly positive, but they provide little or no detail on the customer's experience.
The reviews on Finder.com are a bit less positive and more specific.
We also see mixed reviews on ConsumerAffairs.com. Many are very positive. Then we have stories like these:
So what is it? Are Uprova loans really "awesome" and "pleasurable"? Or are they a "ripoff"? Who's right?
Some users seem to be describing interest rates far above those cited on the website, and some report having payments used almost exclusively to pay interest, leaving the principal untouched.
Given the wide disparity in the reviews, it would be wise to be cautious and read the loan offer carefully.
What is a Tribal Loan?
Tribal loans are not issued by banks, credit unions or traditional lenders. The money is lent by Tribal Lending Enterprises (TLEs), which are owned by recognized Native American Tribes. TLEs use this loophole to offer loans and use business practices that would be illegal under most state laws.
In many cases, it is unclear where the financing for TLEs comes from. State officials and consumer advocates have accused tribal lenders of using "rent-a-tribe" arrangements, in which the tribal-owned lender is a front for a non-tribal predatory lender and the tribe receives only a tiny percentage of the profits.
How Tribal Immunity Works
The U.S. Constitution and many legal precedents affirm that Native American tribes have the right to govern themselves. Part of this right is tribal immunity: tribal officials acting in their official capacity are immune to lawsuits. That is why tribal lenders typically specify (usually in the fine print) that their officers are tribal officials acting in their official capacity.

Tribal immunity effectively means you have no recourse if the lender is abusive or changes the loan terms without warning.
Applying tribal immunity to tribal lenders making loans outside tribal territory is a legal grey area. Many regulators believe that tribal business activities outside the tribal territory should be subject to state law. Tribal lenders disagree. The Supreme Court may have to resolve the issue.
In the meantime, tribal lenders can do what they want without regulation or legal responsibility.
What's the Difference Between a Tribal Loan and a Payday Loan?
Tribal loans and installment loans have a lot in common.
Both are available to borrowers with poor credit.
They provide short-term emergency cash.
Both are usually for relatively low amounts.
They typically carry high interest rates.
There are two major differences between tribal loans and payday loans.
The Loan Type
Payday loans are single-payment loans. You borrow money and pay it back, with interest, on your next payday. You may be able to roll the loan over into another loan, but that will still be a single-payment loan.
Tribal loans are installment loans. You pay the loan back in weekly, bi-weekly, or monthly payments over a fixed term.
Installment loans sound easier to pay because the payments are broken up. With a longer term, a very high APR has more time to pile up interest.
Tribal lenders may apply your payments to interest, reducing the principal by only a small amount. That means you keep paying interest but the loan balance stays almost the same. You can easily end up paying back several times as much as you borrowed.
Regulation
Payday lenders are subject to the laws and regulations of the state where they operate. These regulations control how much interest a lender can charge and how they collect it. Laws often require upfront disclosure of a loan's terms.
Tribal lenders are not controlled by state laws and may be accountable only to tribal regulatory bodies.
You can sue an abusive payday lender. Tribal lenders are typically immune to legal action.
What Are the Pros and Cons of Tribal Loans?
Let's look at some positives and negatives of tribal loans.
The Upsides
Quick money: You can often have the money within 24 hours.
Easy approval: Borrowers with bad credit are eligible.
Pay in installments: You don't have to pay the loan back in a single payment.
The Downsides
Very high interest rates: Many tribal loans carry APRs of 600% to 700%.
You'll need a steady income: Most tribal lenders want you to have a steady income with a direct salary deposit to your checking account.
You'll give out personal details: You will need to give the lender your Social Security number and bank login details.
Direct deductions from your bank account: Some borrowers report deductions after the loan term.
Lenders may apply payments entirely to interest: You can make payments without reducing your balance.
No recourse: If you feel that the lender is abusive it is hard to complain and impossible to sue.
How to Apply for a Loan From Uprova
If you do apply for a loan from Uprova, you'll use an online application. You'll have to meet these qualifications.
You will have to be over 18 years old.
Only US citizens or residents can apply. You'll need a US address.
You will need a regular source of income.
You must have a bank account.
Loans are not available in all states.
Be prepared to provide your address, phone number, Social Security number, employment details, and bank details.
Alternatives to Uprova
If you have poor credit and you need cash quickly, tribal lenders and payday lenders may seem like the only alternatives. That's not always the case. Consider these possibilities first.
Borrow from friends, family or employer: Nobody likes to ask for a loan, but it's better than predatory lenders. Many employers will advance money to help an employee avoid the payday loan trap.
Use your home's equity: If you own a home and you have equity, you can consider a home equity loan or home equity line of credit (HELOC). The loan has collateral, so approval is usually easy and interest rates are low. Some home equity loans have a minimum amount that may be more than you need. Be careful with the money. If you can't pay it back, you could lose your home.
Use your 401(k): If you have a 401(k), consider borrowing from it. There's no credit check because you are borrowing your own money. You won't be able to earn from investments until you pay the money back, but if the loan is short-term, the damage to your retirement fund should be small. If you don't pay the loan back the amount will be added to your taxable income.
Use a credit card: Using a credit card to cover an emergency is not always a great idea: the APR is high and the APR on a cash advance is usually higher than the purchase APR. It is still much cheaper than a payday loan or tribal loan. Just try to pay the debt off as fast as you can.
Ask your credit union or bank: Many local banks and credit unions offer payday loan alternatives that are designed to help customers avoid predatory lenders. Your financial institution knows your finances and you can talk directly to decision-makers.
READ MORE: What are the advantages of credit cards — and credit?
Use an Online Lender
Some legitimate online lenders will lend to borrowers with flawed credit.
You should approach all these options carefully and review any agreements in detail.
Paycheck advance apps: A number of financial planning apps offer short-term cash advances. Many of them don't have fees for the advance, but you may have to pay a monthly fee to use the app. Check out Dave, Cleo, Earnin, Brigit, or MoneyLion if you are looking for a Plan B for future short-term needs. Advances are often limited to $100 or $250.
Peer-to-peer lending: Peer-to-peer lenders link borrowers with individual investors who are willing to make loans. Some peer-to-peer networks, like P2PCredit, work with borrowers who have low credit scores. Always review offers carefully and conduct online research to verify a lender's reputation. Sometimes, you can even borrow money on Reddit.
The Bottom Line
It's your decision. We can understand how the website would catch your eye: it's visually appealing and offers just about everything you'd want in a lender. The customer reviews raise some concerns.
If you're considering a loan from Uprova, we'd suggest taking a detailed look at tribal lenders in general, reading any loan offer very carefully, and considering alternatives.
FAQs
How Can I Contact Uprova Credit?
You can reach Uprova by phone at (866) 362-3444, by email at customerservice@uprova.com or through uprova.com.
Where is Uprova Based?
Uprova's mailing address is 635 E Hwy 20 V Upper Lake, CA, 95485.
How Long Does It Take a Loan from Uprova to be Credited to My Account?
Funds are usually deposited into your account within 30 mins, depending on your bank.