Upstart is a lending platform offering personal loans, car refinancing loans, and small business loans. This Upstart review will take a closer look at the company, its loans, and the features that might make them your choice for your next loan.
Upstart: What You Need to Know
Upstart is a cloud-based lending platform. They do not actually lend money; they link you to banks that make the loans. If you prequalify you will receive one or more loan offers from partner lenders, allowing you to choose the deal that best suits your needs.
Upstart offers personal loans for many purposes:
Wedding loans
Home improvement loans
Moving loans
Debt consolidation loans
Medical loans
General-purpose personal loans
Car refinance loans
Small business loans
Upstart at a Glance
| | |
| --- | --- |
| APR range | 5.60% to 35.99% |
| Loan terms | 36 or 24 months |
| Origination fees | 0% to 8%, deducted from loan proceeds. |
| Minimum credit score requirement | 300 |
| Time to loan funding | Within one business day of approval in almost all cases. |
| Overdraft fee | N/A |
| Autopay discount | None |
| How to set up payments | Payment options include recurring ACH payments, manual payments, check payments, and bi-monthly payments |
| Notable features | AI-driven approval process does not rely exclusively on credit scores; loans available to borrowers with low or no score. |
| Rewards checking | N/A |
How Does It Work?
Upstart uses an AI-driven underwriting process that incorporates over 1500 variables instead of the traditional reliance on credit scores. The platform will assess factors like education, income, employment history, etc. They claim that this process makes credit available to more people while reducing risk to the lender. Upstart has no minimum credit score and will lend to borrowers with an insufficient credit history or no credit score.
This does not mean that Upstart will lend to anyone. Like all lenders, they evaluate your creditworthiness. Borrowers that they see as carrying higher risks will pay higher interest rates and some borrowers will not qualify at all. Upstart's process means that their decisions are based on a wider range of factors, not just your credit score.
Upstart will not lend to you if your debt-to-income ratio (excluding mortgage) exceeds 50% (45% in some states). You must not have delinquent accounts or a bankruptcy in the last year.
A review of the Upstart model by the Consumer Financial Protection Bureau (CFPB) found that "the tested model approves 27% more applicants than the traditional model and yields 16% lower average APRs for approved loans."
Upstart does not have prepayment penalties, so their loans are a good choice if you think you might want to pay the loan off early. They do charge late payment feeds, and some borrowers will pay origination fees.
What Makes Upstart Stand Out
Upstart has several notable features.
Fast Funding
The approval process is automated, and most borrowers are approved in seconds. Upstart states that 99% of loans are funded one business day after signing.
Soft Credit Check to Pre-Qualify
Upstart and its partner lenders may perform a soft credit check to determine your eligibility for a loan. These credit checks do not affect your credit. If you proceed to apply for a loan, there will be a hard credit check, which may affect your credit score.
Change Your Payment Date
Upstart has a highly flexible payment system. You can pay up to 15 days before or after the formal due date. That means you can effectively pay at any point in the month. That flexibility can be useful, but be sure to keep track of your payment dates and the 15-day window. Late payments will incur late fees and damage your credit.
Free Financial Education
Upstart's website provides a range of educational materials designed to help you improve your knowledge of loans, credit, and personal finance. These financial education resources are available to anyone, not just customers!
Upstart Will Consider Alternative Data
Upstart's most distinctive feature is a unique AI-driven underwriting process. Instead of relying on your credit score, Upstart considers a range of alternative data, including your education, income, employment history, and much more.
This feature makes loans available to many individuals who might not qualify based on their credit score alone. It does not mean that everyone is approved, but approval is available to a wider range of applicants.
Upstart is a particularly good chance if you are in reasonably good financial shape but you have no credit record or you don't have enough credit history to generate a score.
Check out this video to learn more about how Upstart loans differ from bank loans:
Pros and Cons
Like all lenders, Upstart has both advantages and disadvantages. Review both before you choose.
Pros
Wide range of loan amounts: you can borrow anything from $1000 to $50,000
Flexible repayment terms: you can pay at almost any point during the month
Prequalification with soft credit inquiry: find out if you're eligible with no impact on your credit
Fast loan disbursement: get your money the next business day in most cases
No minimum credit score requirement: Upstart is a top choice for people with no credit score or compromised credit
Cons
Charges origination fees: some borrowers will pay a fee of up to 8%, deducted from the loan proceeds
Limited choice of repayment terms: three and five-year terms are your only options
No co-signers, joint loans, or secured loans: if you need these options, you'll have to look for another lender
No mobile app: you'll have to log in to the website to manage your loan
APRs are higher than average: Upstart's APR range and average APR are on the high side
Not available in Iowa
Upstart's average APR for a 5-year loan is 24.95%, which is relatively high. Because Upstart has no minimum credit score, the platform attracts many borrowers with low scores or no scores. These borrowers pay higher rates, which skews the average up. This does not mean that Upstart will charge any individual borrower a higher APR than another lender.
How to Apply
You'll have to meet some basic requirements to apply for an Upstart loan. You must:
Be a U.S. citizen
Be 18 (in most states)
Have a valid email address
Have a verifiable name, date of birth, and Social Security number
Have a minimum annual income of $12,000 and a full-time job (or plan to start one within six months)
Have an active bank account
If you meet these criteria, you can apply by following these steps:
Fill out the pre-qualification form. Upstart and its partner lenders may do soft credit checks at this stage
Review your loan options. If you pre-qualify, you may receive several offers. Review them carefully and choose the best one for you
Complete the full application. You will see a hard credit check at this stage, which could have a small impact on your credit score
Submit documentation. Upstart or your lender may request further information
Wait for approval. In most cases, approval decisions are made within seconds
Upstart's process is highly automated and can be completed quickly.
Can I Refinance a Personal Loan With Upstart?
Upstart does not refinance personal loans. You can, however, include a personal loan in a debt consolidation package. For example, if you have a personal loan and two credit card balances, you could take out a debt consolidation loan from Upstart, pay off all three accounts, and pay off your new loan with a single monthly payment.
This would have the same practical impact as refinancing.
The Upstart App
Online lenders have jumped on the mobile bandwagon in a big way, and most offer mobile apps that let you manage your loan from your phone quickly and easily. Upstart is an exception: there is no mobile app, and you'll need to log on to the Upstart website to view your account.
The lack of an app is hard to understand, especially for a company trying to position itself on the cutting edge of financial technology. If you prefer mobile management and expect an app, you'll need to look for another lender.
Is Upstart Trustworthy?
Upstart uses industry-standard encryption and information security procedures. Any time you supply personal information to a lender there is some risk of a data breach, but Upstart itself does not pose any unusual risk.
Upstart is a lending platform and will forward your application to multiple lenders. The lenders Upstart works with are licensed and credible; you can expect them to secure your data. Still, any time your data is sent to multiple institutions, the risk of a data breach is magnified. You'll have to weigh that risk against the convenience of getting multiple offers from a single application.
What are Customers Saying?
Upstart is accredited by the Better Business Bureau (BBB) and holds an A+ rating. BBB ratings are based primarily on the company's responsiveness to complaints. Upstart responds to all complaints on the BBB page, and all complaints are listed as closed.
Customer reviews on the Upstart BBB page are less positive, with 1.21 out of 5 stars and a review list dominated by complaints. The BBB tends to attract complaints, as people with issues use the site to resolve them, and it often draws more negative than positive reviews. Many involve miscommunication over payments and difficulty getting a response from customer service.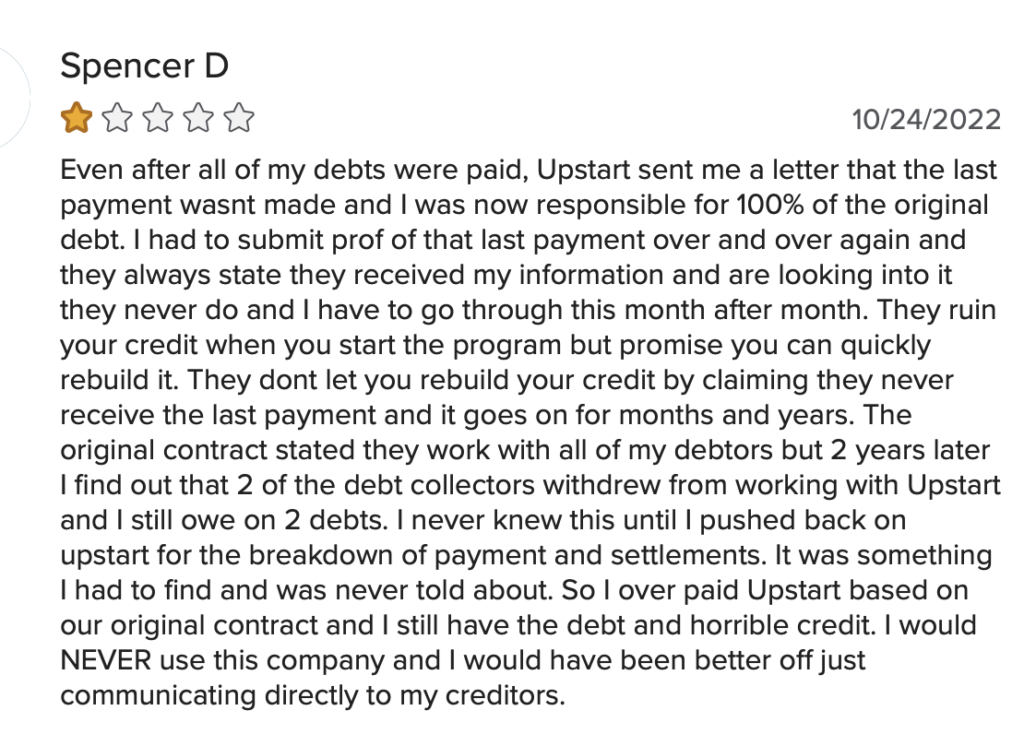 Not everyone is unhappy, though. I few cite the quick and easy process.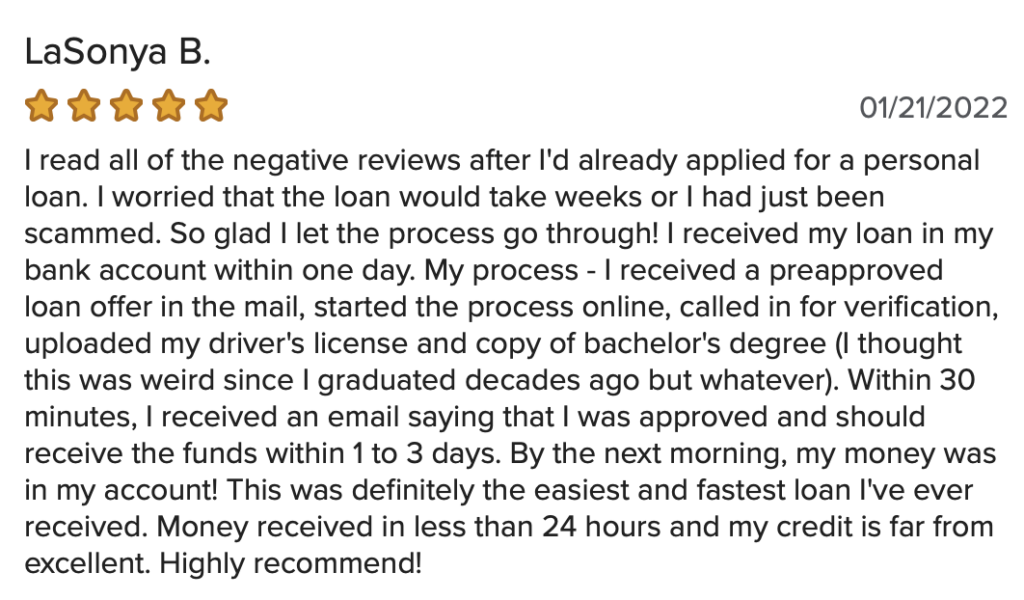 Upstart's Trustpilot reviews are overwhelmingly positive, with a 4.9 of 5 average rating from 38,440 reviews, 97% of which are 5-star. Reviews focus on the speed, simplicity, and ease of the loan process.

Reviews on Credit Karma are equally positive, with Upstart scoring 4.8 of 5 stars from 13,805 reviews. Reviewers praise the speed and general convenience of the process, but there are some complaints about origination fees and higher-than-expected APRs.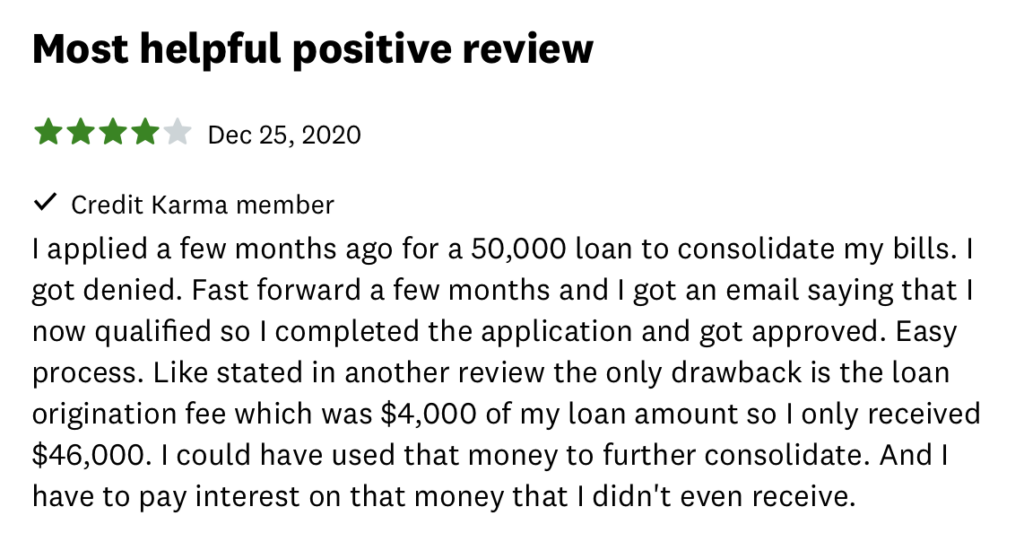 The Bottom Line
Upstart is a popular lender known for its openness to borrowers with no credit record or credit scores too low to qualify for other loans. Upstart's AI-driven evaluation process doesn't approve everyone, but it does make loans more accessible.
If your credit is good, you may find lower fees and better rates elsewhere, but Upstart will be a top choice for borrowers without good credit and is worth a look even for borrowers with better scores.
FAQs
What are Upstart's Interest Rates?
Upstart charges from 5.60% to 35.99% interest on loans, based on your credit score and other factors Upstart assessed in the underwriting process.
Does Upstart Hurt Your Credit?
Upstart's pre-qualification process involves a soft inquiry and will not affect your credit. If you apply for a loan, there will be a hard inquiry. A single hard inquiry will have a minor impact on your credit, but your score could suffer if you have several other recent hard inquiries.

Late or missed payments on your loan will do serious damage to your credit.
Is Upstart Secure?
Upstart uses industry-standard encryption and data security practices. Upstart is a lending platform that will forward your data to multiple lenders. Upstart's lending partners are credible, but having your data on file in more places increases the risk of exposure to a data breach.