TurboDebt offers a heavily advertised program promising fast, cost-effective debt relief. Do they deliver?
Turbodebt certainly has some pros, but there are also other products worth considering.
Featured Alternative: DebtHammer

Can help with many types of debt, including payday and credit card
Extremely transparent process, no shadiness
Friendly and helpful customer support – no judgment
Credit Summit may receive compensation from companies mentioned in this article.
Key Points
This is a review of TurboDebt, a Florida-based debt-relief company. It is not affiliated with Turbo Debt, an Ohio-based debt collection agency.
TurboDebt offers a free consultation, then refers you to a partner business that best meets your needs
TurboDebt does not charge an upfront fee. They earn money by referring you to another company
TurboDebt is a legitimate company
Customer reviews are exceptionally positive
TurboDebt at a Glance
| | |
| --- | --- |
| Do they offer a free consultation? | Yes |
| How to get started | Call 1-866-830-5449 or schedule a free consultation on the TurboDebt website. |
| Fees | TurboDebt does not charge fees. They may refer you to a partner business that will charge fees for debt settlement. |
| How it works | TurboDebt provides a free consultation and may refer you to a partner company for debt settlement services. |
| Who owns TurboDebt | Bonnie Silver, Founder & CEO |
| Company address and phone number | 643 NW 136th Ave Building H, Sunrise, FL 33323, United States 1-866-830-5449 |
| BBB rating | No listing |
| Trustpilot rating | 5.0 from 3,396 reviews |
| Minimum debt settled | $10,000 |
| Noteworthy features | TurboDebt provides a free consultation and refers clients to partner companies for debt settlement services. |
TurboDebt: What You Need to Know
TurboDebt is a relatively new player in the debt-relief space: it appears to have been founded in 2020. The company advertises heavily on social media, notably TikTok and Snapchat, and has achieved a significant public profile.
TurboDebt deals only with unsecured debts, like credit card debt, medical debt, personal loan debt, or payday loan debt. Secured debts, like mortgages, car loans, or pawnshop loans, cannot be included. Most student loans cannot be included.
Pro tip: TurboDebt does not provide debt relief services. The company website states, "TurboDebt connects clients to debt relief programs that fit their unique needs."
TurboDebt does not charge you a fee. Instead, they receive a commission when they refer you to a partner company. This means that the company is incentivized to refer you to whoever pays the highest commission, which means their service is only as good as the company they partner with.
The main form of debt relief mentioned on the site is debt settlement, and reviews indicate that clients are typically referred to National Debt Relief, an established debt settlement company.
The fine print at the bottom of the TurboDebt website says this:

"Clients who are able to stay with the program and get all their debt settled realize approximate savings of 46% before fees, or 25% including our fees, over 24 to 48 months."

This suggests that an average client reduces their debt by a total of 25% after fees.
READ MORE: Debt settlement fees
Debt settlement can reduce your debts, but there are downsides:
Debt settlement can hurt your credit. You are typically required to stop paying debts while accumulating funds for settlement. This means late payments and potential charge-offs. Your credit score will rebound once the debts have been settled.
A creditor may sue you during the debt settlement process. You will have to respond and appear in court, and if a judge rules against you, your wages could be garnished. A good debt settlement company will help you navigate this process.
If debts are forgiven as part of the settlement process, you might have to report the amount forgiven to the IRS as taxable income.
It's essential to keep these in mind as you weigh your options.
READ MORE: Best debt settlement companies
TurboDebt: Some Questions Answered
The TurboDebt website does not include some key details. For example, there's no business address listed. We had to get that from a Google map search. The website also does not indicate who owns the company. There is a quote from the CEO on the "Careers" page of the website, but only a first name is given:
We went to work with that and came up with the LinkedIn page of Bonnie Silver, who is identified as the co-founder and CEO of TurboDebt. The page says she's based in California.
A Florida corporation search revealed no listing for TurboDebt, but it did turn up a listing for All Service Financial LLC, based in Jacksonville, Florida, with Bonnie Silver as Authorized Member.
After a little more searching, we came up with this job ad:
This establishes a relationship between All Service Financial and TurboDebt (some of the text is straight from the TurboDebt website) and explains that the founding team is in California, but the offices are in Florida.
READ MORE: Is debt settlement the best way to get out of debt?
What Makes TurboDebt Stand Out?
TurboDebt's business model is simple. They recruit customers and pass them on to other companies in exchange for a commission.
Free Consultation
TurboDebt's actual service is a free consultation. You must provide information on your income, living expenses, and debts.
Remember that, as clarified in the job ad cited above, your consultation is with a sales representative, not a credit counselor. The representative's goal is to refer you to a commission-paying partner.
Debt Settlement
TurboDebt's primary business appears to be recruiting customers for debt settlement companies. They appear to have a partnership with National Debt Relief.
National Debt Relief is an established and credible provider of debt settlement services, but before you accept a referral, you should look into the potential risks of debt settlement. These include credit damage, collection calls, potential creditor lawsuits, and tax liabilities.
TurboDebt representatives want you to accept a referral so that they may downplay the potential risks. You'll have to look out for yourself.
READ MORE: Debt settlement pros and cons
Debt Consolidation
The TurboDebt website does not specifically offer debt consolidation services. They promise to help you "choose the debt relief program that best meets your needs," but there's no specific information on what programs are available.
The only reference to debt consolidation is on the affiliate marketing page. It is unclear whether TurboDebt offers debt consolidation or is actively seeking debt consolidation partners.
If debt consolidation is what you need, you will be referred to a lender who will issue a debt consolidation loan. They will pay all of your debts and you will then pay off your new loan with a single monthly payment.
READ MORE: Debt settlement vs. debt consolidation
Debt consolidation can be effective, but you will need the discipline to avoid taking on more debt until your consolidated loan is paid off. Check the terms of the loan carefully to be sure you're getting a better deal.
How to Sign Up
You can call TurboDebt at 1-866-830-549 or through their website. You will schedule a free initial consultation.
You will need to explain your household income, monthly expenses, and debts in detail to receive effective assistance.
How Does TurboDebt Work?
TurboDebt provides free initial consultations and refers customers to debt settlement companies and potentially to debt consolidation lenders.
Remember that your consultation will involve a sales representative, not a credit counselor. The representative's job is to match you with a partner company. This could affect the advice you get.
Is TurboDebt Legitimate?
TurboDebt is not a scam. They are a legitimate company that provides free consultations, and they do refer clients to credible debt relief companies. However, since TurboDebt primarily partners with National Debt Relief, it may be simpler to contact National Debt Relief directly.
Pros and cons
There are a few advantages and disadvantages of working with a company like TurboDebt.
Pros
Debt settlement can help you break free of the debt cycle
You might be able to reduce the total amount of debt that you have to pay off
You may have a choice among multiple programs
The initial consultation is free
Cons
Debt settlement companies cost money
Debt settlement can harm your credit score. You may face aggressive collection actions and even lawsuits from creditors
You will have to declare any reduction in your debt as taxable income
TurboDebt's business model does not create an incentive for the company to work in your interests
READ MORE: How does debt settlement affect your credit score?
Who Should Consider TurboDebt
TurboDebt is designed to serve a specific type of customer. Consider these questions:
Is your debt overwhelming?
Are you struggling to keep up with your monthly payments?
Are you trying to avoid filing for bankruptcy?
Do you want to settle debts but feel that you don't have the expertise to negotiate on your own?
Are your debts primarily unsecured debts, like credit card debt, medical debt, personal loans, and payday loans?
If you answered "yes" to more than one of these questions, you are in TurboDebt's target group. However, you can just as easily connect with debt settlement companies without a third-party referral.
READ MORE: Is it better to settle a debt or pay it in full?
Who Should Not Consider TurboDebt
Some people will not want to work with TurboDebt.
People who don't want to pay for debt settlement
People with a manageable amount of debt
Those planning to take out a new credit line – for example, apply for a mortgage or auto loan – soon
People who want to work with a company that works for them, not for the companies to whom they refer clients
Anyone considering TurboDebt should consider the implications of the company's commission-based business model first.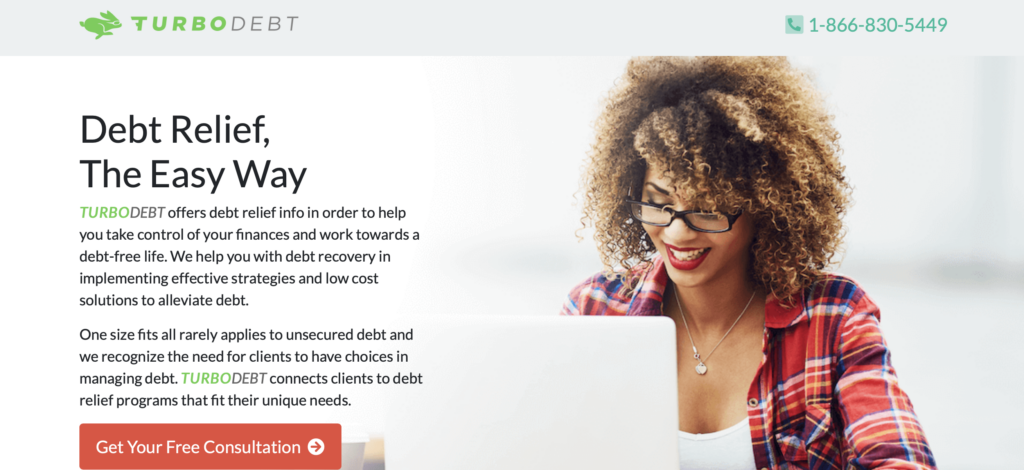 The Website
TurboDebt's website is attractive, persuasive, and incomplete. There's a promise to "help you take control of your finances and work towards a debt-free life," which sounds lovely, but there's no real indication of how they will do this.
There's no mention of the real downsides of debt settlements, like damaged credit, aggressive collection efforts, and potential creditor lawsuits. Tax implications of debt settlement are not mentioned, though the fine print at the bottom advises consulting a tax professional.
As mentioned above, details like a company address and the identity of the executives are not revealed.
What are Customers Saying?
TurboDebt does not have a listing with the Better Business Bureau (BBB), possibly because there is no business with that name registered in Florida. (Remember that TurboDebt and Turbo Debt are not the same company).
TurboDebt is listed on Trustpilot and has an impressive record there: five stars from 3,336 reviews, a whopping 97% of which are 5-star. TurboDebt is naturally very proud of this record and cites it prominently on the website.
TurboDebt has been in business since 2020. From then until April 2022 they generated only five reviews, all in January 2022. In April there were 63 reviews; in May there were 262; and in every month since there have been over 400 reviews. This implies some pretty exponential growth.


Pro tip: It's important to note that there have been multiple questions raised about the authenticity of Trustpilot's reviews, though Trustpilot says it has implemented protocols to crack down on potentially fake reviews.
The Bottom Line
Unless you don't know where to start when considering debt settlement, you're perfectly capable of choosing a debt settlement company on your own. There is no way to tell for certain whether TurboDebt will refer you to the best company for your situation. However, the affiliate partners will cover the cost of TurboDebt's services, so you won't pay any additional money if you choose to work with TurboDebt to simplify the process.
A free consultation is always a good idea, but it's also a good idea to consult a nonprofit credit counseling agency before you make any major decisions. A certified financial advisor who works for a reputable nonprofit agency won't be incentivized to refer you to a commission-paying client and will give you some straight-up advice about what you need.
FAQs
Why Would TurboDebt Hurt Your Credit Score?
A consultation with TurboDebt will not affect your credit score. If you accept a referral to a debt settlement company, your credit score will take a serious hit.
What Kind of Debts Can TurboDebt Settle?
TurboDebt does not settle debts: they will refer you to a partner for that. The partners handle unsecured debts, like credit card debt, medical debt, personal loans, and payday loans. Mortgages, car loans, and most student loans cannot be included.
How does TurboDebt Compare to Other Debt Settlement Companies?
Turbo Debt is not a debt settlement company. TurboDebt provides a free consultation and passes qualified customers on to partner companies in exchange for a commission. If you accept a debt settlement, you will work with another company, often National Debt Relief.