Americans aren't great at saving money. The average savings rates reached an all-time high of 33% in April 2020 due to the COVID-19 pandemic. But it's fallen ever since and is hovering around 7.3% That widespread lack of financial cushion makes online lenders like Oxford Financial Services a tempting way for many people to cover their surprise expenses.
They offer loans that are fast, easy, and accessible, even if you have bad credit. But are they worth the cost? If you're considering taking out a loan with Oxford Financial Services, read this before you borrow.
Drowning in online payday loan debt?
Credit Summit may be able to help.
What is Oxford Financial Services?
Oxford Financial Services is an online lender that provides short-term installment loans. Like payday lenders, their products are available to people with bad credit. Borrowers don't need much more than a steady source of income and a bank account to qualify.
Unfortunately, their loan terms are also similar to payday lenders. That means that their Annual Percentage Rates (APRs) are well into the triple digits. In fact, the only significant difference between Oxford Financial Services and traditional payday lenders is the length of their repayment terms.
Payday loans are typically due in full the following payday (hence the name). Oxford Financial Services allows borrowers to pay back their loans over at least a few months.
Is Oxford Financial Services Licensed?
Oxford Financial Services lists their address in Santa Rosa, Calif., but they don't have a license from the state. They consider themselves an extension of the Kashia Band of Pomo Indians, a federally-recognized American Indian tribe.
Tribal lenders don't always abide by the rules that are in place to protect American consumers. They'll frequently charge interest rates higher than the legal limit, ignore the rules set out in the Consumer Credit Protection Act, and even violate their own lending terms. All the while, they claim to be operating within the bounds of the law since they have "tribal immunity."
The excuse probably won't last forever. Congress and the Consumer Federal Protection Bureau are both cracking down on tribal lenders who use their status to the detriment of consumers. That said, it will take a long time to truly eradicate the issue. Don't count on recent progress to prevent tribal lenders from breaking the rules.
Typical Loan Terms
Oxford Financial Services offers loans with terms that are standard among their peers. When taking out an installment loan with them, people can expect:
Annual Percentage Rates (APRs) of roughly 676%
Principal balances between $300 and $1,500
Repayment terms of roughly seven months
Bi-weekly payments through ACH, check, or money order
They're less transparent about their typical loan terms than some other online lenders. They provide an example of an average loan but don't disclose any limits on either APRs or repayment terms. That means borrowers will only be able to get a clear picture of their loan details after applying.
Residents of Alaska, Colorado, Connecticut, Georgia, Maryland, Massachusetts, Minnesota, Montana, New Hampshire, New Jersey, New York, Pennsylvania, Vermont, Virginia, Washington, and West Virginia are not eligible to receive a loan through Oxford Financial Services' website.
Online Reputation
Before applying to any lender, it's always best to research their general online reputation. Take a look at what past customers have to say about their experiences because they'll give a much more accurate picture of the company than its marketing materials would.
The easiest place to start is with a quick Google search. Unfortunately, even a cursory glance through the first page of results is enough to raise some red flags about Oxford Financial Services.
One site that turns up is the Broker Complaint Registry. They're a free resource for people to share their negative experiences with lenders, and they have a page dedicated to Oxford Financial that indicates they're a scam.
If that's not enough evidence to scare people off, there are three other mentions of the company being a potential scam.
Still, it's always worth checking with the Better Business Bureau. They're one of the most reliable sources for valid customer complaints, and the BBB usually gives its own rating to each business.
Oxford Financial Service's BBB profile doesn't do anything to improve their case. There are no reviews and just one complaint over the past three years. The complaint is not visible. It's unclear how the C+ grade was awarded based on the scant information provided.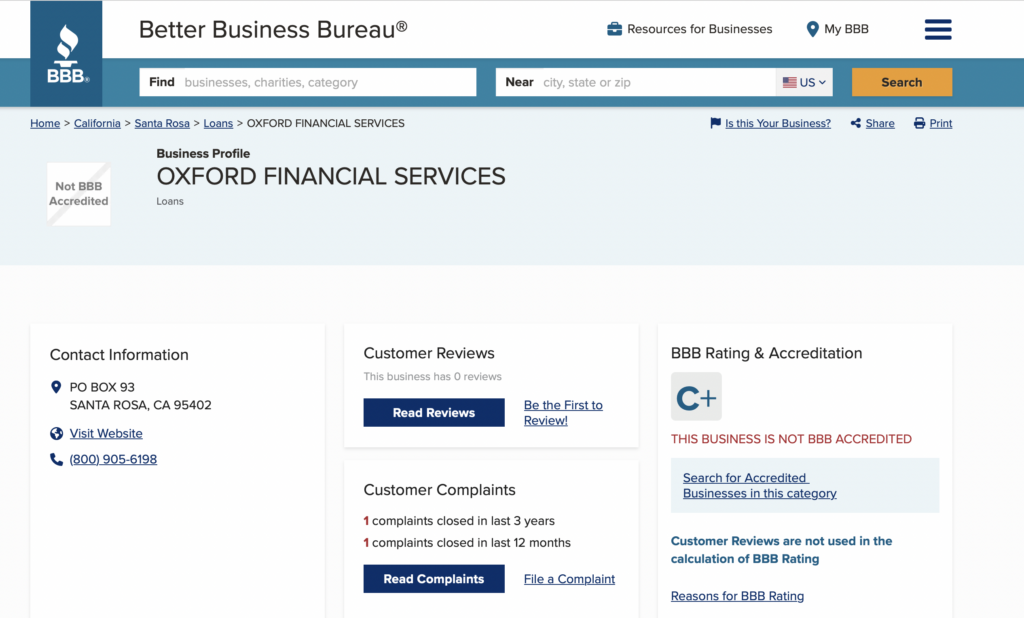 Pros of a Loan from Oxford Financial Services
Oxford Financial Services attracts customers with many of the same incentives that other online payday lenders use, like:
Low qualification requirements to get access to loans
Quick and easy application processes
Fast turnaround on approvals and transfer of funds
Loan amounts that are perfect for funding small financial emergencies
Unfortunately, these don't do much to outweigh the issues they bring.
Cons of a Loan from Oxford Financial Services
There are plenty of reasons to avoid online tribal lenders, and Oxford Financial Services exemplifies most of them. That includes:
Excessively high-interest loans and plenty of fees
Poor customer service and communication to resolve issues
A general willingness to ignore state or federal regulations
A high risk of scam activities, including clear violations of loan agreements
Many tribal lenders do a decent job of responding to customer complaints and accusations, but Oxford Financial Services hasn't. It's created a blatantly negative online reputation.
How to Apply for an Oxford Financial Services
We'd caution people against trying to get a loan from Oxford Financial Services, especially now. It's always risky and expensive to borrow from a tribal lender, but it's even worse to apply to one that multiple groups of people suspect is a scam.
For those who want to do so anyway, here's how it would work:
Check that you qualify: Oxford Financial's requirements aren't difficult to meet, but they will disqualify some people. People need to have an income, bank account, valid email address, and phone number. They'll also need to be at least 18 years old and live in one of the states that Oxford Financial lends to. Check their website for a full list of the acceptable ones.
Select a loan amount: Before giving any personal information, borrowers get to select the amount that they'd like to borrow. That's a little different than the lenders who only tell borrowers how much they qualify for after they apply.
Fill out the application: Oxford Financial's application is similar to most installment loan lenders. They'll take a borrower's personal and income details at this step, including their Social Security number and employment information.
Confirm bank details: After submitting the initial application, borrowers will receive notice of whether they qualify. They'll also receive a loan agreement and a request to complete their bank verification. The loan agreement should include all the details of the loan offer, so borrowers can decide not to move forward at this point if they don't like the terms.
Get funding: Borrowers can receive their funding within the same day that they verify their bank information, though it may take a full business day in some cases.
Oxford Financial Services gives borrowers a brief window after applying to call off their loan, ideally before funding goes through. Their website states that those who requested funding through ACH must notify them by 11:00 a.m. MT of the same day to cancel.
Better Alternatives to Oxford Financial Services
There's no shortage of small loan providers, and most of them would be superior options to Oxford Financial Services.
Here are some ideas that include a wide range of lender types:
Credit unions: Tribal and payday lenders aren't the only ones who will give small loans to people with bad credit. Try a credit union, like PenFed. People have to become a member before taking out a loan, but they have much more favorable terms than Oxford Financial.
Peer-to-peer lending: Apps like LendingClub can connect borrowers with individuals who may be more willing to lend to people with riskier credit profiles. They're going to be much more affordable than loans from an online tribal lender like Oxford Financial Services.
Cash advance apps: For those who genuinely just need a little bit of cash to get them through to their payday, cash advance apps like Earnin can be the perfect tool. There are no fees or interest involved in the process. Users can simply get early access to their paycheck and then pay back the balance in full when their employer pays them.
If it's possible to solve the financial issue without taking on debt, that's always the superior option. Don't take out any loan without trying cheaper alternatives like cutting expenses or building a budget first.
The Bottom Line
If you need a clear suggestion on whether or not you should work with Oxford Financial Services, we'd strongly recommend choosing a different option. There are too many sources online that suggest they're willing to scam borrowers.
Even if they were to hold firm to the terms of their loan agreements, their loans are far too expensive to be a good idea. Their APRs are orders of magnitude above even other bad-credit loan options.
Stay away from Oxford Financial Services if at all possible. If you still need debt to solve your financial issues, look to a non-tribal online lender or a credit union for installment loans with more favorable terms.
FAQs
How Can I Contact Oxford Financial Services?
You can reach them by phone at (800) 905-6198 or by visiting oxfordfunding.com.
Is Oxford Financial Services Legit?
It's tough to tell from customer feedback because there are various references to scams, but it appears that Oxford Financial does indeed issue loans.
What are Oxford Financial Services' Loan Terms?
Oxford offers small loans from $300 to $1,500 with APRs of about 676%. Please note that the company's website mentions that these are an "expensive form of credit."