Are you looking for some fast cash to help cover your bills? If so, online lenders are a convenient source of financial support. Unfortunately, many of them are more trouble than they're worth. Some of them charge such excessively high fees that they can quickly trap you in a cycle of debt, so do your due diligence before applying. If you're currently considering borrowing from Eagle Valley Lending, read this first.
Drowning in online payday loan debt?
Credit Summit may be able to help.
What is Eagle Valley Lending?
Eagle Valley Lending is an online lender that provides low-balance, short-term installment loans. Their products have annual percentage rates (APRs) that are roughly equivalent to payday loans. But unlike a traditional payday loan, borrowers can repay their loans over a few months to a year, instead of just a couple of weeks.
They refer to their loans as "fast, easy and painless."
They position themselves as a way for people in need to cover their unexpected financial emergencies, especially when they don't have access to other credit. For example, if a person's car breaks down, they may need emergency funding. Those people can turn to Eagle Valley Lending for help, even though their loans are expensive.
If that sounds familiar, it's because that's how traditional payday lenders present themselves too. In fact, there's such a thin line between payday loans and short-term installment loans that the distinction is virtually meaningless in this case. Both are many times more expensive than almost any other type of debt.
Eagle Valley Lending doesn't try too hard to pretend otherwise. They make the typical payday lender disclaimer at the bottom of their website that they are an expensive form of borrowing and not a viable long-term financial solution.
Is Eagle Valley Lending Licensed?
Eagle Valley Lending is in Kentucky, but they don't have a license to practice from the state or federal government. They're a tribal lender, which means that the Tonto Apache Tribe owns and operates the business.
Because they're an arm of a federally-recognized American Indian tribe, they use their "tribal sovereignty" as an excuse to skirt most legal requirements that protect consumers.
That includes:
Not having state or federal licenses necessary to practice
Charging interest rates above the legal limit
Offering loans above state maximums
Extending loan terms for longer than they're supposed to
Fortunately for consumers, the tribal sovereignty excuse isn't as powerful as it used to be. The Supreme Court has made it more difficult for businesses to qualify as "tribal-owned," and the Consumer Federal Protection Bureau has sued multiple lenders, despite their tribal immunity.
Typical Loan Terms
Eagle Valley Lending is not as forthcoming about their loan terms as some others in the online lending industry, but exploring their website gives a decent idea of what they offer.
Their terms are pretty typical of tribal lenders that offer payday and short-term installment loans. But that's not a good thing since most of them offer less than desirable loan products.
Here's what you can expect:
Principal balances between $200 and $1,500
$800 loan limit for first-time customers
Repayment terms between three and 18 months
Payments generally required every two weeks
No prepayment fees for borrowers who want to pay loans off early
Non-sufficient funds (NSF) fees of $15 per occurrence
Late fees equal to 10% of the missed payment after five days
APRs on the order of magnitude of 725%
Borrowers will only receive the details of their loan terms in their loan agreement. That includes their loan amount, repayment term, schedule, and APR, all of which can vary significantly.
Online Reputation
It's always best to review the opinions of a lender's previous borrowers before applying. Businesses will always present themselves in the best possible light, but customers have a lot less reason to be deceptive with their opinions.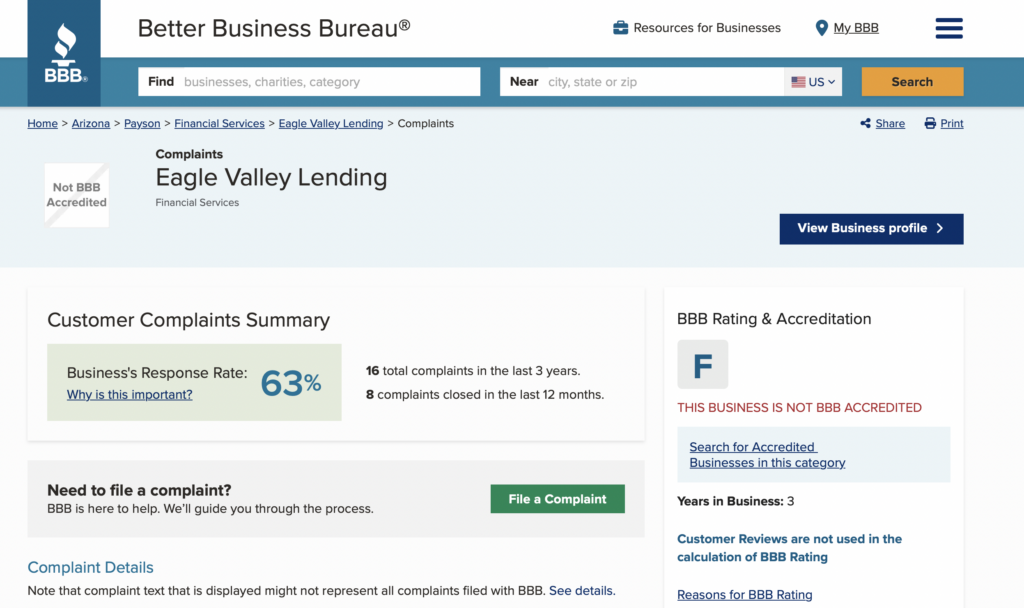 Usually, it's relatively simple to find reviews about online lenders. The Better Business Bureau is one of the best places to visit, but even searching around in Google can turn up useful insights. Eagle Valley Lending hasn't been around long. BBB says it started operations in 2019, but so far the reports on its BBB page aren't promising. The company is not BBB-accredited, has an F grade and has a handful of customer complaints.
That means they've only been around for a bit more than a year. Exploring their social media only turned up a single comment. While it's not exactly a condemnation, it's not a positive review either.
In any case, a lack of an online reputation still says something about how one should treat a business. Eagle Valley Lending may not have many complaints or negative reviews, but they don't have anyone to vouch for them either.
It always pays to err on the side of caution with tribal lenders, so it's safest to assume the worst unless proven otherwise. There are far too many options out there to go with one that doesn't have anybody saying good things about it.
Pros of a Loan from Eagle Valley Lending
Despite the risks of working with a tribal lender, there are reasons that people frequently use their services. They have a few advantages over both payday loans and even traditional banks.
Eagle Valley Lending's selling points are similar to other online tribal installment lenders. They offer:
A fast and easy application process
Funding within a single business day after approval
Low qualification requirements to get a loan
A more affordable repayment schedule than traditional payday loans
Unfortunately, those probably aren't enough to make working with them a smart financial decision for most people.
Cons of a Loan from Eagle Valley Lending
It can be tempting to use a tribal lender like Eagle Valley Lending to get some fast cash in an emergency, but the long-term cons far outweigh the short-term benefits.
Working with them means you'll have to deal with the following:
APRs in the mid to high triple digits
Longer repayment terms that lead to even more interest accrual
An increased likelihood that they'll bend or even break the rules in place to protect consumers
The unknown risks that come with doing business with an unestablished company that has no one to vouch for them
It's rarely advisable to borrow from a tribal lender. Just the fact that they're more expensive than almost all other lenders is enough to disqualify them. The fact that Eagle Valley Lending has no past customers to say otherwise makes them a particularly risky option.
How to Apply for an Eagle Valley Lending Loan
Eagle Valley Lending's application process is also typical of the industry. It's easy to fill out in a matter of minutes, and borrowers don't need to be particularly creditworthy to qualify. The approval or rejection will come through almost immediately, and funding will soon follow for those who pass.
For those who want to apply for one of their loans, follow these steps:
Check Your criteria: Eagle Valley Lending has some specific borrower requirements that might dismiss an application before even getting to the creditworthiness examination steps. They don't lend to particular states or members of the military, so make sure none of their restrictions apply before giving them any personal data.
Supply personal information: The first questions that Eagle Valley Lending will ask during the application are about personal details like Social Security numbers, addresses, and contact information. People shouldn't take this step unless they're committed to the loan. Many lenders capture and store this information even when people don't end up submitting their applications. They could sell it to other parties later, which could include scammers.
Provide income details: Eagle Valley Lending will want to verify income details next. That includes employment records, recent earning amounts, and any other sources of income outside of employment.
Share banking information: Finally, Eagle Valley Lending will ask for banking details. That's the information they'll use to transfer the loan funds. They'll also use it to collect payments later by debiting the borrower's bank account. It's possible to revoke their right to initiate an ACH wire transfer later, but they'll require submission of bank account details regardless.
After submitting an application, there is a last-minute grace period. People can cancel their installment loans until 5:00 p.m. CST on the following business day.
Better Alternatives to Eagle Valley Lending
Eagle Valley Lending is a typical online payday lender. Their loans are fast and easy to get, but they're also dangerously expensive. There are plenty of better options out there, even for those with bad credit who need cash fast.
Here are some of the better alternatives, including some financial solutions that don't require taking on more debt.
Upgrade: Personal loans aren't always unsafe. Even for those with bad credit, there are options out there that can be relatively affordable. Upgrade is one of those lenders that gets the job done right. Their APRs are anywhere between 6.94% and 35.97%. Even their highest rate is far below what Eagle Valley Lending charges. Their minimum credit score is roughly 580, so they're still accessible to those with bad credit.
Lower Your Expenses: While this isn't as easy to do as getting a quick loan, it's much more beneficial. Lowering expenses can permanently eliminate the need for future loans and get people onto a healthier financial trajectory. Always consider building a budget before taking on more debt.
PenFed Loans: Online lenders aren't the only way to get affordable bad-credit loans. Credit unions give their members competitive rates when they don't have high credit scores. PenFed Loans is a credit union that's open to anyone, and it has much better loan options than Eagle Valley Lending.
Side Hustles: Those who have already lowered their expenses as much as possible can still find alternatives to taking on debt. For example, starting a side hustle to earn a little extra cash has never been more achievable. From becoming a driver to pet-sitting, there are options out there for everyone.
Cash advance apps: Download a cash advance app (Earnin is a good one) right to your smartphone. It's free. These apps allow customers to get an advance on their next paycheck. Users usually aren't charged any interest or fees, instead they ask customers to leave a "tip" for the service.
Taking out a loan may help solve short-term financial problems, but it rarely helps improve people's finances in the long run. It's much better to find an alternative solution. If debt is the only option, make sure it's from a lender with decent terms.
The Bottom Line
If you're looking for a yes-or-no recommendation on whether to borrow from Eagle Valley Lending, we'd have to warn against it. Tribal lenders are rarely smart to borrow from, and Eagle Valley Lending does nothing to differentiate themselves from their peers.
There are too many better alternatives out there. Eagle Valley Lending is too expensive, even among the loan options for people with bad credit. If you absolutely need a loan, try a licensed bad-credit lender or a credit union instead.
FAQs
How Can I Contact Eagle Valley Lending?
You can reach Eagle Valley Lending by phone at (928) 474-4905 or visit the website at EagleValleyLending.com.
Is Eagle Valley Lending Legit?
Yes, even though customer comments indicate a degree of dissatisfaction, Eagle Valley Lending does issue loans.
Does Eagle Valley Lending Report to Credit Bureaus?
Eagle Valley Lending will probably not check your credit score for loan eligibility, and timely loan payments probably won't help boost your credit score. But if you miss loan payments and/or default on a loan from Eagle Valley, it will get reported to the credit bureaus and will negatively affect your credit score.