The Freedom Cash Lenders website looks like an answer to a prayer, especially if you're strapped for money. Approval in minutes! Bad credit ok! One of the top online lenders in the business!
It's easy to fall for promises like that, but does Freedom Cash Lenders really deliver?
Let's take a closer look.
Drowning in online payday loan debt?
Credit Summit may be able to help.
What is Freedom Cash Lenders?
Freedom Cash Lenders is an online lender providing installment loans up to $1,000. They only make online loans.
The Freedom Cash Lenders website states that the company is "wholly owned and operated by the Big Valley Band of Pomo Indians, a federally-recognized American Indian tribe and sovereign government".
The only address given is a post office box in Finley, Calif.
Is Freedom Cash Lenders Licensed?
Freedom Cash Lenders holds a license issued by the Big Valley Band of Pomo Indians Consumer Financial Regulatory Authority. The only regulatory power it acknowledges is that of the Big Valley Band of Pomo Indians Consumer Financial Regulatory Ordinance. So it's regulated by the same people who own the Company.
Freedom Cash Lenders is not licensed or regulated by any state or federal authorities
What is a Tribal Loan?
Tribal loans are loans made by Tribal Lending Enterprises, or TLEs. TLE's are owned and operated by Native American tribal governments They claim to be immune to state and federal laws and regulations.
Many consumers have complained about the business practices of TLEs. Consumer advocates and state authorities claim that many TLE's are actually fronts for non-tribal predatory lenders who use the tribes as a shield against financial regulation. Critics call these "rent-a-tribe" arrangements
What is Tribal Immunity?
Recognized Native American tribes have the right to govern themselves. The Constitution and numerous legal precedents guarantee these rights. Tribal officials acting in their official capacity are immune to lawsuits
This is called "tribal immunity."
Immunity lets TLEs circumvent regulations on predatory lending They may charge astronomical interest rates, advertise loans online with limited or inaccurate information, and change the terms of terms after agreements are reached.
Many financial regulators and consumer advocates believe that tribal sovereignty and tribal immunity apply only to internal affairs. They believe that tribal enterprises doing business outside the tribal area should be subject to state and federal rules.
Several court cases are now in progress over this issue. The Supreme Court may have to resolve the question. In the meantime, TLEs are free to operate as they please, without control or regulation.
What to Expect if You Borrow From Freedom Cash Lenders
If you borrow money from Freedom Cash Lenders, what will the experience be like?
Here's what you'd be facing.
A loan limit of $300-$500 for first time borrowers.
Loans up to $1,000 if you've borrowed before or made a number of payments.
An APR from 600% to 780%.
Bi-weekly or monthly payments.
A loan term from six to nine months.
No prepayment penalty if you want to pay early.
These are the terms discussed on the Freedom Cash Lenders website. The website also says that the final terms will be presented only after your loan application is approved.
What's the Difference Between a Tribal Loan and a Payday Loan?
Tribal loans and payday loans are designed to fill short-term emergency needs. They are typically for relatively low amounts, frequently under $1000. Both typically carry extremely high interest rates and may have hidden fees.
There are still two important differences between tribal loans and payday loans.
Tribal Loans are Installment Loans
Most payday loans are supposed to be paid in full on the payday after the money is borrowed. That's why they are called payday loans. Many borrowers roll their payday loans over to another payday loan, but you're still supposed to pay it off in one payment.
Tribal loans are designed to be paid in a series of installments over several months. That makes the monthly payments relatively small, but it also means interest has more time to accumulate.

With a 6 to 9 month loan at over 600% annual interest, you can easily end up paying back several times the amount you borrowed.
Tribal Loans are Unregulated
Payday lenders are regulated by state laws. Many states have caps on the amounts that can be lent and the interest that lenders can charge. If lenders change terms after lending money the borrower can complain to regulators or even sue the lender. Payday loans are illegal in many states.
Tribal lenders are regulated only by the same tribal authorities that own the lender. If the lender violates or changes the agreement you have no legal recourse.
What Customers Say About Freedom Cash Lenders
If you look at the claims on the Freedom Cash Lenders website, their loans sound like a great deal. But what do their customers say?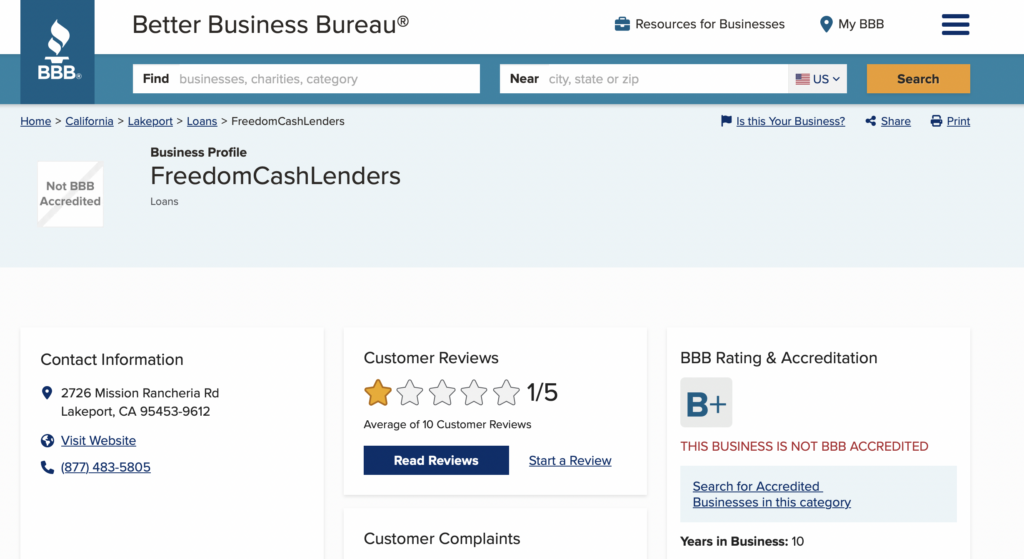 Let's look at some reviews from the Better Business Bureau (BBB) website.
"Non responsive and a complete rip off. They will continue taking money from your bank account long after you have repaid the loan and are impossible to reach! BEWARE!"
"I got a 300 dollar loan from them in December. I have paid back over 1100 dollars. Term of loan is well past finished yet the keep taking 97.00? Every 2 weeks out of my acct .I have made several attempts to reach them by phone and email.. no responses.. I want this matter taken care of.. I was never late on payment and the term of agreement has been held on my part."
"Freedom Cash Lenders response says that they have no access to your account information which is not true. You requested I provide my back login information and password, in which you would be able to login and fully access my bank account. Not safe, not secure."
There are 10 reviews, and the average ranking of customers is 1 star out of 5.
What Are the Complaints About?
Most complaints fall into three categories.
Customers claim that the company took their details and even promised a loan but never transferred money. Many customers worried that they had given out personal information to an unreliable company.
Other customers claim that Freedom Cash Lenders continued to make withdrawals from their accounts after the loan was paid.
Customers also said that Freedom Cash Lenders demanded access to their Social Security numbers and bank passwords even if their loan applications were not approved.
Ironically, Freedom Cash Lenders has a B+ rating from the BBB. This appears to be based on their responses to complaints. They do consistently respond to customer complaints, even if the response is just a promise to contact the customer.
What Are the Pros and Cons of a Loan From Freedom Cash Lenders
It's hard to say anything positive about a lender that charges interest rates up to 780%, fails to communicate with borrowers, and keeps pulling money from bank accounts long after the loan term expires. We'll try to be fair, though.
The Pros
You can get the money quickly. If your loan is approved the money can be released the next business day.
Approval is easy. There's no credit check and the requirements are very relaxed.
The Cons
Lack of communication if you're not approved. Borrowers report giving out personal details and never hearing from the company again.
Extremely high interest rates. APRs range from 600% to 780%.
Continued withdrawals. The Company may keep withdrawing from your account after the loan term is up.
Inaccessible information. It may be impossible to find out how much you still owe and how you can pay it off..
No legal options. Tribal immunity may make it impossible for you to sue or make an effective complaint.
Once you have their money, you're on the hook, and they can start taking yours. They will take a lot more than they sent you, and it will be hard for you to do anything about it.
How to Apply for a Loan From Freedom Cash Lenders
If you still want to apply for a loan from Freedom Cash Lenders, you'll need to meet these requirements.
You must be over 18.
Only US citizens can apply.
You must have a regular source of income providing over $1200 a month.
You must have a bank account.
Loans are unavailable in some states.
If you meet these qualifications, you can fill out an application on the Freedom Cash Lenders website. If you are approved you will be offered a set of terms. We suggest reading those terms very carefully.
The Freedom Cash Lenders site states that if you do not qualify for one of their loans they will submit your application to a "network of qualified lenders". They don't say who those lenders are.
Better Alternatives to Freedom Cash Lenders
People turn to tribal lenders for the same reason they go to Payday lenders: they feel like they don't have a choice. That may not be the case. Consider these alternatives before turning to any high-interest loan.
Online Lenders
There are credible online lenders who will lend to borrowers with bad credit or no credit.
Upstart does not use credit checks. They base lending decisions on your bank record and other alternative data. Their highest APR is 35.99%.
OneMain Financial does not have a minimum credit score for borrowers. They make secured and unsecured loans. The maximum APR is 35.99%.
BadCreditLoans.com is a lending brokerage that links lenders and borrowers. They handle loans with APRs up to 35% and many of their lenders will work with borrowers who have flawed credit records. You could receive unwanted calls and emails form potential lenders.
All of these options have downsides, but any loan you can get with bad credit or no credit will be imperfect. At least they won't charge 750% interest!
Your bank or credit union: Your bank or credit union knows your finances and you may be able to talk directly to decision-makers. Many credit unions in particular have loan products designed to help members stay out of the high-interest loan trap called Payday Alternative Loans. It's always worth talking to a financial institution that you're already using.
Credit card cash advance: Most financial advisors discourage the use of credit card cash advances. The APRs are high, they often come with fees, and they start accumulating interest immediately, unlike purchase balances. They are still cheaper than a tribal loan.
Home equity loan or line of credit (HELOC): If you own a home, these options offer relatively easy approval and low interest rates. You may have to borrow a larger sum than you want, and if you default you could lose your house.
401(k) loan: If you have a 401(k), consider a 401(k) loan. You'll be borrowing from yourself, so there's no credit check or other approval criteria. You won't be helping your retirement and if you don't pay the loan it will be taxed as income, but it will do less damage than a high-interest tribal loan.
Borrow from friends and family: You don't want to ask for a loan. Nobody does. Swallowing your pride is better than falling into the high-interest loan trap.
Peer-to-peer lending: Some peer-to-peer platforms, notably P2PCredit, offer loans to borrowers with bad credit. Always check online reviews and other information about a P2P platform before using it.
Cash advance apps: Paycheck advance apps like Earnin, Brigit, or MoneyLion offer fast short-term cash. Don't expect a free ride: there will be fees. They are still cheaper than a loan from Freedom Cash Lenders.
Should You Borrow from Freedom Cash Lenders?
The terms that this lender offers would normally be illegal in all 50 states. Freedom Cash Lenders gets away with offering those terms by using tribal immunity as a shield. That is legal — for now at least — but it's probably not something you want to do.
If you're considering borrowing from this Company or any other tribal lender, we strongly suggest reading the terms carefully, looking up the reviews on the BBB and other sites, and thinking very carefully about what you're getting into. Freedom Cash Lenders may offer cash, but they don't offer freedom.
FAQs
How Can I Contact Freedom Cash Lenders?
You can contact Freedom Cash Lenders by phone at (877) 483-5805.
Where is Freedom Cash Lenders Based?
Freedom Cash Lenders is based in Finley, California.
Where Does Freedom Cash Lenders Loan Money?
Freedom Cash Lenders loans are not available in the following states: AZ, AR, CO, CT, GA, MA, MD, ME, MT, NC, NH, NJ, NY, OH, OR, PA, VA, VT, WV.