If you're in need of some fast cash, a payday loan may seem like a good option. The lender will get you money quickly and you won't have many hoops to jump through to obtain it. Unfortunately, these types of loans come with monumental drawbacks, particularly a subset category of them, tribal payday loans.
Be wary of lenders that offer tribal payday loans as they can be one of the most dangerous loans for consumers out there.
Drowning in online payday loan debt?
Credit Summit may be able to help.
What Is CreditCube?
CreditCube is an online tribal lender that provides small, high-interest loans to individuals. Similar to traditional payday loans, the purpose is to offer people monetary relief due to an unexpected financial emergency.
CreditCube offers a quick application process, allowing for the borrower to receive their money as early as the next day. Unlike typical payday loans, CreditCube allows borrowers to pay back their loan over a few months instead of once they receive their next paycheck. Though this may appear as a benefit, in reality, it only means more of your hard-earned money goes to the lender. CreditCube offers an APR from 159.90%-779.97% on their loans, an astronomical number in comparison to credit card APR which maxes out at 36%.
The "lower" end rates are only available to returning borrowers who become part of the CreditCube Loyalty Program. One example of the program's "benefit" is that a $300 loan could have its APR dropped from 779.97% to 259.94% for a "VIP level" customer.
For those residing in Pennsylvania, Connecticut, Minnesota, New York, Vermont, Virginia, or West Virginia, CreditCube does not lend in those states. The lender also states that "the availability of installment loans in your state is subject to change at any time with or without notice at the sole discretion of CreditCube."
Is CreditCube Licensed?
CreditCube is not licensed in the state of California, where they claim they are based, nor are they licensed at the federal level. They claim to have a copy of their lender license at the bottom of their rates and terms page, however, the link redirects back to the homepage of their website when clicked.
CreditCube is what is known as a tribal lender. The company is owned and operated by the Big Valley Band of Pomo Indians, a federally recognized American Indian tribe located in the Lake County region of California. This means any agreement between CreditCube and the consumer is governed by tribal law, regardless of any state laws in the state where the company or the consumer are located.
On the surface, this doesn't sound like a big deal. However, the tribal loans they hand out almost always take advantage of consumers.
What Is a Tribal Loan?
Tribal loans are a type of payday loan with a few important differences. Lending companies will claim to be located on Indian Reservations, which are recognized as sovereign nations by the U.S. Constitution. This means tribal payday loans fall under the regulations of the reservations and federal regulations rather than the laws of any specific state.
Without the robust state laws in place to protect consumers, tribal loans are much more dangerous for borrowers. Compared to traditional payday loans, tribal loans typically have higher interest rates as the state-mandated restrictions do not apply to them.
What's the Difference Between a Tribal Loan and a Payday Loan?
Due to the fact that tribal payday loans aren't governed by state laws, their interest rates can exceed 700%, much higher than ordinary payday loans. This creates significantly more risk for borrowers. Tribal loans also come with increased difficulty when it comes to tasks such as loan refinancing, loan discharges in bankruptcy, and asserting your rights when the lending organization requests payment. Traditional payday loans are also illegal in many states because of how predatory their practices can be.
What Is Tribal Immunity?
Tribal immunity is the principle that Indian Reservations, being sovereign land, have the right to self-govern their territory. This means they don't have to follow the laws of the state in which the reservation is located. They are in essence "immune" to certain lending laws and practices.
Tribal lenders will use "tribal immunity" as an excuse to ignore laws that are in place to protect consumers. For example, they will:
Charge interest rates that are far above state limits
Provide loans with balances that are higher than state minimums
Break the terms of their loan agreements
While the Supreme Court and the Consumer Federal Protection Bureau (CFPB) are both attempting to crack down on tribal lenders, it's a slow process. Tribal lenders are holding fast to their position that they are not subject to any laws but their own. In the meantime, lenders like CreditCube continue to offer loans that violate state laws and ruin the financial well-being of many desperate borrowers with poor credit who are strapped for cash.
What to Expect When Taking Out a Loan from CreditCube
First-time borrowers can only take out a $200-$400 loan with their interest rate being near the higher end of CreditCube's spectrum. Expect the APR to be 779.97% or higher on your first loan. Returning customers can borrow up to $5,000 with a "discounted" APR that is still typically higher than 250%.
In general, here's what to expect when taking out a loan from CreditCube:
An APR between 159.90% and 779.97%
First time borrowers can receive a loan between $200-$400
For returning customers, the maximum loan amount is $5,000 but the amount you qualify for varies based on your credit and repayment history with CreditCube as well as your Loyalty Program status
Payments are typically due bi-weekly
The standard repayment term will take months if the borrower only pays the minimum payment due. For example, a $300 loan at a 259.94% interest rate will take about seven months to repay at $38.34 every two weeks
According to CreditCube, there are no penalties for paying off your loan early
Additional fees of an undisclosed amount will be applied if you miss your payment due date. There is a $25 late fee if a payment fails due to insufficient funds or if your payment is dishonored by your financial institution.
These terms are pretty consistent no matter the tribal lender, showing how expensive and dangerous working with them can be for borrowers.
Online Reputation
As for CreditCube's online reputation, borrowers should do their homework on the lender before they consider taking a loan out from them. While they have a 3.55/5 rating from customer reviews on their Better Business Bureau (BBB) page, you shouldn't base your decisions about the company on those ratings alone.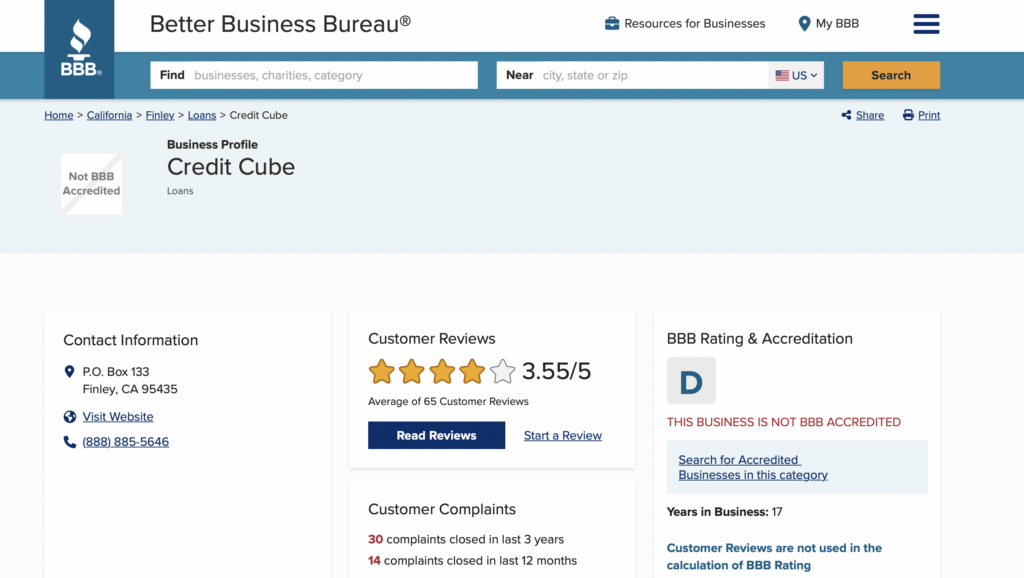 The complaint section is littered with customers complaining about getting harassing calls and texts from CreditCube regarding their loan. Customers have also protested their agreements with CreditCube, claiming they are void due to the company not abiding by state laws where residents live.
For example, one customer wrote: I took out a … 600 dollar loan for Christmas and I cannot afford to pay this loan any longer due [to] financial reasons. I have paid the initial 600 back plus an additional 175.35. Can this be squared away because I cannot do this[?] In addition, it's illegal to have [a] payday loan in the state of Georgia.
To repeat: Tribal lenders will use "tribal immunity" as an excuse to ignore laws that are in place to protect consumers. They will not abide by laws in your state. Don't assume that it will be easier to get out of a loan agreement just because it violates your state's laws. Research the lenders before taking out the loan.
CreditCube is not accredited by the BBB, and they have a D rating.
Consumers also gain points they can use toward getting a lower interest rate by giving testimonials for CreditCube. This can incentivize consumers into posting positive reviews of the company, whether or not they are deserved. Considering that anyone can leave a review on the page, some offer clues that they could be fake, with writing similar to the generic reviews featured on their website.
One customer gave a one-star review for his offer of a $400 loan at a 700% interest rate. It's a typical example of the unreasonable rates CreditCube hands out.
Another customer complained about his $300 loan. He repaid $150 of the loan within two days and expected to owe two more payments of $98, but CreditCube told him he had three $98 payments remaining on a balance that was just under $100. The borrower paid the loan balance immediately so he wouldn't have to make the two extra payments. In a response, CreditCube blamed an error that caused the borrower's $150 payment to be improperly recorded. It's a good example of the importance of vigilantly monitoring your loan balances.
At first glance, they may seem like a reputable lending company, but once you dig a little deeper, the evidence is clear that CreditCube should be avoided in favor of cheaper and safer options.
The Pros
CreditCube's tribal payday loans are fraught with problems. Interest rates are through the roof and shady business practices leave potential borrowers vulnerable to data breaches and more money lost than they ever thought possible for a small loan. Still, if you are in need of money quickly and are confident you can pay it back immediately, here's how you can benefit:
Quick approval process without many hoops to jump through regarding credit score or other variables
Fast payment: Get your loan as early as the next day
Can be used immediately for a small financial emergency
The Cons
Taking out a loan with CreditCube can lead to a whole host of problems for you, including:
Astronomically high interest rates: A $300 loan at a 779.97% interest rate will cost you over $1400 and take seven months to pay off if you only pay the minimum.
Borrowers are not protected by state laws: Since CreditCube is a tribal lender, they don't have to abide by the state laws where the borrower is located.
Harassing calls and texts: Unfortunately, part of the application process means giving up this information, meaning the lender can contact you whenever they want.
Shady business practices: These include undisclosed fees or terms that may be changed or added to your bill without your knowledge.
How to Apply for a Loan from CreditCube
The process to apply for a loan from Credit Cube only takes about 10 minutes as there are few qualification requirements. After clicking on the "Apply Now" button found on the homepage, you'll need to fill out the following:
Create an account, including email and password
Provide your address, phone number and driver's license number. Note that CreditCube will also ask for personal information like how long you've lived at your current address and if you own or rent
Employer information such as name, location, and phone number
Your monthly income
When you receive your paycheck so they can sync up repayment dates
Banking information including your bank account number and routing number
Your Social Security Number and the desired loan amount
You'll then need to agree to their terms of use and privacy policy before applying. You should hear back within a day or two at which point you'll be sent the terms of your agreement including the loan amount and interest rate. All the information you provided must be entered with no guarantee you'll receive a loan from CreditCube.
Don't start the application unless you're 100% committed to completing it. CreditCube may use programs that track keystrokes on their website, allowing the company to gather your information even if you don't actually submit a loan application.
Better Alternatives to CreditCube
Before you commit to the world of frustration that comes with taking out a tribal loan, consider your options. If you really need a loan, there are much better online lenders out there. Lending Tree is a site that allows borrowers to shop for loans from reputable lenders. There you can view side by side interest rates and loan terms, so you pick out the one that works the best for you. Best of all, interest rates are typically 36% or less for small loans, nowhere near the triple-digit figures on CreditCube.
Credit unions are another great place for borrowing money, especially if you need less than $1,000. PenFed Credit Union is a great starting point for borrowers as their services are available to anyone and are backed by the federal government.
Other methods you can utilize include:
The Bottom Line
Using CreditCube or any other tribal lender is a good way to get yourself into financial trouble. Not only are their interest rates extremely high, but their methods to extract money from you are borderline illegal. There are much safer and superior avenues available to you if you are in need of some fast cash. Consider the options listed above next time you need a loan.
FAQs
How Can I Contact CreditCube?
You can reach CreditCube by phone at 1-888-885-5646 or email support@creditcube.com.
Where is CreditCube Based?
CreditCube is based in Finley, California.
Are there States Where CreditCube Doesn't Issue Loans?
CreditCube does not lend to residents of Pennsylvania, Connecticut, Minnesota, New York, Vermont, Virginia, West Virginia and Georgia.