When you're short on cash, a cash-advance app like Brigit can be a great alternative to a payday or title loan.
Brigit: What You Need to Know
Basically, Brigit is a budgeting app that connects to your bank account. Once it's paired with your bank account, the app will monitor your spending and deposits. It uses this information to help you see where your money is actually going, identify ways to save and spend less, put together a budget, etc. If you meet the app's criteria, you can also use it to help cover expenses between paychecks via their cash advance program.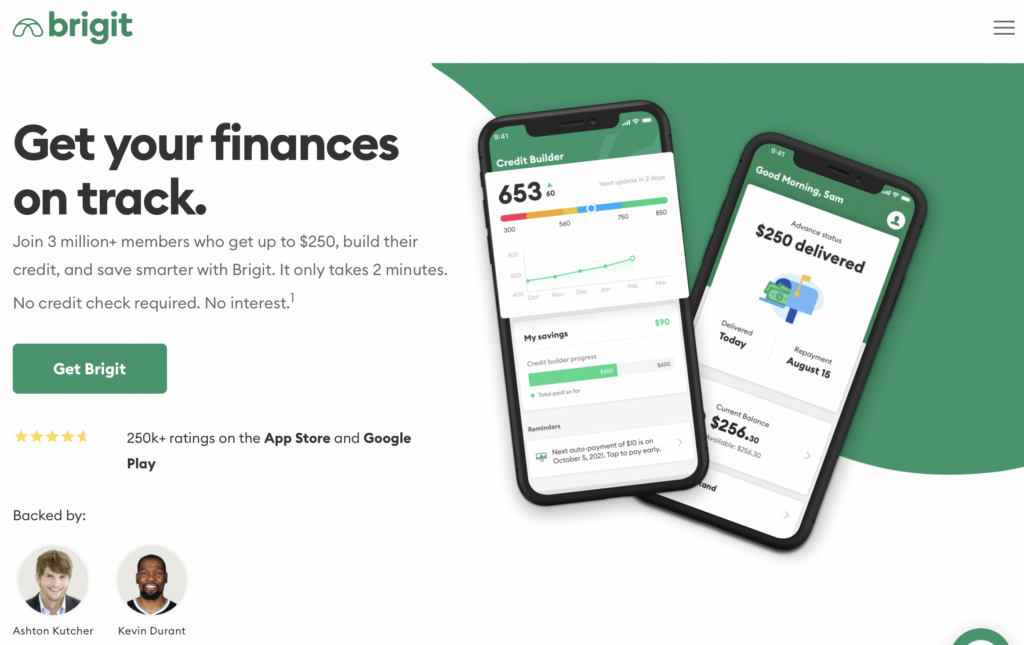 Brigit at a Glance
| | |
| --- | --- |
| Physical locations | None |
| How to get started | Download the app and connect it to your bank account |
| Monthly service fee | Free version and a Paid membership that costs $9.99/month |
| Tips | None requested |
| Celebrity endorsements | Ashton Kutcher, Kevin Durant |
| Total you can borrow | Advances range from $50 to $240 depending on your "Brigit Score" |
| How to deposit | Direct deposits go to your existing bank account |
| How to withdraw | Withdraws are made from your existing bank account. |
| Notable features | Cash advances up to $250, credit and identity monitoring, opportunities to earn more money |
| Sign-up bonus | Referral credit when you get someone to sign up for the app using your referral code. |
Like most financial apps, Brigit offers both free and paid versions of its program. The free version is about as basic as you can get. It offers free spending/deposit monitoring, some base-level insight into your spending habits, and access to Brigit's knowledge center, where you can find tips and information on saving, budgeting, credit, etc. The free version also has links to opportunities for earning more money.
The paid version of Brigit, obviously, offers more. At $9.99/month, it's not the cheapest cash advance app on the market. It does, however, offer some pretty great perks. In addition to all the stuff you get for free, the paid version of Brigit offers identity protection, automatic coverage if your account is in danger of overdrafting, credit building and flexible repayment on cash advances.
Cash Advances
Brigit offers paid members advances between $50-$250 in cash at a time. That said, not all paid members can access the full $250 right away. Brigit takes all of your deposit/spending information and plugs it into an algorithm that determines how much of an advance you qualify for.
To qualify for a cash advance, you must meet all of the following criteria:
The account you connect to Brigit must be at least 60 days old

It needs to have "sufficient activity." To achieve this, Brigit recommends using the account as you normally would for a couple of weeks after connecting it to the app
Your account must have at least some money in it (aka a balance above $0)
You must have some money left in the account the day after your paycheck is deposited. In other words, don't spend your entire paycheck the same day it arrives
You must have at least three recurring qualifying deposits from the same source.
Qualifying deposits must average out to be at least $400
Qualifying deposits must total at least $1500
Have a qualifying "Brigit Score"
"Qualifying" deposits are deposits that meet these criteria:
Be around the same amount every time. Deposit amounts that very wildly will not qualify
Be from the same source
Happen on a schedule (weekly, bi-weekly, semi-monthly, or monthly). Irregular payments won't qualify
Are directly deposited into your account. Cash deposits, account transfers and paper checks will not qualify
In other words, Brigit may not be the best platform for you if you work inconsistent hours or handle a lot of freelance work through different payment methods.
Your "Brigit Score" is a number between 0-100. The higher the number, the better. Your score will be based on the following:
The health of your bank account
Your spending habits
Your deposit/earnings profile
READ MORE: Here are the Best Cash Advance Apps
What Makes Brigit Stand Out
Brigit might not have all of the bells and whistles that some of the other cash advance apps have. Still, it does have some pretty awesome features that help make it a leader in its niche.
No Tips or Interest
While many cash advance apps encourage borrowers to "tip," Brigit does not ask for a tip and also doesn't charge interest. This may not seem like a big deal, but a $15 tip can drive the cost of borrowing up into the triple-digit APR range.
"Holistic" Approach
Launched in 2019 by Zuben Mathews and Hamel Kothari, Brigit was created as "a holistic financial health app" that helps its users build a stable financial future."
Unlike other financial apps and fintech platforms, Brigit does not offer banking services. It does not offer spending or savings accounts. There is no Brigit-specific debit card or ATM network.
Credit-Builder Loan
A credit-builder loan is not really a loan at all. Instead, it is an account with a savings goal that you pay into over a set amount of time. The account is listed with the credit reporting bureaus as a loan. The balance of the loan is whatever savings goal you have decided upon. Over time, as you deposit money into this account, those deposits are reported as payments to the bureaus.
Once you've made your last scheduled payment and reached your savings goal, the money you've saved is yours to use however you want. A lot of people choose to use that balance to fund a secured credit card to help them keep building their credit.
These "loans" are great because if your credit score is less-than-ideal, they help you build credit without your having to risk defaulting on anything. If you have bad (or no) credit, these products can help you start to get back on track.
Credit Monitoring and Alerts
The biggest benefit of credit monitoring and alerts is they help you nip attempts at identity theft in the bud. They're also a great way to ensure that your credit report remains error-free. As soon as you get an alert, you tell the bureaus whether the action is legitimate or fraudulent. You can act quickly to keep the damage from escalating if the action is fraudulent.
Identity Theft Protection
Identity theft protection protects you against fraudulent spending. It's very helpful in getting your bank to reimburse your account for fraudulent expenses. It also makes canceling and replacing your ID and credit cards much simpler.
Cash Advances of Up to $250
If you meet the criteria for a cash advance, you can use these to keep your bank account in the black even if your paycheck runs out before your next payday. This will prevent your account from being charged overdraft or returned service fees, which can really add up!
No Physical Branches
Remember, Brigit is not an actual bank. It is a cash-advance/budgeting app. This means that it has no physical branches, accounts, etc. If you're looking for an app that has banking options, Brigit probably can't help you.
Pros and Cons of Brigit
Pros
If you qualify for a cash advance, that advance is going to be much cheaper than paying payday loan interest rates
Brigit advances will cost you less than you'd pay in overdraft or returned item fees
Transfers happen automatically — so if you need some quick cash, Brigit is faster and easier to deal with than payday or title lenders
Identity theft protection is pretty sweet
Cons
You'll have to allow the app near-constant access to your bank account
It takes several weeks' worth of qualifying deposits before you're eligible for any cash advance
The paid membership is more expensive than other cash advance apps charge
Your advance repayments won't be reported to the credit bureaus
Could create a habit of relying on money you don't actually have
Does Brigit Offer Cash Back?
No. Remember, Brigit is not a bank and is not partnered with any banks. This means that you won't get the same perks you'd get with a traditional bank or spending account.
The Brigit App
Technically speaking, Brigit is a fintech app. While the company has a web presence, you'll need to download the app if you want to actually use its services.
Currently, Brigit is available in both the Google Play and the Apple App Store, where it ranks very well. Google users give it 4.6 stars. Apple users give it 4.8 stars.
Is Brigit Trustworthy?
According to the Brigit website, the app uses 256-bit encryption. This is the same level of encryption you'll get with most of the major banks. They also use ID verification, multi-factor authentication, and automatically log you out of the app when you close it. All of this helps to ensure that your information stays safe.
What are Customers Saying about Brigit?
Brigit is not currently rated by the Better Business Bureau. User reviews there, however, only rate the app at 1.32 stars.
Here's a review from one happy customer:

The majority of negative BBB reviews involve poor customer service, billing confusion and/or difficulties canceling the service.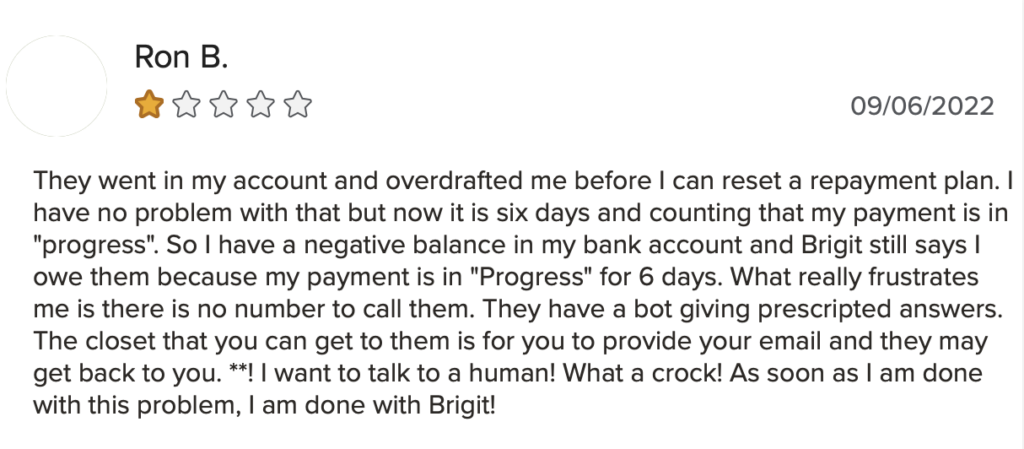 TrustPilot's customer reviews aren't much better. Brigit only earns 2.4 stars on that platform, which is odd because none of the reviews award more than two stars.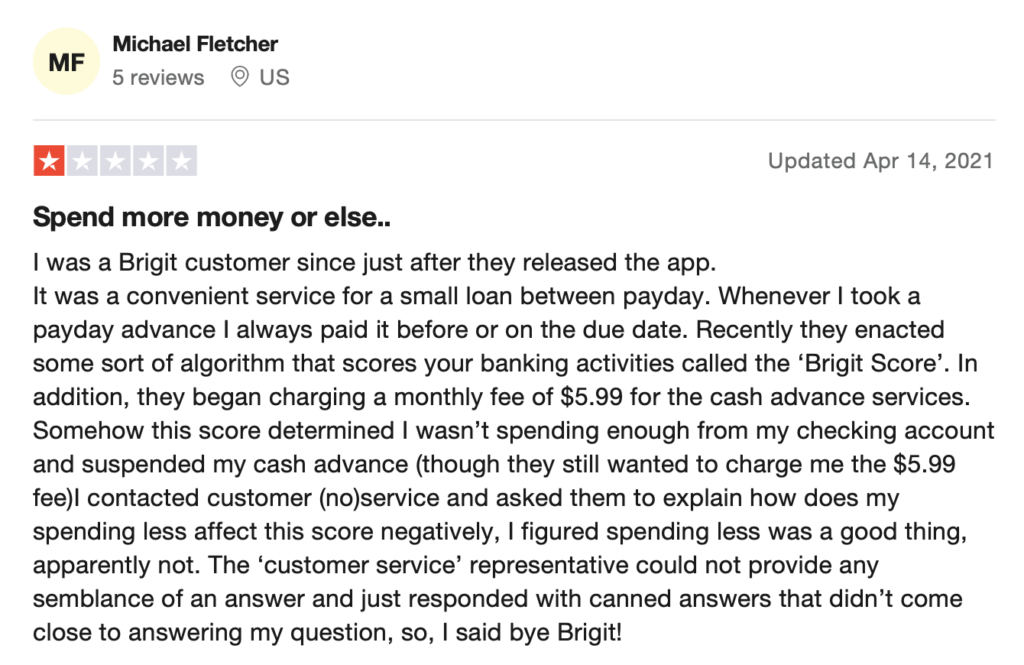 The Bottom Line
Brigit is a great app for insight into your spending habit and (if you qualify) helping you bridge the gap between paychecks. If you're hoping for more than monitoring, however, you'd be better off choosing one of the cash advance apps offering banking and credit services.
FAQs
Are Apps Like Brigit Better than Payday Loans?
Absolutely. Apps like Brigit are cheaper than Payday Loans. And, unlike Payday Lenders whose goal is to keep you trapped in the payday loan trap, cash Advance Apps are designed to help you eventually not need them. 
What is a Cash Advance App?
A cash advance app is an app that links to your bank account and offers small-dollar advances when you need some extra cash.
Is Brigit Secure?
Brigit uses the same encryption most banks use as well as several safeguards to protect against ID theft.