If you're strapped for cash, this website could look like a dream come true. It promises "a quick and easy loan." You can "apply in minutes, and get up to $1,000 tomorrow." There's even a picture of a whole bag of $100 bills. Before you sign up for some of those dollars, read this Advance.Cash review.
Featured Alternative: DebtHammer

Break the borrowing cycle
Can help with many types of debt, including payday and tribal loans
Friendly and helpful customer support – no judgment
What is Advance.Cash?
Advance.Cash is a "short-term, small-dollar" lender. They make loans up to $1,000, limited to $600 for first-time borrowers.
Copyright and contact information on the Advance.Cash website indicates that Advance.Cash is operated by Makes Cents Inc. The address is provided is a post office box in Parshall, N.D.
Is Advance.Cash Licensed?
We can find no record of Advance.Cash or Makes Cents Inc. being a licensed lender in any state.
The Advance.Cash website states that the company is "owned by the Mandan, Hidatsa, and Arikara Nation —The Three Affiliated Tribes of the Fort Berthold Reservation, a sovereign nation located within the United States of America, and operating within the Tribe's Reservation."
This makes Advance.Cash a "tribal lender": a lending enterprise owned by a Native American tribe and claiming sovereign immunity to state and federal consumer protection laws.
What Is a Tribal Loan
Tribal loans are made by Tribal Lending Enterprises (TLEs). These enterprises are owned and allegedly operated by recognized Native American tribal governments. They claim sovereign status and do not conform to state and federal consumer protection laws.
Many critics claim that these operations are actually run by non-tribal lenders who use the tribes as a front.
What is Tribal Immunity?
The U.S. Constitution recognizes the right of Native Americans to govern themselves. Tribal officials are immune to suits when they are acting in an official capacity. This is "tribal immunity."
Tribal lenders use this immunity as a shield. They claim that they are immune to state and federal laws and regulations governing lending. Some have even summoned lenders in default to appear before tribal courts.
Tribal lenders use their immunity to do several things:
Charge interest rates far above limits set by state law.
Lend larger amounts than state law allows for payday lenders.
Unilaterally change the terms of their loan agreements.
Advertise loans online with no disclosure of interest rates or fees.
These policies have driven conflict with both consumers and regulators. The Consumer Financial Protection Bureau (CFPB) is trying to bring tribal lenders within its regulations. Many court cases are in progress. The Supreme Court may need to resolve the issue.

In the meantime lenders like Advance.Cash continue to draw in customers with deceptive advertising and lend at extraordinary interest rates that crush many borrowers.
Who Are They Really?
Consumer advocates claim that many "tribal lenders" are fronts for non-tribal entities. They call this a "rent-a-tribe" arrangement.
In April 2020 a borrower of MaxLend, also operated by Makes Cents Inc., filed a suit in a Maryland court. The suit states that Makes Cents Inc., the parent company of Advance.Cash, is actually operated by Cane Bay Partners, a company in the U.S. Virgin Islands.
The Cane Bay Partners website says the Company is a fintech consultant working for, among others, financial service firms and debt collection organizations. They even have a charitable foundation.
The Maryland suit alleges that Cane Bay principals David Johnson and Kirk Chewning were previously involved with high-interest online lenders based in Belize and with other high-interest lending operations. They are not members of any Native American tribe.
Anyone considering borrowing from Advance.Cash should still be aware of these allegations.
What to Expect If You Borrow from Advance.Cash
If you do borrow from Advance.Cash, here's what you'll face.
Advance.Cash does not disclose interest rates on its website, but customer reviews indicate APRs from 472% to 841%.
A $600 loan limit for first-time customers.
A $1,000 loan limit after making several successful payments.
A choice of weekly, biweekly, or twice monthly installments.
The loan term is not specified but you can pay in up to 13 installments. On a twice-monthly schedule that would be 6 ½ months.
No penalty for paying you loan off early.
The Advance.Cash website does not discuss fees. Customer review sites state that late fees and origination fees are imposed.
Customer reviews claim that many Advance.Cash borrowers end up paying sums many times greater than the amount they borrowed.
What's the Difference Between a Tribal Loan and a Payday Loan?
Tribal loans and payday loans are similar. Both of them target desperate borrowers and charge extremely high APRs. There are still important differences.
Payday loans are governed by state laws and federal regulations. They are illegal in many states. Other states regulate interest rates, maximum loan amounts, and other features. Tribal loans are regulated only by tribal law.
Payday loans are typically paid in a single lump sum on the payday after the loan. Tribal loans are installment loans, usually paid over a period of up to six months. This allows m,ore time for interest to accumulate.
You will pay your tribal loan in installments. That means lenders can (and do) direct early payments primarily to interest.
Typical Terms of an Advance.Cash Loan
Advance.Cash does not disclose loan terms on its website. They do mention that "this is an expensive form of credit", which is certainly true. We learn a bit more about the terms from online reviews.

The Better Business Bureau (BBB) gives Advance.Cash a "C" rating. The BBB offers an alert stating "BBB files indicate that this business has a pattern of complaints concerning Interest was not disclosed to consumers at time of loan agreement, Consumers were not allowed to pay off loans early, and excessive interests were charged."
Online Reviews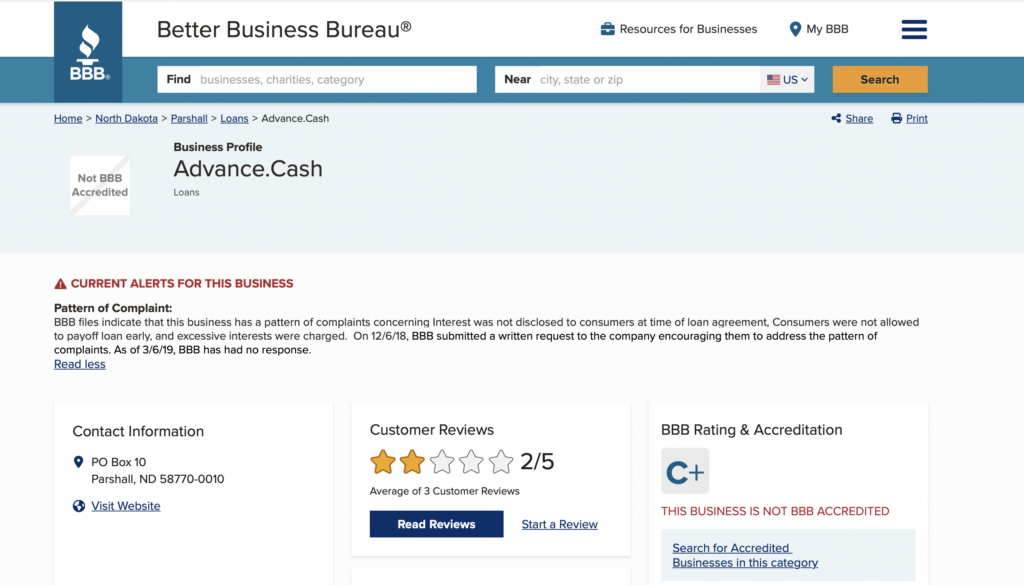 Reviewers on the BBB site give Advance.Cash two out of a possible five stars. Some typical comments:
"I applied and was approved for a $2,000.00 loan over the phone within 10 minutes… The funds were deposited into my account within 24 hours. I was not made aware of the terms… I later learned that the interest rate was 415.77%. The finance charge was $4,594.10…The total amount that I will be paying for the $2,000.00 loan is $6,594.00. This is a clear example of predatory lending."
"This company is false advertising and rip people off. They sit on the internet and suck people in. They do not explain to your that your payoff goes up and you are pretty much stuck paying off in all the payments so they can steal peoples money. I do not believe for one second that they are a 3 tribe company… They started to harass me at work calling over and over again… They call from multi state numbers so that is why I feel they are a fraud company."
"Had I know that the interest would be this high and had I know that they would be deducting my acct x2 a month I would have suffered without getting this loan. Its misleading they way that it is explained. How in the world are they allow to continue to take advantage of innocent working law abiding citizens. This has got to stop! why isn't it illegal??"
Makes Cents Inc. has done business under many identities, including Advance.Cash, MaxLend, Sovereign Advance, and Cover Me Cash. Reviews of these companies reveal a consistent pattern of overwhelming interest rates, hidden fees, changes in terms, poor communication, and generally predatory lending.
What Are the Pros and Cons of an Advance.Cash Loan
Like all loans, a loan from Advance.Cash has advantages and disadvantages.
The Pros
They're fast: You can have the money in your account the day after approval.
They're easy: There's no minimum credit score, you just need an income.
The Cons
Astronomical interest rates: You'l pay well over 400% annual interest.
Fees: You may pay origination fees, late payment fees, and others.
High costs: Total costs may reach 3-4 times the original amount of the loan.
Poor customer service: Reviews indicate that "no customer service" might be more accurate.
Lack of recourse: Sovereign immunity makes legal action against the company difficult or impossible.
Advance.Cash has every reason to make their loans fast and easy to get. They want you in the trap as soon as possible. That money may seem tempting, but in this case, the cons far outweigh the pros. Getting in is fast and easy. Getting out is slow, painful, and very expensive.
How to Apply for a Loan From Advance.Cash?
If you decide to borrow from Advance.Cash you'll follow this process.
Go to the Advance.Cash website and click "apply". A form will come up.
Fill in your personal details: name, Social Security Number, email, ID number, phone number, and address.
Fill in your banking information: bank, routing number, account number and type.
Specify the amount you want to borrow.
Send the application.
Advance.Cash will not disclose the interest rate, fees, or terms until they have approved your application, so you'll have to wait for them. The money will be in your account as early as 1 day after approval. Then you start paying.
Better Alternatives to Advance.Cash
Many tribal loan borrowers feel like they have no alternative, but that's not always the case. Consider these possibilities first.
Online Lenders
Not all online lenders require a good credit score.
Upstart uses alternative data to assess creditworthiness and may lend to borrowers with bad credit. The maximum APR is 35.99%
OneMain Financial has no minimum credit score and will make secured loans. Rates are up to 35.99%.
BadCreditLoans.com is a loan broker linking borrowers with lenders who will lend to borrowers with impaired credit. The maximum APR is 35.00%. You may receive unwanted calls and emails from potential lenders.
These may not be perfect options, but they are usually better than a tribal loan. Check the record of any lender before you close a deal.
Other Options
Payday alternative loans: It's always worth talking to your own bank or credit union. They know your finances and are in a good position to assess your ability to pay. Many credit unions offer loans designed to be payday loan alternatives.
Credit card cash advances: These carry higher interest rates than purchases and often have a fee. They are still much cheaper than a tribal loan.
Home equity loans: If you own a home, these options offer low interest rates and relatively easy approval. Minimum loan amounts may be more than you need, and if you can't make the payments you could lose your home.
A 401(k) loan: This is a loan from yourself. There's no approval process and no credit check. A large loan could compromise your retirement planning, but it's still a better and cheaper option than a tribal loan.
Borrowing from friends or family: It's embarrassing and nobody likes it, but it's still a better choice than paying 400%+ interest rates.
Peer-to-peer platforms: These link borrowers with individual investors. Most peer-to-peer platforms require at least fair credit. Some, like P2PCredit, advertise loan options for borrowers with bad credit. Always do your research before using a peer-to-peer platform.
Cash advance apps: These apps like MoneyLion, Brigit, and Earnin will provide short-term cash advances. There are fees and this is not a cheap option, but it will cost less than a loan from Advance.Cash.
The Bottom Line
If you choose to borrow from Advance.Cash you will be paying interest and facing terms that would normally be illegal in all 50 states. The company gets away with this — for now — by using a Native American tribe as a shield against enforcement action. That makes the loans arguably legal, but it doesn't make them a good idea.
Unless you like the idea of paying interest rates that would embarrass a loan shark and a raft of other questionable business practices, we'd suggest staying away from this one. Borrowing from Makes Cents Inc. — under whatever name they are using this week — just doesn't make sense.
FAQs
How Can I Contact Advance.Cash?
Advance.Cash can be reached by email at customerservice@advance.cash or by phone at 855-231-1628.
Where is Advance.Cash Based?
Advance.Cash is based in Parshall, North Dakota.
What is the Maximum Loan Amount From Advance.Cash?
For new borrowers, the maximum initial loan amount is $1,400.00.