In 2022, the average credit card balance was $6,569. According to Fortune Magazine, the average American has four credit cards. That means that the average American could be carrying around $20,884 just in credit card debt. That number gets much higher when you add in student loans, car loans, mortgages, etc.
There are a variety of ways to tackle this type of debt. One of those is to work with a credit counselor or debt relief program like Accredited Debt Relief.
Accredited Debt Relief: What You Need to Know
Accredited Debt Relief was founded in 2011. It is a division of Beyond Finance, LLC. Beyond Finance is a tech-friendly debt relief company.
According to the ADR website, the company's goal is to "provide debt relief options and savings for individuals and families struggling with debt across the US." They do this by negotiating with your creditors to lower your balances and interest rates and making sure those creditors' payments are made on time until the debt is eliminated. They do this by having you send one payment to ADR every month. ADR takes that payment and portions it out to your creditors. Typically, the process takes 2-4 years.
In exchange for their services, you pay ADR a fee. ADR says, "these fees vary, but generally range between 15% and 25% of your debt balances at the time of enrollment."
READ MORE: Is debt settlement the cheapest way to get out of debt?
Accredited Debt Relief at a Glance
| | |
| --- | --- |
| Do they offer a free consultation? | Yes |
| How to get started | Set up a free consultation to explain your situation to a debt counselor. |
| Fees | No upfront fees. Between 15%-25% of your balances due when you are officially enrolled in the program. |
| How it works | You will have a preliminary meeting to determine whether Accredited Debt Relief can help you. |
| Who owns Accredited Debt Relief | Beyond Finance, LLC |
| Company address and phone number | P.O. Box 660442, Dallas TX, 75266-04421-800-497-1965 |
| BBB rating | A+ |
| Trustpilot rating | 4.8 stars |
| Minimum debt settled | $10,000 |
| Noteworthy | Only works with unsecured credit, including payday loan debt. No minimum credit score required. |
What Makes Accredited Debt Relief Stand Out
There are a lot of debt relief companies out there. What makes Accredited Debt Relief different from them? Check it out.
Debt Resolution Results
Accredited Debt Relief boasts some amazing results. ADR's website says that the company has resolved more than half a billion dollars of debt for its clients. ADR has a track record of negotiating clients' debts down to about half of what they originally owed (on average). Clients also pay far less via ADR's debt relief plans than they would with consolidation loans or by simply making their minimum payments directly to their creditors.
READ MORE: Got $50,000 in debt? Here's how to pay it off fast
Fixed Monthly Payment
You've probably noticed that your "minimum payment due" tends to vary from month to month. It varies from debt to debt, too. This can make it difficult to plan your budget each month.
Accredited Debt Relief takes over the payments to your creditors. You simply put a single fixed payment into your dedicated savings account each month. ADR uses the funds in that account to pay your creditors for you.
READ MORE: Is it better to settle a debt or pay in full?
Dedicated Savings Account
As previously mentioned, Accredited Debt Relief clients use a dedicated savings account for their payments. ADR will help you set up this account (with an FDIC insured bank). The idea here is that you are separating the money for your debt resolution plan from the money you use for your other expenses.
If there is any money left over in that dedicated account after you successfully complete your program and paid your ADR fees, that money will be yours to use however you want.
READ MORE: Debt settlement pros and cons
How to Sign Up
The first step to signing up with Accredited Debt Relief is to call the company to schedule your free consultation. You can also set up your consultation via the ADR website.
During this consultation you will meet with a certified debt specialist and explain your situation. The specialist will go over your finances with you, so you'll want to make sure you have current statements from each of your creditors, proof of your identity (driver's license, passport, etc.) and proof of your income. Proof of income can be copies of tax returns, a copy of your W-2, bank records, etc. Gather all of this information together before the consultation to ensure the process is as smooth as possible.
If your specialist thinks that an ADR program is what's best for you, they will help you enroll.
READ MORE: Complete guide to debt relief programs
How Does Accredited Debt Relief Work?
As previously stated, first you will meet with a certified debt specialist to go over your current debt/financial situation and if you both agree that Accredited Debt Relief's plan is right for you, you will officially enroll in the program your specialist sets up for you.
Once you have officially enrolled, your specialist will help you set up your dedicated savings account and then begin negotiating with your individual creditors to try and reduce what you owe. You will begin transferring your monthly fixed payments into your dedicated savings account while they are doing this.
After your debts have been negotiated and final settlements are in place, ADR will begin withdrawing money from your dedicated savings account once a month. They will take that withdrawal and divide it up into individual payments to each of your creditors.
You will continue making your monthly transfers, and they will continue making your monthly payments until your debt has been paid in full. Depending on the amount of money you owe, this can happen in as little as a year. On average, though, the process takes 2-4 years.
Accredited Debt Relief includes the following chart to compare some different debt relief options, including debt consolidation loans.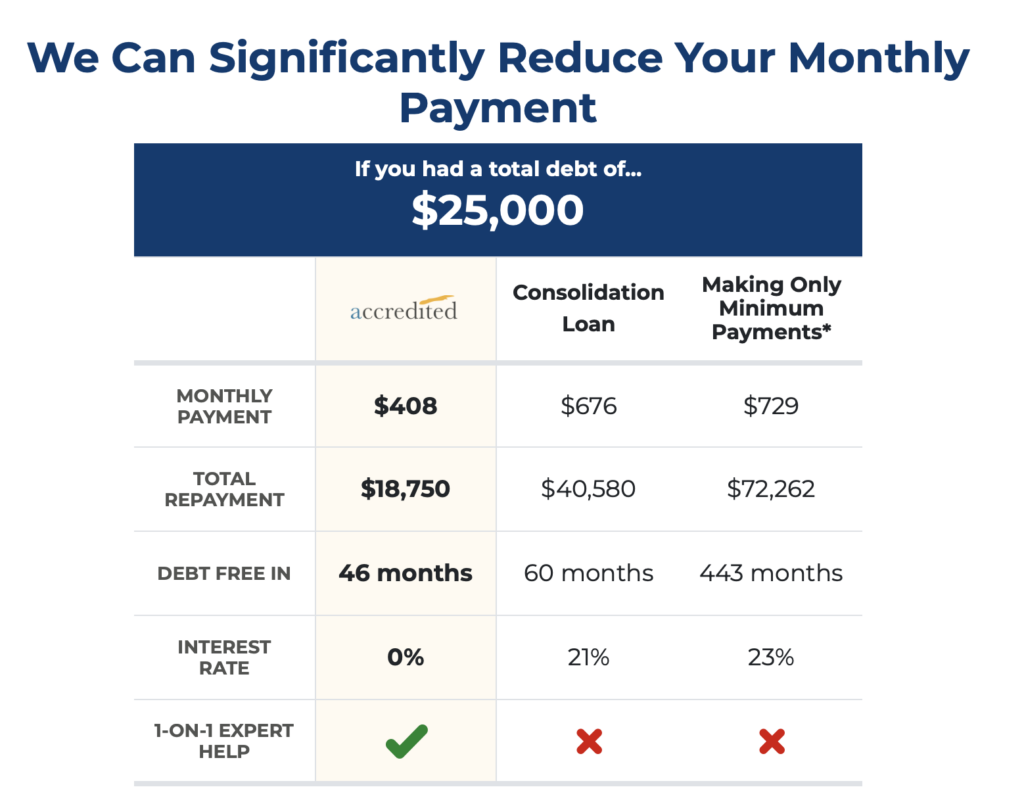 Is Accredited Debt Relief a Scam?
No. Accredited Debt Relief is a legitimate company that is well regarded in the financial sector.
That said, ADR's record isn't 100% perfect. Several lawsuits have been filed against the company.
Legal Challenges
Terrado et al V. Accredited Debt Relief, LLC. et al
This lawsuit was filed in 2017, by three ADR employees. The employees alleged that ADR violated both the Fair Labor Standards Act and California labor laws. According to the employees, ADR failed to pay the company employees for the time they actually worked. The suit also alleges that ADR was only paying employees on a commission-only basis, and failed to accurately calculate time worked, particularly with regard to overtime.
Jones V. Accredited Debt Relief, LLC. et al
In 2019 Stanley Jones said that Accredited Debt Relief violated the Telephone Consumer Protection Act. They did this by sending unsolicited text messages to consumers and failed to respect consumers who had listed themselves on the Do Not Call Registry. Jones dropped his case 2020.
John Brooks and Anna Marinez filed a similar suit in 2017. They dropped it (with prejudice) in 2018.
Accredited Debt Relief has also run afoul of the National Advertising Division (NAD) of the BBB National Program for making specious claims about their success rates.
READ MORE: Best small loans, even if you have bad credit
Pros and Cons
Every company has its ups and downs. Here are the pros and cons of working with Associated Debt Relief:
Pros
Your initial consultation is free
You will only pay ADR fees if your debt is actually reduced
Solid customer reviews in multiple places
There's no minimum credit score requirement
You can leave at any time without paying any penalty fees
Cons
The service is not available everywhere: 19 states don't allow ADR to operate within their borders
You must have a minimum of $10,000 in unsecured debt to qualify for their debt relief program
No mobile app or online portal
Your fee is based on the total debt you have when you enroll in the program, not in how much you owe after negotiations have lowered your total due
Your credit score could take a hit
Fees can be high — 15%-25%
Forgiven debts could be taxable
READ MORE: Struggling with debt? Get the help you need
Who Should Consider Accredited Debt Relief
Debt settlement and consolidation programs are not for everyone. These programs work best for people who are:
Overwhelmed by their debt
Struggling to make even minimum monthly payments
Trying to avoid having to file for bankruptcy
Uncomfortable trying to negotiate their debts on their own
Want to know more about debt settlement? Check out this video:
Who Should Not Consider Accredited Debt Relief
If any of the following describe you, Accredited Debt Relief might not be a good choice.
Do you want to pay fees to have someone else settle your debt?
Is your debt manageable (even though it might be annoying)?
Are you hoping to make a big purchase (i.e., applying for a home or auto loan) soon?
READ MORE: Debt consolidation vs. debt settlement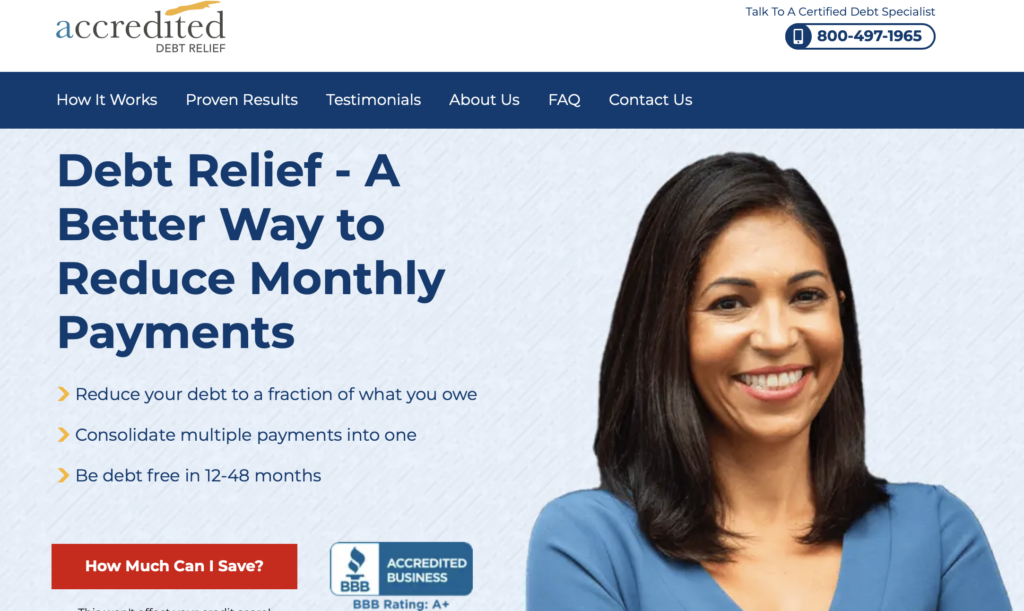 The Website
Accredited Debt Relief's website is easy to negotiate and explains the basics of debt settlement well. Their FAQ section and "How it Works" pages are lacking, though. There's not much in the way of details, like how the fees actually work, why you need an extra bank account (your dedicated savings account) instead of just sending a payment in to ADR directly, etc.
Customer Service
Customers can reach Accredited Debt Relief's customer service department by calling 1-800-497-1965. If they aren't comfortable on the phone, they can ask questions via email by sending a message to customerservice@acrelief.com. ADR is also active on Facebook, Twitter, and Instagram.
There is no on-site chat function.
Is Accredited Debt Relief Trustworthy?
As of this writing, Accredited Debt Relief does not detail what kind of network security they use to protect your information on their servers. They do make their Privacy Policy readily available. It says that they will never share your social security number, but that they do reserve the right to sell your other information to third parties.
What are Customers Saying?
Customers who have opted in to Accredited Debt Relief programs seem to mostly be happy with their decisions. ADR has an A+ rating at the Better Business Bureau. Customer reviews at the BBB give ADR an average rating of 4.78 stars.

Trustpilot reviewers love Accredited Debt Relief, too. ADR has more than four thousand reviews. Those reviewers give ADR an average of 4.9 stars. 

The Bottom Line
If you are overwhelmed by debt and have trouble managing your payments, Accredited Debt Relief is a solid option. The company is legit and well regarded by financial experts. They have a solid track record of success. Their fees are a little high, though. Consider that when you're making your decision.
FAQs
Why Would Using Accredited Debt Relief Hurt Your Credit Score?
When you enroll in an ADR plan, they will instruct you to stop making payments and cut all contact with your creditors during the negotiation process. This could cause you to miss a payment or two, which can have an adverse effect on your credit score. Settling a debt for less than is owed can also ding your credit, though not by much.
What Kind of Debts Can Accredited Debt Relief Settle?
ADR can work to settle unsecured debts. In other words, debts that do not have collateral (like a car or a house) attached to them. This includes medical bills and credit card debt.
How does Accredited Debt Relief Compare to Other Debt Settlement Companies?
It's on par with the other legit debt settlement companies. For example, TurboDebt's fees depend on the service provider you're connected with. National Debt Relief and Freedom Debt Relief charge set fees. To learn more, check out these recommended debt settlement companies.