Upgrade is a fintech firm that's been operating for five years, offering personal loans, auto refinancing, and other financial products. Upgrade is not a bank, and all loans and accounts are offered by partner institutions.
Upgrade's loan partners are Cross River Bank and Blue Ridge Bank. Both are fully chartered commercial banks.
Disclaimer: Credit Summit may be affiliated with some of the companies mentioned in this article. Credit Summit may make money from advertisements or when you contact a company through our platform.
Upgrade: What You Need to Know
Upgrade offers personal loans from $1,000 up to $50,000. Like most personal loans, these loans can be used for almost any legal purpose, including: 
Starting or expanding a business
Home renovations
Debt consolidation
Medical expenses
Major purchases
Relocation costs
You will not be able to use an Upgrade loan for gambling, investing, or college expenses, including tuition or room and board.
Upgrade at a Glance
| | |
| --- | --- |
| APR Range | 8.49% to 35.99% |
| Loan terms | 2-5 years, up to 7 years for larger loans |
| Origination fees | 1.85% to 8% |
| Minimum credit score requirement | 560 |
| Time to loan funding | 1 day from closing |
| Overdraft fee | N/A |
| Autopay discount | 0.5% (Based on reviews, not specified on website) |
| How to set up payments | You can pay through the Upgrade app oe website, by ACH payment, or by check. Payments can be made 15 days before or after the due date. |
| Notable features | Available with low credit scores, joint and secured loans available, uses FICO 9 |
| Prepayment penalty | None |
How Upgrade Works
Upgrade operates entirely online and has no physical branches. You can apply through Upgrade's website or app. The application process gets high marks for speed and convenience, and if you're approved, your loan will almost always be funded within one business day.
Upgrade does not specify a minimum credit score. Reviews cite figures from 560 to 620. The credit score you need may vary with other factors Upgrade considers, but these loans are certainly available to people with fair credit and even at the upper end of poor credit.
Upgrade offers terms of two to five years on most loans but will give terms of up to seven years for home improvement loans and loans over $30,000. That's longer than most personal loan lenders. Long loan terms can reduce your monthly payment but will increase your interest expense.
While Upgrade's loans are accessible even with impaired credit, they are not the cheapest loans around. You will pay an origination fee of 1.85% to 8%. This will be deducted from the loan proceeds, so if you need a specific amount, you may need to apply for more.
Upgrade also charges late fees, and the APR range is relatively high. There is no prepayment penalty, so paying your loan off early is not a problem.
If your credit is fair or at the upper end of poor and you need a personal loan, especially one with a long term, Upgrade will be among your top picks. You can probably get a better deal elsewhere if your credit is strong.
What Makes Upgrade Stand Out
Upgrade has several features that many competitors may not offer.
Direct Payments
If you choose Upgrade for a debt consolidation loan, they will pay your loan proceeds directly to your creditors. You'll never have to handle the money and you won't be tempted to divert it for other purposes. You'll even get a discount!
Discounts
Upgrade offers several opportunities for discounts.
Automatic payments. The discount is not specified on the Upgrade website, but several reviews say it's 0.5%.
Direct payments. If you select the direct payment option on a debt consolidation loan Upgrade may give a rate reduction of 1 to 5 points.
Upgrade customer discount. If you have a rewards checking account with Upgrade, you may be eligible for a discount of up to 20% on your loan APR.
Using one or more of these discounts can turn a fairly expensive loan offer into a competitive one.
Joint Applications
Upgrade is open to joint loans, offering more flexibility than some personal loan lenders. They do not accept co-signers, but a joint application will have the same effect (with the same risks).
Secured Loans
Unlike many personal loan lenders, Upgrade offers secured loans. Most Upgrade loans are unsecured, but you have the option of a secured loan, typically with a vehicle as collateral.
Secured loans receive substantially lower APRs than unsecured ones, and approval is easier, but you risk losing the collateral if you can't pay the loan. You will have to surrender the title to your vehicle until the loan is paid.
Uses FICO 9
Most lenders use the FICO 8 scoring model. Upgrade uses FICO 9, which has significant differences.
Medical bills in collections have less impact on a FICO 9 score.
Collection accounts with zero balance have no impact on a FICO 9 score
FICO 9 considers rent and utility payments if they are reported, FICO 8 does not.
People who use rent reporting, those who have medical collections, or those who have paid collections, will probably get a higher score from FICO 9 than they would from FICO 8. That may make qualification easier with Upgrade than it would be with other lenders.
No Physical Branches
Upgrade operates entirely online and does not have brick-and-mortar branches. If you prefer face-to-face customer service, you'll need to look for another lender.
Pros and Cons of Upgrade
Like all lenders, Upgrade has advantages and disadvantages. See which factors matter the most to you.
Pros
Wide range of loan amounts. You can borrow from $1000 to $50,000.
Flexible repayment terms. You can pay up to 15 days before or after your assigned payment date.
Prequalification with soft credit inquiry. You can prequalify with no impact on your credit.
Fast loan disbursement. Get your money within one business day of approval.
Accessible with impaired credit. Upgrade does not cite a minimum score, but loans may be available to borrowers with scores as low as 580.
No prepayment penalty. You can pay your loan off early if you want to.
Cons
Charges origination fees. You will pay from 1.85% to 8% of your loan amount, deducted from the loan proceeds.
APRs are higher than average. If you have good credit you can probably get a better deal elsewhere.
Upgrade isn't a direct lender. You will be borrowing from a partner bank, not from Upgrade.
Upgrade loans are not available in Washington, D.C.
How to Apply for an Upgrade Personal Loan
There are some basic requirements for an Upgrade loan. Most other lenders will have the same ones. You must:
Be at least 18 (19 in Alabama and in some other states)
Have a verifiable bank account
Be a U.S. citizen or permanent resident.
To apply, follow these steps:
Fill out the pre-qualification form. This will involve a soft credit check, which has no impact on your credit.
Review your loan options. If you get an offer from Upgrade, compare it with offers from other lenders and see which is the best deal for you.
Complete the full application. This will involve a hard creit check, which could have a small impact on your credit.
Submit documentation. Upgrade will tell you what's required, but you can expect to be asked for proof of employment and income.
Wait for approval. You should have a decision in minutes.
If your loan is approved, you should have the money within one business day.
Can I Refinance a Personal Loan With Upgrade?
Upgrade does not offer refinancing for personal loans. You could include a personal loan in a debt consolidation package, achieving the same result.
The Upgrade App
Upgrade's mobile app is available for both Android (version 6 or later) and iOS (version 9 or later).
The app is designed to manage the entire range of financial products available through Upgrade, including rewards checking, bill payment, and other conventional banking services.
If a loan is the only Upgrade product you're using the app is still worth downloading – it's free – but you won't be able to use all of the functions. You can check your loan balance, select payment dates, and make payments.
The Upgrade mobile app has excellent reviews, with the iOS version getting 4.8 of 5 stars from 17,100 reviews on Apple's App Store and 4.6 of 5 stars from 8700 reviews on Google's Play Store.
To learn more about Upgrade personal loans, check out this video:
Is Upgrade Trustworthy?
Any time you provide personal details to a financial institution, there is some risk of a data breach: even highly secure systems (like Equifax) have experienced breaches.
The risk of a data breach at Upgrade is low. The company has a rigorous privacy policy and information security systems comply with all regulatory standards.
What are Customers Saying about Upgrade?
Upgrade is accredited by the Better Business Bureau (BBB) and has an A+ rating, indicating a high degree of responsiveness to complaints. Customer reviews on the Upgrade BBB page are generally positive, with 4.58 or 5 stars from 2,977 reviews.
Upgrade responds to all complaints on the BBB site and most are marked as resolved.

As with any lender that doesn't have a physical location, it can be tough to resolve a problem because there's no way to handle the issue in person.

Upgrade has a very positive reputation on Trustpilot, with 4.7 of 5 stars from 35,120 reviews, 82% of which are five-star. Not all of these reviews apply to Upgrade's loans – all of Upgrade's products are included – but reviews of the loans are mainly positive.

Many negative reviews are from people who failed to qualify for loans, although some deal with customer service issues.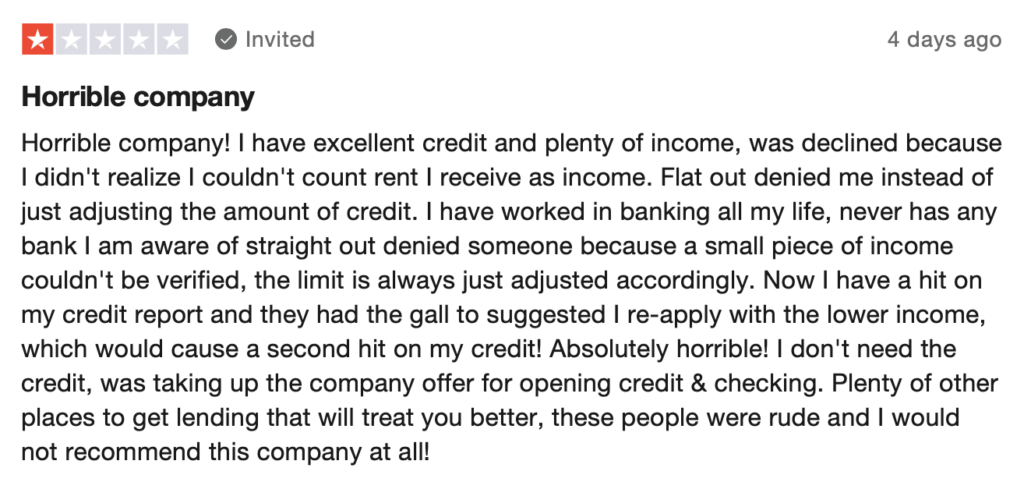 The Bottom Line
Upgrade is a highly credible lender offering personal loans and car refinancing loans. Upgrade is willing to work with borrowers who have low credit scores. There's a wide range of loan amounts, and funding is fast, but there are also notable fees and the APR range is high.
If your credit score is relatively low Upgrade deserves a place on your list of potential lenders. If your credit is good, very good or excellent you can probably get a cheaper deal with another lender.
FAQs
What are Upgrade's Interest Rates?
Interest rates on Upgrade's loans range from 7.46% to 35.97%. Your rate will be based on your credit score and other factors that Upgrade uses to assess your creditworthiness.
Does Upgrade do a Hard Credit Pull?
You can pregualify with Upgrade with only a soft pull on your credit report, which will not affect your credit score. If you apply for a loan, there will be a hard pull and your credit score could be affected.
Is Upgrade Secure?
Upgrade's data security systems comply with all federal laws. Any time you give personal information to a financial institution there is some risk of a breach, but the risk with Upgrade is low.