Needing a few hundred dollars to make ends meet is a common problem, and all problems are a chance for someone to make money. That's led to the formation of countless online payday lenders. Unfortunately, a lot of them are more trouble than they're worth for most borrowers. Today we're going to be reviewing Spotloan who, despite their alternative branding, is pretty much just another online payday lender. Let's take a look.
Featured Alternative: DebtHammer

Break the borrowing cycle
Can help with many types of debt, including payday and tribal loans
Friendly and helpful customer support – no judgment
What is Spotloan?
Spotloan is an online "payday loan alternative" lender claiming tribal status, similar to Better Day Loans. They offer short-term, high-interest installment loans. That means that, unlike most payday lenders, they allow their borrowers to pay their loans back in multiple payments over time instead of all at once in just a couple of weeks.
Spotloan tries very hard to portray itself as a better option than other payday lenders. While it might be easier to pay off a loan in installments, they still charge rates that are similar to traditional payday loans. That makes it tough for them to differentiate themselves from the industry.
Is Spotloan Licensed?
Spotloan is not licensed because they claim to be a subsidiary of BlueChip Financial, a tribal-owned entity that's governed by the laws of the Turtle Mountain Band of Chippewa Indians of North Dakota. They're a federally recognized Native American tribe, and BlueChip is located and operates on the tribe's reservation.
Their tribal status allows them to bend a lot of the rules for payday lenders. They claim that because they operate under the authority of a sovereign nation other than the United States, they don't have to obey federal or state laws like North Dakota's interest rate limit.
But that might not last forever. There has been at least one investigation into whether they can claim a tribal status. The law firm of Tycko and Zavareei raised suspicions that while Spotloan claims to be run by a Native American tribe, they don't meet the standard of proof to qualify for that privilege.
Thanks to the Supreme Court, online lenders have to do more than just fill out some forms to qualify for tribal immunity. If it turns out that Spotloan doesn't qualify, they'll be in trouble.
Speaking of trouble, they recently decided to settle a class-action lawsuit for similar accusations of illegally high interest rates.
Typical Loan Terms
Other than their extended repayment terms, Spotloan's loan terms aren't all that far from the norm in the payday lending industry. They have extremely high interest rates, relatively small loan principal balances, and even debit their customer's bank accounts bi-weekly on their paydays.
Here are the specifics of what to expect when taking out a loan with Spotloan:
Loans can be anything up between $300 and $800
Repayment terms are between three and ten months
Payment schedules require biweekly payments
Borrowers can prepay at any time without penalty
The maximum APR is 490%
Repeat borrowers and active military members get a lower interest rate
Spotloan's products aren't feasible for repeated or long-term use. They note as much on their website, stating that:
"This is an expensive form of credit and is intended only for short-term financial needs. Spotloans are designed to help you deal with emergencies such as rent, medical bills, car repairs, and expenses related to your job. Spotloans are not intended to solve longer-term credit or other financial needs, and alternative forms of credit may be better for you, including borrowing from a friend or relative, using a credit card cash advance, taking out a personal loan, or using a home equity loan or savings."
Online Reputation
There's so much information about businesses online these days that even failing to research a barber would be irresponsible. For the sake of due diligence, here's what the internet has to say about Spotloan.
The best place to start researching any business is with the Better Business Bureau (BBB). They're the most trustworthy source for honest online reviews, and people can register complaints about any business with them.
Unfortunately for Spotloan, their BBB profile doesn't paint a great picture. Spotloan has been open for eight years, so they've had ample time to build out their systems. But in the last three years, customers made more than 170 complaints about them. Of those complaints, the majority were about the company's billing and collections practices.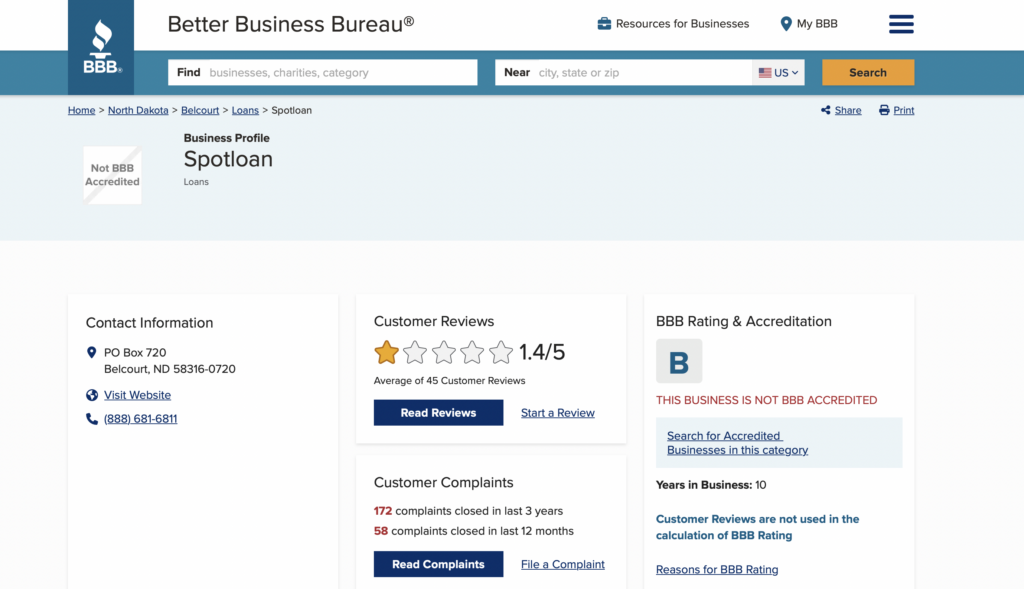 Almost 80% of the complaints about the company were because they failed to handle repayment properly. For a company that is supposed to provide people with money and then let them pay it off with "payments you can manage," that's a problematic statistic.
They get an average total rating of just 1.4 out of a possible 5 stars. Here are some sample reviews:


But the BBB isn't the only place people can review a business. Spotloan also features their Trustpilot profile pretty prominently on the website. And for good reason, since they have more than 22,000 reviews on that site that average out to an excellent 4.4-star score.
But Trustpilot has (ironically) been pretty thoroughly exposed as untrustworthy. It allows fake reviews and inflated scores to exist on their pages, though Trustpilot's new transparency report says it has taken steps to try to safeguard the platform. It also seems like Spotloan is directly requesting reviews only from customers who they already know will leave a positive one.
Take a look at the difference in the makeup of reviews from manual invites and organic responses.
Pros of a Loan from Spotloan
Despite their legal trouble, iffy reputation, and high interest rates, there are some tempting reasons to borrow from an online payday lender like Spotloan. For example, they offer:
A fast and easy application process
Funding can go through in as little as one business day
Borrowers only need an income, bank account, and email address to apply
Approval within just minutes of applying
No hard inquiry when they check credit
Potentially available to people with lower credit scores
They also report repayment behavior to credit bureaus, so their loans can be a way to rebuild credit scores for people who handle them well.
Cons of a Loan from Spotloan
However, the problems with Spotloan are unavoidable. They struggle to differentiate themselves from payday lenders because their loan terms and practices are incredibly similar. Here are the reasons to stay away:
Excessively high interest rates
Poor customer service and communication practices
Reportedly charges borrowers' bank accounts off-schedule
Consistent problems with billing and collections
Ignores federal and state protections for consumers due to tribal ownership
While there are plenty of cons to working with a payday lender like Spotloan, their interest rate is the only one you need to know to stay away. There's a long list of alternatives to exhaust before even considering a loan with an APR of 490%.
How to Apply for a Spotloan
For those who still want to apply for a Spotloan product, it's a pretty simple process. As long as you have an income stream, a bank account, and an email address, you can just visit their website and complete the following steps:
Select a Product: Spotloan presents its options in an intuitive way. The borrower can set their total principal balance preference and monthly payment upfront. The website will then calculate what that means for the borrower's repayment term and their total number of payments.
Click Get Started: After finalizing a loan term to apply for, this will take borrowers to the application page.
Verify Your Identity: They'll ask for a name and Social Security Number to confirm borrowers are who they say they are. Don't provide this information and then cancel the application. They may retain the information and sell it to others.
Provide Personal Info: Next, they'll ask borrowers to give up their personal information, including their address, contact information, and housing details (renting or owning).
Share Income Details: They'll inquire about the borrower's employment and all other sources of monthly income. This section will usually be the primary determining factor of whether or not the application will go through.
Give Banking Numbers: Finally, they'll collect the borrower's bank account information. That includes the name of their bank and their banking and routing numbers. These details give them what they need to transfer funds in and out.
After giving them everything they need to make a decision, Spotloan should be able to accept or reject an application almost immediately. If everything goes through, they'll be able to fund the account within a single business day.
Better Alternatives to Spotloan
Borrowing from a company like Spotloan should only ever be a last resort. It may be tough to get cash faster than they could provide it, but it's definitely possible to get it cheaper.
Here are some of the best alternatives to Spotloan:
Peer-to-peer lending apps: Apps like LendingClub and Upstart connect people with investors who are willing to lend out some of their cash. The interest rates and terms are negotiable since the deal is between two individuals.
Personal bad credit loans: There are providers out there who will offer borrowers installment loans even though they have bad credit. These won't be the cheapest options either, but they at least have to obey the federal and state interest rate limits.
Nonprofits and charities: People who are desperate to put food on the table can turn to local organizations that offer support. It's probably not a sustainable option, but it can be a literal life-saver in a pinch. They're also unlikely to charge anything, let alone 490% APR.
Cash advance apps: A cash advance app can be a great alternative to traditional payday loans. With these loan apps, you get a small payday advance for bills, car payments, or whatever else can't wait until the next payday. But unlike payday loan lenders, most cash advance apps don't charge interest. Instead, they request that you pay with a "tip," and some charge a small monthly membership fee.
If any of these might work for you, make sure to give them a try before resorting to something like Spotloan. If they don't seem like an appropriate fit, check out this list of other options instead.
The Bottom Line
If you were just looking for a simple recommendation for or against using Spotloan, we'd suggest taking your business elsewhere. There are too many other ways to make money almost as fast for far less in interest.
Even if you were going to use an online payday (alternative) lender, it probably shouldn't be Spotloan. Because they consider themselves to be a Native American-owned business, they're more willing to bend federal and state laws that are in place to protect consumers.
Do everything you can to cut your expenses, make more money, or find a cheaper loan before you borrow from Spotloan.
FAQs
How Can I Contact Spotloan?
Contact Spotloan by email at help@spotloan.com or by phone at 888-681-6811.
Where is SpotLoan based?
Spotloan is based in Belcourt, North Dakota.
Are Spotloan loans available in every U.S. state?
No. Spotloans are currently available to residents of the following states: Alabama, Alaska, Arizona, California, Colorado, Delaware, Florida, Georgia, Hawaii, Idaho, Indiana, Iowa, Kansas, Kentucky, Louisiana, Maine, Massachusetts, Michigan, Mississippi, Missouri, Montana, Nebraska, Nevada, New Hampshire, New Jersey, New Mexico, North Carolina, Ohio, Oklahoma, Oregon, Rhode Island, South Carolina, South Dakota, Tennessee, Texas, Utah, Washington, Wisconsin, and Wyoming.