Owning a car is costly. Aside from the cost of the vehicle itself, you have to pay for gas, insurance, maintenance and the dreaded repairs. But you need a car to get to work and go to the grocery and having one helps facilitate many other daily tasks.
According to money.usnews.com, around 64% of Americans live paycheck to paycheck. What do you do if you need to get those repairs done and don't have the funds to pay for them?
What is EasyPay Finance?
EasyPay offers simple, transparent consumer finance options that grow small to medium businesses and help provide financing to the business' customers with good to no credit. They are popping up as financing options at furniture stores, auto repair shops, pet stores, and other retail outlets. TAB Bank (Transportation Alliance Bank), a technology-driven online banking service, helps EasyPay charge up to 189% on loans that cater to small businesses to boost their revenues.
EasyPay has a 90-day interest rebate promotion that allows customers to qualify for a full rebate of all interest paid on their contract — unlike payday loans, which offer no reprieve on a single penny of interest.
Payday loans are typically based on your earnings, and you must provide a pay stub when applying for one. To apply for an EasyPay loan, you need to earn at least $750 and have a checking account that is in good standing and active for at least 90 days. Payday loans typically range from $50 to $1,000, require paystubs, and don't report to the credit bureaus unless you are in collections. EasyPay can finance up to $5,000 in repairs, doesn't require paystubs, and reports to the three credit bureaus for on-time/paid-off accounts.
Real-Life Example
EasyPay has made headlines recently because it is commonly offered by pet stores to help pay for pets.
If you're walking through a pet store checking out rows and rows of adorable puppies, you may notice that there are no prices posted. The helpful store employees will take you and the puppy of your choice to a private play area and leave you alone for a bit. Eventually, they return with a clipboard and ask some friendly questions, dodging the question about how much the puppy costs. That's when they hand you the clipboard and offer a loan, often from EasyPay.
It turns out you can take the puppy home immediately and not pay a cent, plus you might get some extra "free" perks, like online training, pet food and other starter supplies. You just have to sign the paperwork, and the clerk will head off to a nearby computer. But read the fine print. You have 90 days to pay $1,500 for the pup. Otherwise, if you take the loan and pay it off over one year, it will cost more than $3,500, $2,000 of which will be in interest.
Let's take a look at a sample of the "easy" loan payments of roughly $293, using a $1,500 loan repaid across 12 monthly payments with an APR of 189%: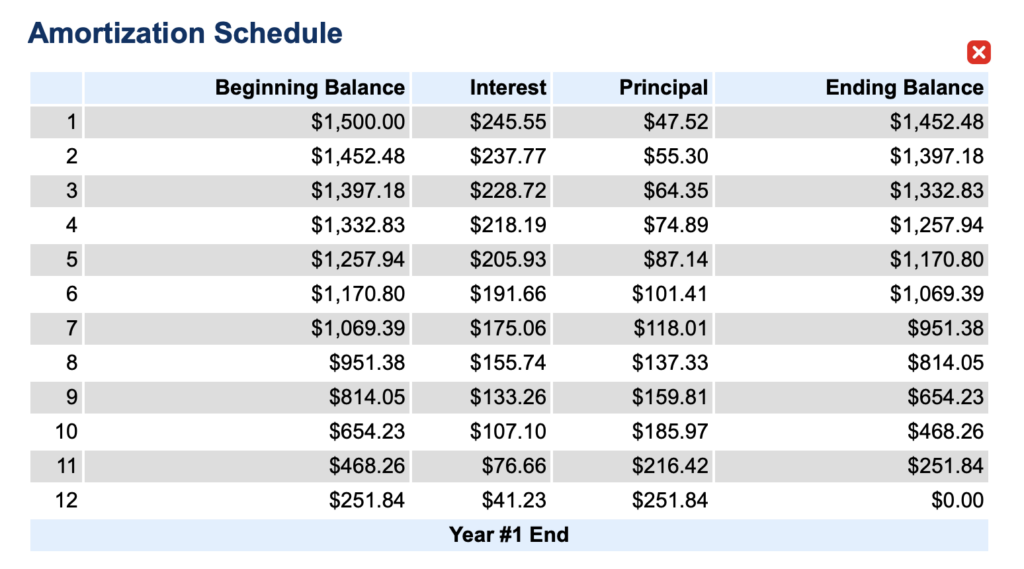 By the time you've paid off your pet, you've shelled out about $3,516, with $2,016 in interest, more than double the original price.
Here are some examples cited by the National Consumer Law Center:
A New Jersey consumer who bought a cocker spaniel "found that I am being charged 151.97%, which is five times the legal limit of 30% that can be charged in New Jersey."
And a Georgia consumer complained that the pet store didn't tell her that Easy Pay Finance charges 180% interest. Her puppy was supposed to cost $2,500 but now costs almost $7,000.
There are better options available for many borrowers. But if you're stuck and need the loan on the spot, spend the next 90 days looking for a better option, then pay it off and take advantage of the same-as-cash offer.
To learn more about the controversy over pet financing, check out this video:
One Success Story
While EasyPay loans are not the best option available, they are still better than a payday loan, particularly in states with lax payday lending laws. An EasyPay loan saved one customer, who called it the "best way imaginable to pay for unforeseen major car repairs."
Timothy said he was facing a car repair for more than $2,000 when his vehicle had a transmission problem. EasyPay stepped in and loaned him $1,900, enough to cover most of the total.
"Don't know what I would have done if this option wasn't available to me," he said.
Who Owns EasyPay Finance?
EasyPay Finance is owned by Duvera Billing Services and is in the industry of Nondepository Credit Intermediation. Duvera Billing Services is an alternate name for EasyPay Financial, LLC, a consumer lending service that serves small- and medium-sized businesses and is based in Carlsbad, California. EasyPay Financial has been accredited by the Better Business Bureau (BBB) since 2017.
Is EasyPay Finance Licensed?
Laundering loans is a scheme that EasyPay does to collect exorbitant rates it cannot legally charge directly. EasyPay launders its loans through Transportation Alliance Bank (TAB Bank) because this bank is exempt from state rate caps in states that do not allow predatory-interest lending. In states that allow predatory lending and no cap rates, EasyPay lends in its name as a retail installment sale like at your auto repair shop or pet shop.
Is EasyPay Finance a Tribal Lender?
EasyPay is not a tribal lender. Tribal lenders are lenders owned by Native American or Indian tribes and operate within their tribe's reservation.
Tribal lenders have sovereign immunity from federal and state laws and protection from outside litigation. Tribal loans can charge any interest rate they wish far exceeds state limits, provide loans with balances higher than state minimums, and even break the terms of their loan agreements with no federal ramifications.
What are EasyPay Finance's Typical Loan Terms?
In general, here's what to expect from EasyPay Finance
An APR between 6% to 199%
Principal balances up to $5,000 max for first-time borrowers, based on credit history at the time of application
Loans up to $5,000 max based upon your credit history at the time of application can be available to repeat customers after they make enough successful payments.
They offer monthly, bi-monthly, and bi-weekly payment schedules.
Repayment terms are limited. EasyPay splits the cost into three to six automatic payments, and those installments include associated fees like taxes and shipping and handling like any other full-priced purchase.
If you pay off your loan balance in 90 days, you get a total interest rebate with up to a $40 processing fee.
Late payments of more than ten days cost an extra $10. For insufficient funds or NSF, it's $25.
There is no minimum credit score requirement, but they will use your credit score and credit history to determine how much they will lend you and the interest rate you will be given.
How to Apply for an EasyPay Finance Loan
Find a store near you through your mobile phone. Go there or apply online. Before you start, make sure you have everything you need.
The application process should take around 5 minutes to complete. They will ask you to provide some basic information, and you will know within minutes if you are approved and for how much.
What you will need to apply:
Social Security number
Bank name, routing, and checking account numbers
Valid U.S. bank credit/debit card
U.S. government-issued photo ID
Be 18 years or older
Net monthly income
Paperwork showing monthly housing expense
Click "Apply," and it takes seconds once the application has been completed. On rare occasions, EasyPay may request additional information.
Online Reputation
As with any company in the advent of the internet, borrowers should do their due diligence, including reviewing BBB ratings, reading comments and complaints, and scouring the internet for reviews.
Google shows them to have 4.3 stars out of 2583 reviews. The response from the owner is outstanding in responding to every single review — good or bad. The good reviews were short, with no detail, explanation, or just a star rating. Fake or real, you be the judge.
They received 4.5 stars out of 5 on the BBB website, but there are several one-star reviews. Many cited the company's unresponsiveness to customers' needs.
Currently, the Better Business Bureau has "No Rating/ NR" for EasyPay Finance and is evaluating a pattern of complaints before issuing a rating.
Here are a couple of reviews from customers with first-hand experience of EasyPay's loans.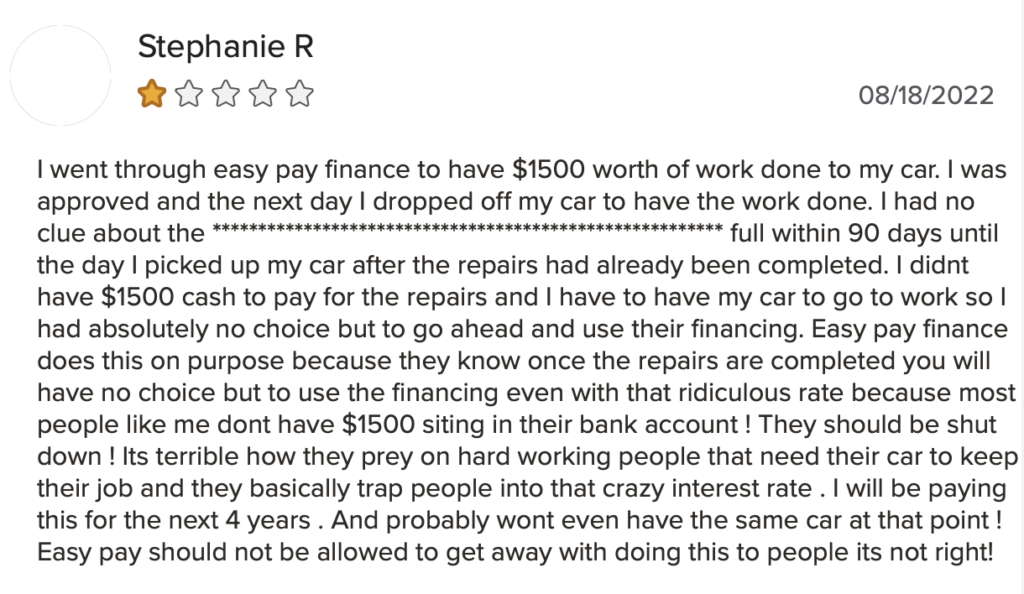 But the news isn't all bad. This customer credits the 90-day same as cash offer as a lifesaver.

Better Alternatives to EasyPay Finance
Debt consolidation companies: They have debt consolidation loans up to $100,000 and are funded the same day your loan is approved. APRs range from 2.49% to 19.99%, and loan terms range from 24 to 84 months. Check out this list of the best debt consolidation loan options.
PenFed Credit Union: They have a high rating in trustworthiness from the Better Business Bureau and offer Payday Alternative Loans and various financial products. Their APRs range from 4.99% to 17.99%, with loans from $600 to $50,000. Loan terms are one to five years. It would be best if you belonged to the credit union. 
Peer-to-peer lending: Instead of the borrower going to a bank to take out a loan, peer-to-peer lending platforms connect you with investors who lend money to people with less-than-perfect credit.
Borrowing from friends and family: this is always an obvious one but be aware that if you don't pay the loan back or they have to hound you to pay up constantly, it can cause relationship damage.
Credit card advances or low-interest balance transfer offer: Be aware that cash advances carry a different and often higher interest rate than purchases or balance transfers. The reason is that people who take out cash advances are more likely to default on their credit card debt than people who do not. And balance transfers can be up to 80% of your credit line with transaction fees. Low-interest balance transfers can be a debt consolidation method.
A home equity loan or home equity line of credit (HELOC) is a line of credit secured by your home. The lender gives you a revolving credit line for significant expenses or consolidating higher-interest rate debt.
401k loan: you can borrow money from your retirement savings account. If your employer's plan allows it, you could take out as much as 50% of your savings, up to a maximum of $50,000, within 12 months.
Cash advance apps: Cash advance apps link to an external account and offer early paycheck access. The apps will cover up to a $500 advance for a direct deposit, though many offer a maximum of $250.
The Bottom Line
Although EasyPay may be a convenient option offered at your auto repair shop, these loans should only be used as a last resort. They typically come with astronomical rates and fees, like payday loans, pawn shop loans, and car title loans.
Unless you're certain you can pay the loan in full within 90 days, explore all other avenues before going down this route. In this case, you could end up paying a relatively high price for convenience.
FAQs
Does EasyPay Finance Report to Credit Bureaus?
Yes, EasyPay does report to the three credit bureaus, Experian, TransUnion, and Equifax, for on-time and paid-off accounts. Securing a loan with EasyPay can be good for credit building for those with bad or no credit.
Does My Credit Score Matter for an EasyPay Finance Loan?
They lend to people with no credit, bad credit, or excellent credit. Your credit scores won't matter for loan approval with EasyPay. They will, however, consider your credit history and scores when deciding how much you can borrow and the rate you will get.
How Can I Get a Legitimate Auto Repair Loan?
Several lenders offer auto repair loans, including banks, credit unions, and online lenders. Generally, using a personal loan from any of these lenders for auto repairs is a less costly option. Some online lenders even offer same-day funding.
What's the Difference Between a Tribal Loan and a Payday Loan? 
Tribal loans are short-term, small-dollar, payday loans owned and operated by a recognized Native American tribal government. They are payday lenders based on tribal land, with loans from companies owned by Native American tribes. 
On the other hand, payday loans are short-term, high interest, low limit loan amounts, usually around $500, that help cover immediate, emergency cash needs that are meant to be repaid at your next paycheck. The average interest on these loans is 391% for a 14-day loan. Payday loans are illegal in several states.