Why choose a payday loan when there are so many better alternatives? Apps like Earnin make it possible to get paid for the hours you've worked on the same day you worked them.
Earnin: What You Need to Know
Earnin is a paycheck advance app (aka cash advance app). It promises users "you worked today, get paid today." As long as you've earned less than $100 on any given day, that promise is technically true.
Formerly ActiveHours, Earnin's founders are determined to give workers a better alternative to payday loans when they need some help. They also say that the two-week paycheck cycle most are subject to is outdated and actually costs workers more money than it helps them save. That's why they allow users to get advances on the hours they work as they work them. It doesn't happen exactly in real time, but it works a lot faster than payday loans (and it's much cheaper, too).
Disclaimer: Credit Summit may be affiliated with some of the companies mentioned in this article. Credit Summit may make money from advertisements or when you contact a company through our platform.
Here's the lowdown: Earnin allows users to borrow against their upcoming paycheck, as long as they only borrow less than $100 per day and less than $750 per pay period. Then, on payday, you will get paid whatever you've earned minus whatever you've borrowed. That gets sent to Earnin to pay off your advance.
For example, if you borrow $200 and your next paycheck is $350, on payday, you'll get $150 deposited into your account.
Users aren't charged any interest or fees for advances, though Earnin strongly encourages users to tip. Tips can be whatever the user wants to pay, from $0 to $14.
To qualify for advances, Earnin users must meet the following criteria:
Have some sort of regular income—via a job, freelance/contracting, or gig work
Be comfortable sharing banking, direct deposit, debit card, and employer information with the app
Have a checking/spending account (the app doesn't work with savings or prepaid card accounts)
Have a smartphone
Have an account with Earnin
If you bring in large enough deposits, you can upgrade your account to get an Earnin card. Unlike account transfers, the Earnin card allows you to spend up to however much you've earned. When you get paid, your paycheck will pay the card first and then send you whatever is left over.
Note: Earnin is not a bank. It does not offer you a place to store money. It does not have credit building or investing tools. All advance deposits and tip payments will be processed in your existing checking account.
Earnin at a Glance
| | |
| --- | --- |
| Physical locations | None |
| How to get started | Sign up for an Earnin account via the "Get Started" button on the Earnin website. |
| Monthly service fee | None |
| ATM access | Yes, if you have upgraded to the Earnin card |
| Overdraft protection | N/A |
| Minimum credit score | None |
| Deposit requirements | Must be at least $500 per month to get the Earnin card. |
| Withdrawal limits | $100/day $750/pay period for basic users; card limits depend on wages earned. |
| Notable features | No fees or interest charges, Earnin card |
| Sign-up bonus | None |
What Makes Earnin Stand Out
One thing that makes Earnin different is its relaxed rules for direct deposits. Most cash advance apps only consider direct deposits from employers or government benefit programs. This leaves gig workers, freelancers, contract hires, etc., unable to access advances.
Earnin, on the other hand, bases your eligibility on your timecard and/or hours report. They prefer that information be accessible directly via your employer/gig provider. If your hours are tracked via an independent system like Gusto, don't panic! Earnin will still allow you to upload your reports via the app manually. The only rule is that these timesheets not be handwritten.
Cash Advances of Up to $750
The amount of money you can advance is based on the total amount you earn during a pay period. Generally, workers can advance up to $100 per day with a cap of $750 per pay period.
If you want to be able to access more funds per day/pay period, you'll have to qualify for the Earnin card.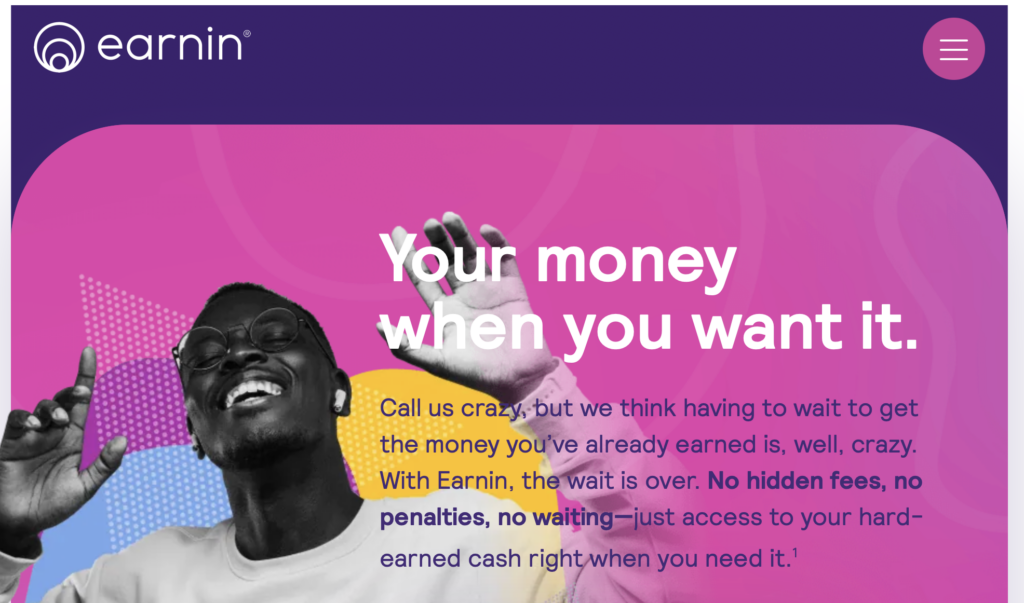 Pros and Cons of Earnin
Earnin is better than a lot of the cash advance apps out there, but it does fall short in some areas, too. Check it out:
Pros
Better rates than you would pay to a payday loan
Costs less than allowing your account to get over drafted (and being forced to pay overdraft fees)
Low balance alerts
Overdraft protection with automatic advances of up to $100 if your balance gets low
No mandatory fees
No interest charges
Users can have the company delete their information from the system if they decide to stop using the app.
No credit check
Cons
You have to let it access your bank account
If you choose to tip, those tips can end up costing you more than you'd pay in interest charges to other loans/apps
Doesn't report Earnin card activity to the credit bureaus, so it won't boost your credit score
Could set you up to continually need to borrow from future paychecks
Only available in the U.S.
Does not accept unemployment payments as direct deposits
Can only use one employer at a time, even if you're working multiple jobs at once
If you don't have an electronically transmittable timesheet, you'll need to have a work email or a fixed work location
Does Earnin Offer Cash Back?
No. Earnin only issues short-term loans. Unlike some other comparable companies, there are no additional financial services.
The Earnin App
Currently, the Earnin app has a 4.7 star rating in the Apple iOS store and a 4.5 star rating in the Google Play store.
The app can also tell if you have downloaded and are using other cash advance apps. Like its competitors, Earnin wants to be your one and only, so you might find that your account gets closed if you try to use multiple cash advance apps at once.
Here is a sample Earnin App review: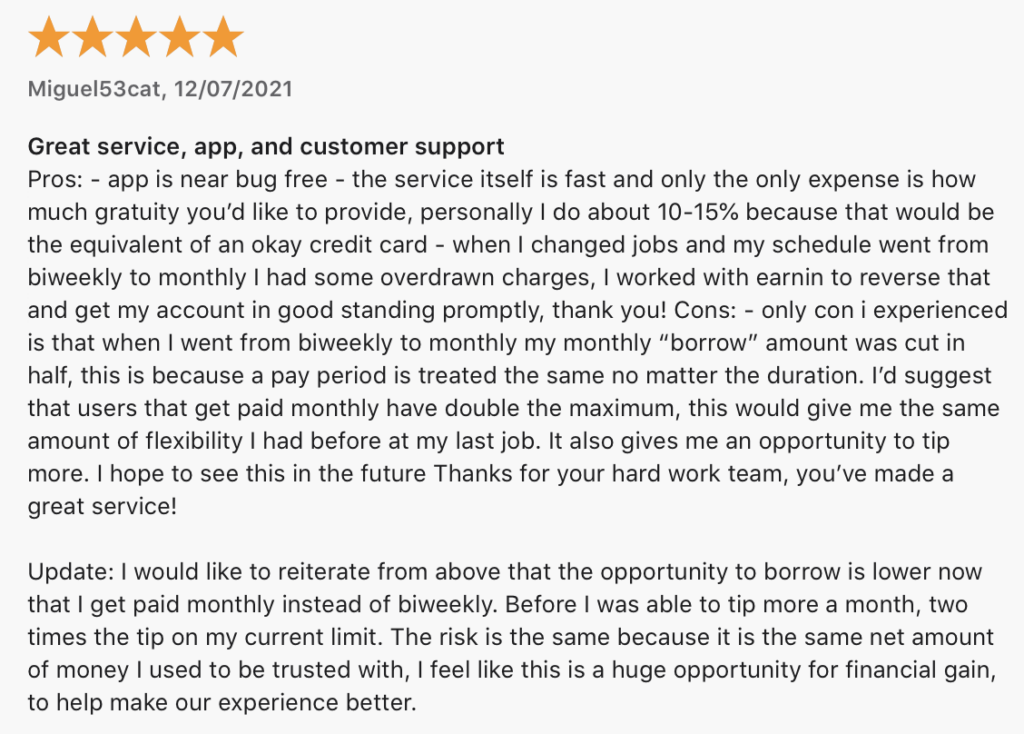 The Earnin Card
The Earnin Card is available as an upgrade to people who meet the following criteria:
U.S. Citizen
18+ years old
Valid Social Security Number
Minimum $500 direct deposit every month
The card comes with some cool perks: however much you earn each day and however much you earn each pay period will determine how much money you can "spend" with the card. Card spending limits are higher than daily and pay period advance limits, which can be handy. Just be careful that you don't become dependent on being able to spend your money before it is paid to you.
Is Earnin Trustworthy?
As far as privacy policies go, Earnin's Privacy Policy is extensive. The policy explicitly states that Earnin will not sell personally identifiable information and that any information about you that is shared will only be shared with services they have partnered with, like banks, identity verification services, etc.
The privacy policy also spells out exactly how much information they share with employers:
"In some cases, we share aggregated and anonymized data with our employer partners. Examples of such information that may be shared include: the number of registered users who work with the employer, the number of weekly Cash Outs, total number of Cash Outs, average total amounts Cashed Out."
To translate from corporate to human, Earnin is not going to tell your boss that you, specifically, are using the app.
What are Customers Saying about Earnin?
The Better Business Bureau (BBB) gives Earnin an A-. BBB customers give Earnin 3.67 stars. Customers give high praise to the company's customer service agents, saying they go above and beyond when helping clients.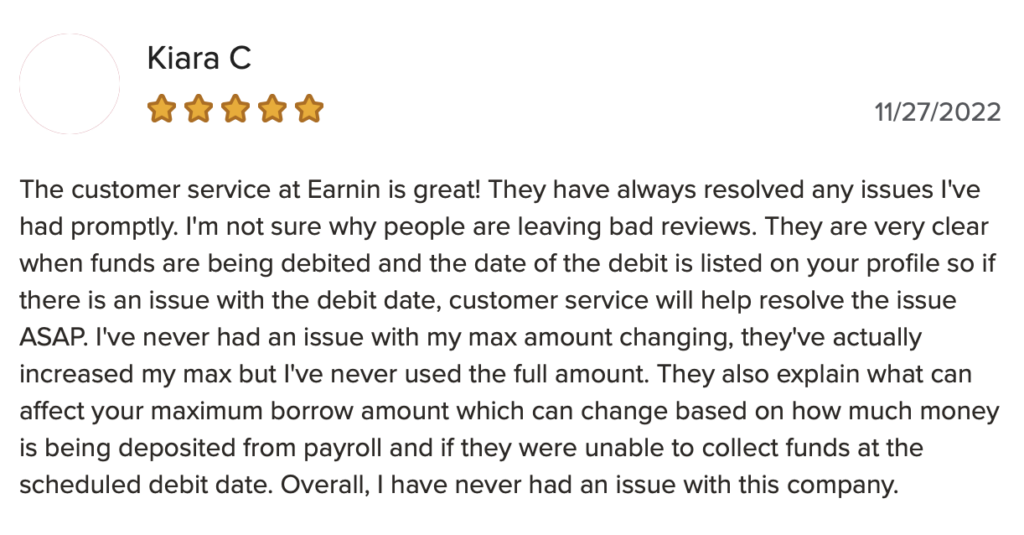 Most of the complaints filed have to do with the scheduling of withdrawals/tip payments. Earnin promises that nothing will be debited until after a paycheck has been deposited, but it looks like that is not always the case. Holidays, in particular, seem to throw the system off track.
TrustPilot reviewers have a different view of Earnin. The few users who reviewed the app gave Earnin an average of 2.6 stars. Complaints include issues with connecting the app to banks, to cashouts that don't arrive until after a withdrawal has been scheduled, if they arrive at all, and Earnin refusing to refund NSF (nonsufficient fund) fees when they overdraft a user's bank account.

Want to learn more about how to get started with Earnin? Check out this video:
The Bottom Line
If you get the app to work correctly, Earnin could be a good choice for gig workers and independent contractors. If you work for an employer and get regular paychecks, though, you'll probably be better served by one of the other cash advance apps out there.
FAQs
Are Apps Like Earnin Better than Payday Loans?
They are definitely cheaper and less predatory than payday loans. However, these apps can be dangerous if you use too many of them at once or start borrowing from one app to pay for another.
What is a Cash Advance App?
A cash advance app is an app that allows users to borrow against future deposits. Instead of being based on credit, advance limits are based on your deposit and spending activity. You can find more information in our breakdown of the best cash advance apps.
Is Earnin Secure?
Yes, Earnin's Privacy Policy is very solid. The policy says Earnin will not sell any personally identifiable information and that any information about you that is shared will only be shared with partner services. The privacy policy also defines exactly how much information they share with employers.
What Steps Do I Need to Take to Close My Earnin Account?
Navigate to your Profile on the app, click the "Close My Account" option and then follow the prompts.