There are lots of cash advance apps out there, but how many of them will ask you questions like, "Did you know that you could save $X if you just stopped visiting Amazon when you're bored"? Only one, and that's Cleo.
Cleo: What You Need to Know
As a money management app, Cleo works the same way most other fintech products do. Users download the app, connect it to their bank accounts, and let the artificial intelligence and algorithms get to work. The tech then shows you exactly where your money is going and when. It provides these base services for free. If you're willing to pay a fee, the app can do a lot more.
Paying users gain access to features like cash advances (the amount you can advance is based on your spending and deposit history), credit-building tools, budgeting tools and the Cleo Wallet (a place to stash money you want to save).
Cleo users must understand that Cleo is not a bank. There are no physical branches. The money you stash in Cleo Wallet is not insured by the FDIC and will not earn interest.
So what makes Cleo different than every other fintech product out there? Cleo AI Ltd (the app's parent company) wants to target younger users. Specifically, Gen Z and the younger Millennials. If you fall into one of these demographics, Cleo AI Ltd wants your business.
This is obvious as soon as you visit their website. Filled with bold — almost clashing — colors and giant print, Cleo wants you to know that it's the cool financial advisor. Unfortunately, their design choices feel like the company is trying too hard.
Cleo even has pronouns (she/her.)
The site feels less like what younger Millennials/Gen-Z say they want and more like what their parents thought was cool back when the web still felt new. When making the mouse's hovering icon look like, say, a piece of pizza or a pair of blinking eyes was common.
Inside the app, everything runs through a chatbot that acts as your financial assistant. You "text" it what you want to know, and it returns the relevant information. That information is delivered conversationally, which is nice if that's something you enjoy. It's good for ease of use.
If you don't want to have to "chat" with your app every time you use it, however, you're going to find Cleo annoying.
Cleo at a Glance
| | |
| --- | --- |
| Physical locations | None; Cleo's address is listed as 150 W. 25th St. Rm 403, New York, NY 10001-7460. |
| How to get started | Download the app and follow its prompts, or visit meetcleo.com |
| Monthly service fee | $5.99/month for Cleo Plus subscription service, $14.99/month for Cleo Builder |
| In-network ATM fee | $2.50 per ATM withdrawal |
| Out-of-network ATM fee | $2.50 per ATM withdrawal + whatever fees the ATM provider charges |
| Overdraft fee | 0 |
| How to deposit | Text "Deposit" to Cleo within the app. |
| How to withdraw | Say "Wallet" to Cleo then choose "Withdraw" when the option pops up. |
| Notable features | Snarky, conversational AI |
| Sign-up bonus | $5 when someone uses your referral code to sign up. |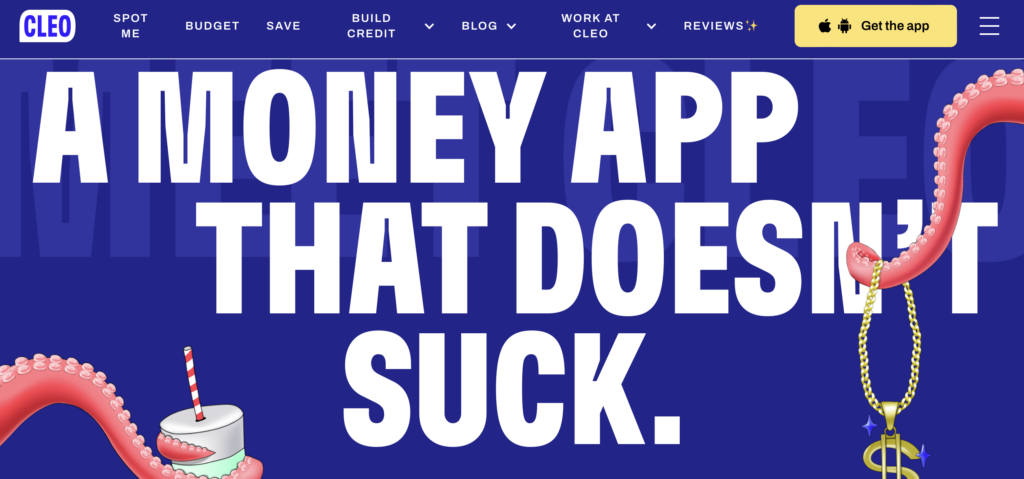 What makes Cleo Stand Out
Cleo AI Ltd. brands itself as the money app with a snarky personality. They are so committed to this idea that they once referred to Cleo as "the money management app with a sense of humor and a zero tolerance for bullsh*t," in an official press release.
Here's the truth: Cleo's AI will sometimes use pet names when it addresses you directly. It will sometimes swear (though, hilariously, it still censors itself with asterisks). Most of the time, though? It's a regular chatbot. The huge personality feels less like the main course and more like a garnish.
Free Service
Base-level Cleo is, well, basic. The free account tells you where you spent your money and when. It tells you how much your last deposit was. Cleo will even tell you how much you are living within or outside of your means. Free users have access to Cleo's knowledge base and blog and basic budgeting features. However, you'd bet better financial services and tools from a free budgeting app (like Mint or Goodbudget)
Cleo+
Cleo+ is the cheaper of Cleo's paid levels. It costs $5.99 per month and gives you access to cash advances of up to $100 if you have a high enough Cleo score.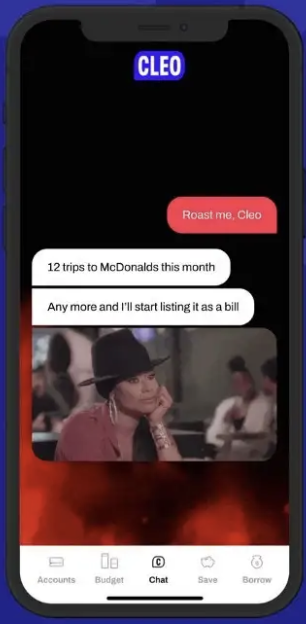 Cleo scores range from 1-10,000. Your score is determined by how many "badges" you have. You get badges by completing tasks like turning on app notifications, creating a Cleo Wallet and even asking Cleo to "roast" you.
Roasting is where you ask Cleo to be mean (or realistic, depending on what you need to hear) to you about your savings and spending habits.
According to Cleo's blog, roasting came about by accident when it's AI accidentally created this one-liner after the algorhithm failed to exclude users with no saving:
Congrats you've saved £0! Double that and you could save £0 by next month!
Cleo then sent this message to everyone who had ever signed up for autosave. And customers loved it, and it racked up many retweets. And so roast mode was born and now Cleo will mock your spending patterns.

Cleo Builder
Cleo Builder is the more expensive of Cleo's paid levels. It costs $14.99 per month. It gives you everything you get at the Base and Plus levels as well as access to cash back from certain merchants, a credit-building credit card to help you boost your credit score and "VIP" support, which allows you to jump ahead of other people in the queue when you need help with something.
The credit-builder card is a secured credit card, which works more like a debit card. The amount you have available to spend is the same as the amount you deposit into that account.
Cash Advances of up to $100
Cleo offers Cleo+ and Cleo Builder members the ability to get interest-free payday advances up to $100, depending on their Cleo Score. From there, the details get vague. Cleo doesn't offer instant transfers, so these small loans are unlikely to protect you from overdrafts (or overdraft fees). Instead, the funds can take multiple days to arrive. Users can take a few weeks to pay back their advances and can ask for more time if they need it. Repayment timetables are somewhat unclear.
Cleo Score
Here's something interesting. When you type "Cleo Score" into the app's chat feature, Cleo says that the Cleo Score is how it "used" to score your financial situation, and that it doesn't use that score anymore. It then goes on to suggest that users look for any challenges or badges that they need to complete to increase their eligibility/advance amount. So, there aren't any scores, but you still need to do the things that Cleo used to give you a score? How your creditworthiness is assessed is a little blurry.
No Physical Branches
Cleo isn't a bank or even backed by a bank, so there are no physical branches. There are no other physical locations that you can visit if you need help with your app. If you need help with actual banking, you'll need to use a different app.
Pros and Cons of Cleo
Pros
There are plenty of reasons to use Cleo.
Easy(ish) to use
The conversational programming of the AI can make using the app more fun
If you're new to money management, Cleo provides a great introduction to it
Extensive customer support
No credit checks
Cons
There are also plenty of reasons not to use Cleo.
Paid plans are expensive
Cleo features are somewhat basic
Cash advance is small
No investment advice or options
No actual savings accounts
Not backed by federally insured banks
Vague terms of service
Does Cleo Use Plaid?
Yes, Cleo uses Plaid, an API provider. This matters because not every bank supports Plaid, so be sure to confirm it will work before you sign up. If you don't see your bank on this list, Cleo can't support a connection just yet.
Cleo also offers the following disclaimer:
Please note that all banks supported by Plaid can be connected to Cleo but not all banks are compatible with the Salary Advance feature. If you want to know if your bank is compatible with the Salary Advance feature, please reach out to the team!
READ MORE: Cash advance apps that don't use Plaid
Does Cleo Offer Cashback?
Yes! Cleo does have a cashback offer for its Plus and Builder members. The program is called "Daily Cash," which works more like you'd find with apps like Drop or Ibotta. The app has specific offers. When you choose and complete one of the offers, money is sent to your Cleo Wallet. Cleo also sometimes pays cash when you complete specific challenges.
The Cleo App
Cleo is available as both an iOS and an Android app. As of this writing, Cleo is ranked #71 in Finance in the Apple App store. To date, 77,000 users have rated the iOS app and it currently has a 4.6-star rating. Most of the complaints involve speed and mandatory waiting periods. Here's a sample app review: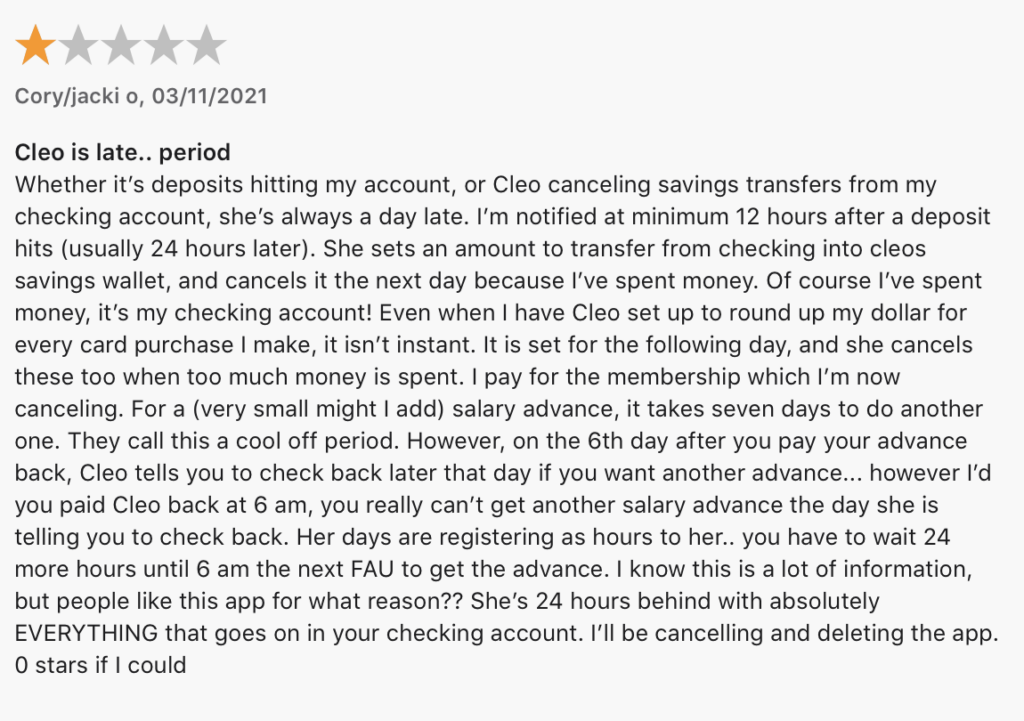 Over in the Google Play store, Cleo boasts more than a million downloads. To date, more than 44,000 users have rated the app and it has an average rating of four stars.
Here is an example of a highly-upvoted review:

Is Cleo Trustworthy?
Cleo uses third-party services to connect the app to your bank accounts. This way, it never has to store your login or other personal information on its own servers. If the app gets hacked, you won't have to worry about your banking info being compromised.
Moreover, the information in your Cleo account is "read-only." That means that the app has no access to any of your bank account's functions. It can only see your transaction history. It cannot affect that history in any way.
Cleo AI Ltd. is also making sure to comply with both UK and U.S. federal data protection regulations. It offers a public facing Privacy Policy that details how it complies.
What are Customers Saying about Cleo?
Cleo is currently graded C+ by the Better Business Bureau. Its BBB user rating is 1 star. However, it only has a couple of reviews and a couple of dozen complaints. Most of the complaints seem to be similar to those in the app stores, focusing on not receiving advances in a timely manner and users who are worried about being charged for advances that never came through.

The company has a 91% response rating, so it looks like they do work to resolve issues. Paying $10 in fees to borrow $20 is a lot. If you only need one quick cash advance, you're better off checking out some other top cash advance options to try to find one with lower fees. Cleo is only a deal for users who also take advantage of its other features.
Over at TrustPilot, Cleo has been reviewed 3,238 times (as of this writing) and has a 4.4-star rating. Their complaint response rate is lower here than at the BBB. On TrustPilot, Cleo has only responded to 22% of the complaints submitted.

The Bottom Line
Cleo can be a really fun app. The conversational approach taken by the AI makes dealing with the chatbot easier to deal with than it is on other apps. Of course, if chatbots aren't your thing, this will not be an app you enjoy. Outside of that, the money management/tracking platform is solid and is a good option if you're new to personal financial management/planning.
FAQs
Are Apps Like Cleo Better than Payday Loans?
They almost always are, but in this particular instance it depends on how much Cleo allows you to borrow and how quickly you need the money. If you're only authorized to borrow $20 from Cleo and you're paying $10 in fees, that's no bargain. In that case you're better off exploring other cash advance apps that may better suit your needs.
What is a Cash Advance App?
A cash advance app connects to your bank account and allows you to take out small dollar loans. The amount of those loans is determined by your banking history, not your credit profile.
Is Cleo Secure?
According to their Privacy Policy, the app is secure. Cleo says it uses bank-level security practices and encryption. Cleo is a read-only service. This means that no one can ever move money into or out of your account.
Cleo says your transaction history is encrypted and that your credentials are not stored on its servers.