Payday loans are never a good option. Instead of falling victim to predatory lenders when you need quick funding, consider opting for a cash app like Albert.
But is Albert worth it? We signed up to test it out. Here's our review.
Albert: What You Need to Know
While Albert provides banking and financial services like cash advances, Albert is not a bank. Sutton Bank, a member of the FDIC, backs banking services. Albert's primary focus is on financial education.
According to Albert's website, when the company's founders decided to work together, they aimed to "create a business that would remove the mystery and confusion from day-to-day financial decisions." Instead of relying solely on algorithms and AI to help users figure out their money, Albert employs a large team of human experts to help users navigate their day-to-day finances (and long-term goals).
Albert at a Glance
| | |
| --- | --- |
| Physical locations | None |
| How to get started | Download the app and open an Albert account |
| Monthly service fee | Free for basic users, sliding scale for users who opt-in to the Genius plan. |
| In-network ATM fee | None for Genius plan members. $2.50 for non-Genius members |
| Out-of-network ATM fee | $2.50 regardless of plan |
| Overdraft fee | None |
| How to deposit | Direct deposit from an employer or an ACH transfer from another bank or financial institution (like PayPal, etc.) |
| How to withdraw | Transfer money via the ACH system to another account or to a merchant. Alternatively, you can use your Albert Card but there is a $3 fee every time you do this. |
| Notable features | "Albert Instant" offers cash advances up to $250 with no interest or fees. You only pay an optional tip. |
| Sign-up bonus | None |
Albert offers Basic and Genius level services. The basic level is free. It offers access to bank account services (backed up by Sutton Bank, member FDIC), budgeting tips, and the Albert knowledge base. You can also qualify for small cash advances at the basic service level.
However, you will have to pay for Genius services if you want that personal touch. Genius-level service offers users cash back when they use their Albert accounts to pay for stuff. Savings accounts earn annual interest at a 0.25% rate. Albert's "magic tools" monitor your money so that you know where every penny is going and why it is going there. And, of course, you get access to the Albert Genius team.
When you sign up for Albert, they will give you $10 to kickstart your account.
Here's where you must pay close attention: Albert lets you pay for Genius on a sliding scale. You get to decide what your monthly fee should be. Once your trial period is up, however, Albert defaults to annual payments. So, if you've agreed to pay $6 per month, you could get hit with a $72 charge. If you want to be charged on a monthly basis, you'll have to call or email the company to make that switch. If you request to pay month-to-month, they will remove the $10 they gave you to start, though.
Here's where you need to pay closer attention: the card you get with Albert is not a typical ATM card. Instead, it is actually a pre-paid card. This means that they can charge you for every purchase you make directly with that card. In Albert's case, that fee is $3, which can add up quickly, especially if you don't qualify for a traditional credit card and you need the card for small transactions, like vending machine purchases or other cashless transactions.
What Makes Albert Stand Out
Albert was one of the first cash advance fintech apps. Age, however, is not the only factor sets it apart from its competition.
'Genius' Gives You Access to Human Financial Experts
The Genius Team is what gives Albert its edge in the fintech world. While most fintech relies on algorithms and AI, Albert puts its users in touch with actual human experts. Typically, hiring a financial manager is very expensive. Albert gives you that access on a sliding scale that lets you pay what you want—as long as what you want is at least six bucks.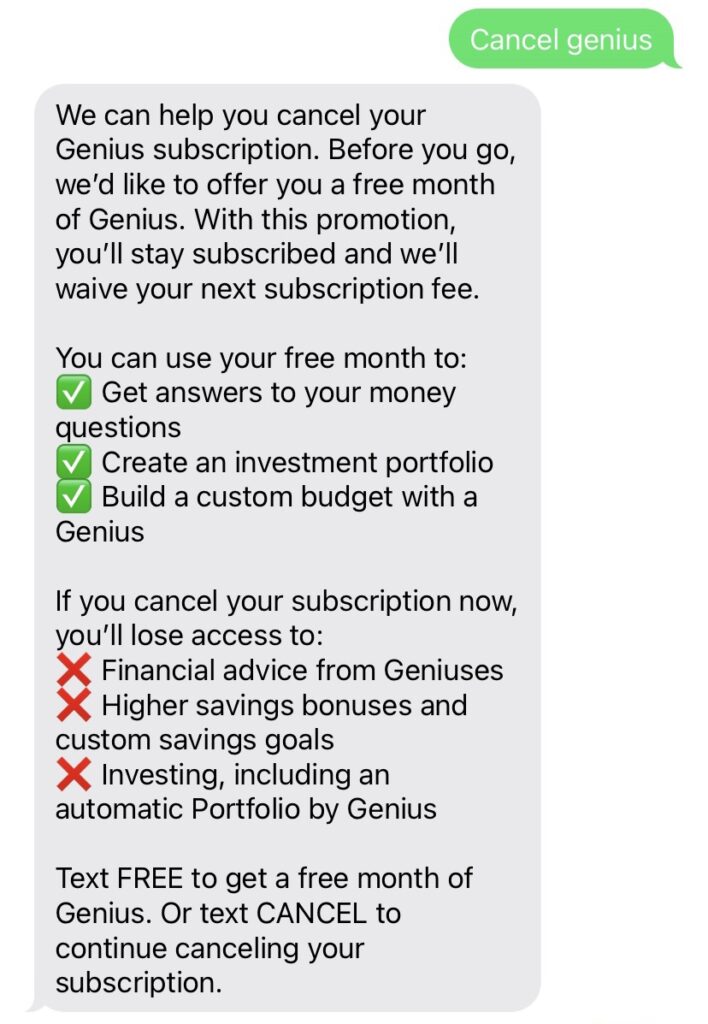 These actual humans will look at your financial situation and help guide your spending and savings decisions based on your actual situation — not just the numbers in your accounts.
Trying to cancel Genius can be an effort. They offered an extra free month of service to try to prevent cancellation. After that, you have to remember to go back and cancel it again.
Less Danger of Overdrafts
While Albert provides cash and savings accounts, your cash account is less like a checking account and more like a pre-paid gift card balance. This means that they don't charge overdraft fees.
The catch is that, if you link your Albert accounts to your existing checking accounts (for backup funding), you can still get charged an overdraft fee by your bank if that account gets over drafted.
Cash Advances of up to $250
Albert bases your cash advance eligibility on the bank account you connect to the app. That bank account must meet the following criteria:
Open for at least sixty days
Must have a positive balance. Account cannot be empty or in the red
Income must have been consistent for at least two months
Income must have come from the same employer for those two months
Your account still has a positive balance 24 hours after receiving your most recent paycheck
The account you link to Albert also needs to be an actual bank account with a linked debit card. A pre-paid card account (like Netspend) isn't eligible or compatible with Albert.
Albert doesn't charge interest on the advance. Instead, it will ask you to leave a tip. Remember that the tip is optional, and don't pay too much attention to the "suggested" tip amount. A tip of $2.50 to borrow $100 for a few weeks would equal an APR of roughly 30%, comparable to what a credit card would charge for a cash advance. Pay what is fair, but don't overtip.
These criteria mean that if your income is not consistent — say, you're a freelance worker who gets paid on an erratic schedule, or you get paid in small amounts from multiple employers — this is not the service you want to choose if you're planning to use the cash advance feature or collect the sign-up bonus. The good news is that there are plenty of other options for small cash advances. Some of them don't even require Plaid.
No Physical Branches
Remember: Albert is not an actual bank or credit union. There are no physical branches that you can visit. Albert is a financial advice app that provides access to a "cash" account, savings account, and investing tools. If you need more than that — or just want an account where you don't have to pay $3 every time you buy something with your debit card, you'll be better off using something more mainstream.
Pros and Cons of Albert
Like all apps, Albert has benefits and drawbacks.
Pros
You can begin investing with just a dollar
Access to direct-deposit paychecks two days early
Cash advances up to $250 if you qualify
Can automate your investing — on weekly, monthly, or semi-monthly schedules.
You can also work on your investment portfolio whenever you want.
You can talk with actual experts about financial topics and get advice/guidance
Cons
Access to those actual experts isn't free. You have to pay a monthly fee
That fee can be deducted annually if you don't contact the company to switch to monthly payments before your trial period is up
It isn't fast: It took six weeks until the first direct deposit was routed to the account, so it could take months before you're eligible for a cash advance
Investors only get individual brokerage accounts, not IRAs or joint accounts
Investing is only done in stocks and ETFs
Every purchase you make with your Albert ATM card can be subject to a $3 fee
It's not an actual bank (but backed by one)
You have to agree to open up an account and give the app your bank information before you can use the app.
Does Albert Offer Cash Back?
Yes, but it doesn't work the way other cash-back programs do. Instead of a general category for cash back, Albert only offers the benefit via one merchant at a time. And it is only available to members who pay for the Genius level membership plan.
You should also remember that using your ATM card subjects you to a $3 fee (per purchase). Make sure whatever cash-back option you choose will offset those fees!
The Albert App
The Albert App has a 4.6-star rating in the Apple iOS app store (with over 128K reviews). The biggest complaints seem to involve customer service issues and confusion over payment for the Genius service. In general, most customers seem to be satisfied.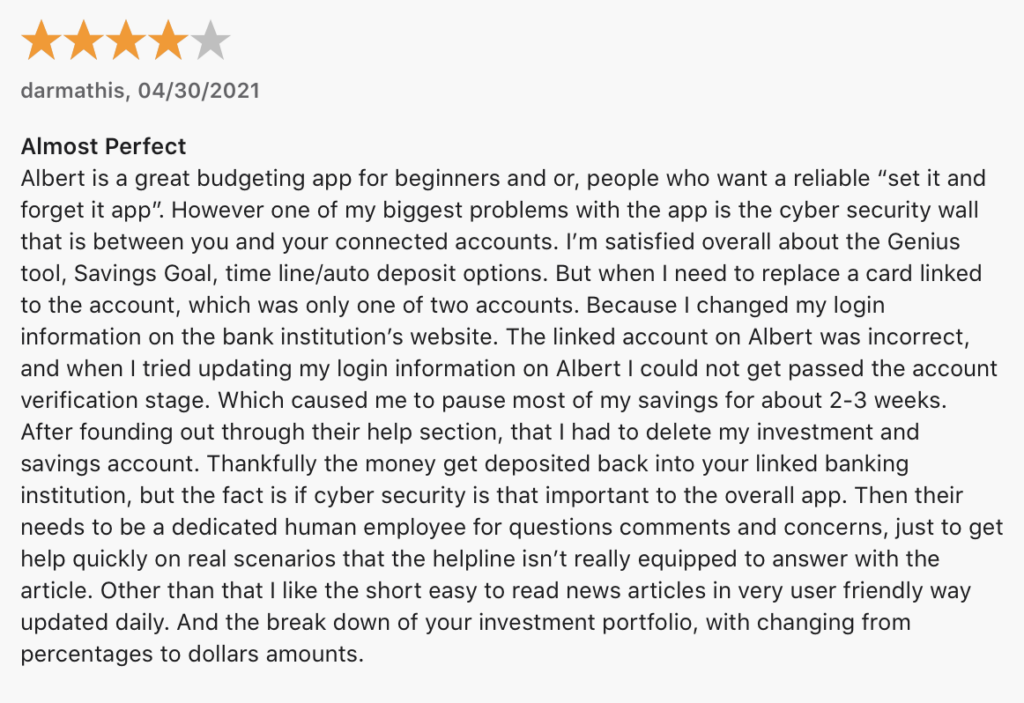 Over at the Google Play store, Albert doesn't fare quite as well. Android users give the app 3.9 stars (with more than 45K reviews). There appears to be quite a bit of confusion over the option to pay "what you think is fair" for the Genius service.

Is Albert Trustworthy?
Albert uses SSL security, the same that most sites use. They add an extra layer of security by not storing any of your banking information. Instead, they use the Plaid platform to connect the app and your bank accounts. Plaid encrypts your information as it is sent between your bank and the app.
Another type of security Albert offers is investment security. Albert insures your investments with the Securities Investor Protection Corporation (SIPC). It's sort of like the FDIC, but for investing. If your broker/dealer steers you the wrong way or makes an error with your investment, you're protected up to $500K, $250K of which can be cash. Of course, if the market takes a turn, any funds you lose won't be protected.
What Do Customers Say About Albert?
Though the Better Business Bureau hasn't yet accredited Albert, the company currently has a B rating with them. That B rating is accompanied by a 1.1-star rating.
This user unexpectedly got hit with the annual Genius charge.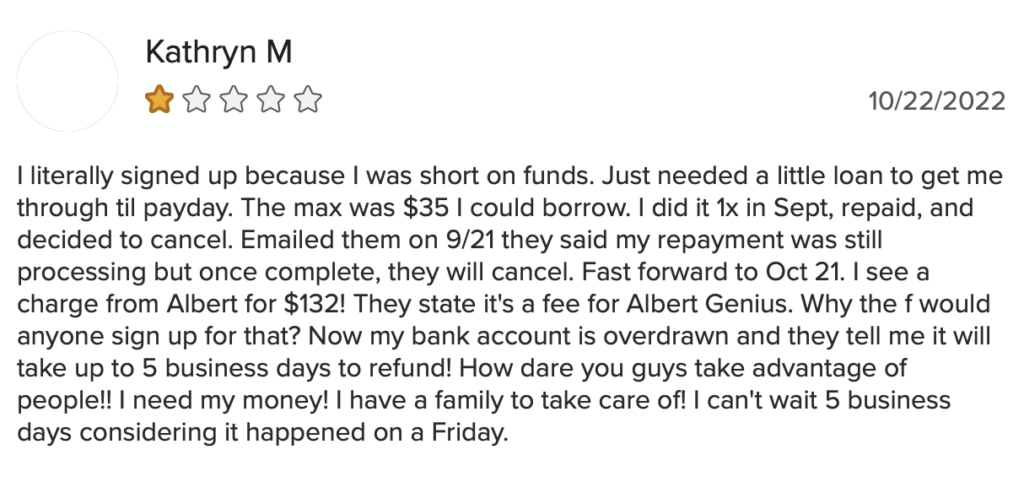 Don't forget that if you don't want to be charged for Genius in a lump sum for a full year, you have to contact Albert and have your account reset to charge you on a monthly basis.
Albert doesn't rate much better on TrustPilot. Their profile there hasn't been officially claimed but is currently earning only 1.6 stars.
Once again, this person was hit with the annual charge for the Genius service:

Our Albert Experience
When signing up, you'll have to enter quite a bit of personal information, including your banking information. Albert promises to keep your data secure, and there doesn't seem to be reason for concern. However, please read all of the fine print. Many of the negative reviews stem from customers who think the Genius service is mandatory. It is not. You do not have to pay. If you don't want the free trial, you can decline it. You can choose the monthly rate you're willing to pay if you do want the service, but charging an annual fee in a lump sum clearly seems like it could cause hardship for anyone who signs up just for the opportunity to borrow $100 before payday.
The Bottom Line
There are a lot of cash-advance apps to choose from. Should you choose Albert? Ultimately it's up to you.
If you're simply looking for a quick cash advance, this is probably not the app for you. You will have to establish an account and fund it with multiple deposits before you will be eligible for an advance. If you simply need a debit card to pay for small purchases when you don't have cash, the $3 per transaction fee means you can probably find a better deal elsewhere.
But if you're simply looking for a reliable banking service that helps you save money and provides access to financial advisers to help you invest even small amounts of money in stocks and ETFs, this is probably one of your best options. Just be aware of that pesky annual Genius payment, and make sure you request a monthly charge if you can't afford to pay the entire year's fee outright.
FAQs
Are Apps Like Albert Better than Payday Loans?
Yes! But you have to be careful. Payday loans are notorious for their high fees and interest. Because Albert offers small loans with no interest, it can be a better way to borrow. When you request a cash advance from Albert, you'll be asked to leave a tip. The "suggested" amount adds up to an APR of about 60%, which is higher than a credit card cash advance. Make sure you pay attention to how much you tip. You can use an APR calculator to figure out a fair amount but aim for no more than 30% APR (for context, a 30% APR on a loan of $100 for four weeks is $2.50).
What is a Cash Advance App?
A cash advance app is an app that uses your banking activity to decide whether or not to offer you a small, short-term loan. 
Is Albert Secure?
It can be nerve-wracking to hand over your banking information to a website with so many negative reviews. However, Albert seems to have a good set of security protocols in place. Most of Albert's negative reviews seem to be associated with Genius fees or questionable customer service.