How COVID-19 Changed the Way We Work: 2023 Work From Home Statistics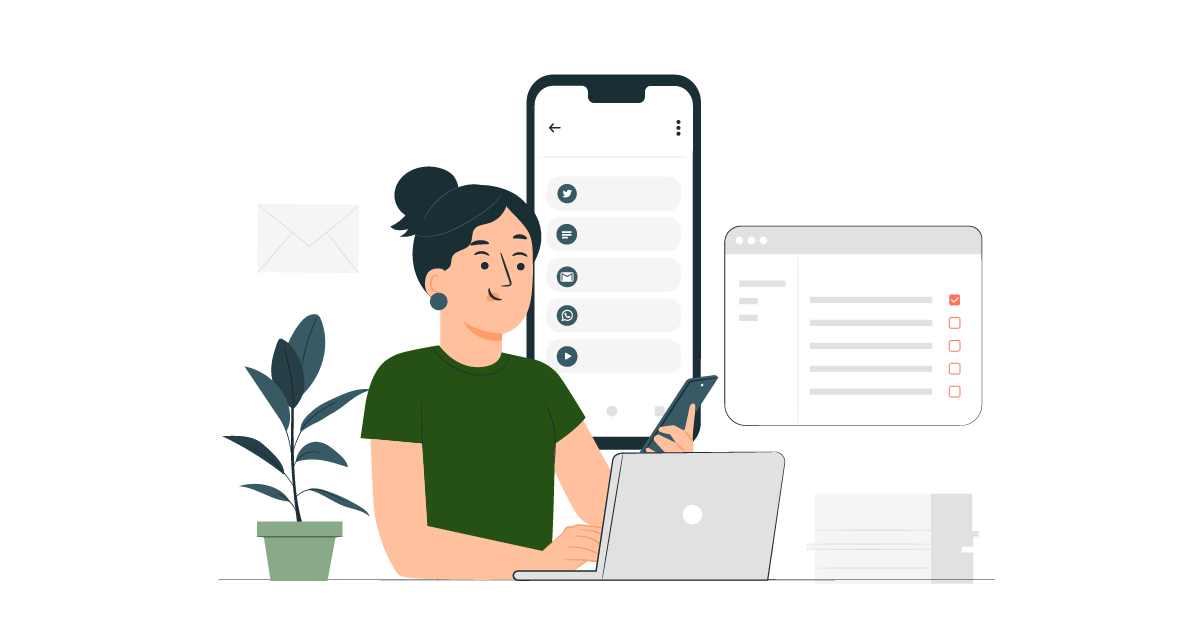 Add a header to begin generating the table of contents
Working from home is no longer unusual for many industries worldwide. As the pandemic evolved, so did the way we work. While working from home used to be a perk that only some companies offered, it has now become the norm and most employees say they prefer it.
To better understand this trend, we will have to examine the latest work-from-home statistics.
Telecommuting, or working from home, is not all that new. According to a survey by the U.S. Bureau of Labor Statistics (BLS), before COVID-19, around 8% of all employees worked from home at least once a week. However, just 2.5% of respondents in the 2017–18 study reported working from home full-time.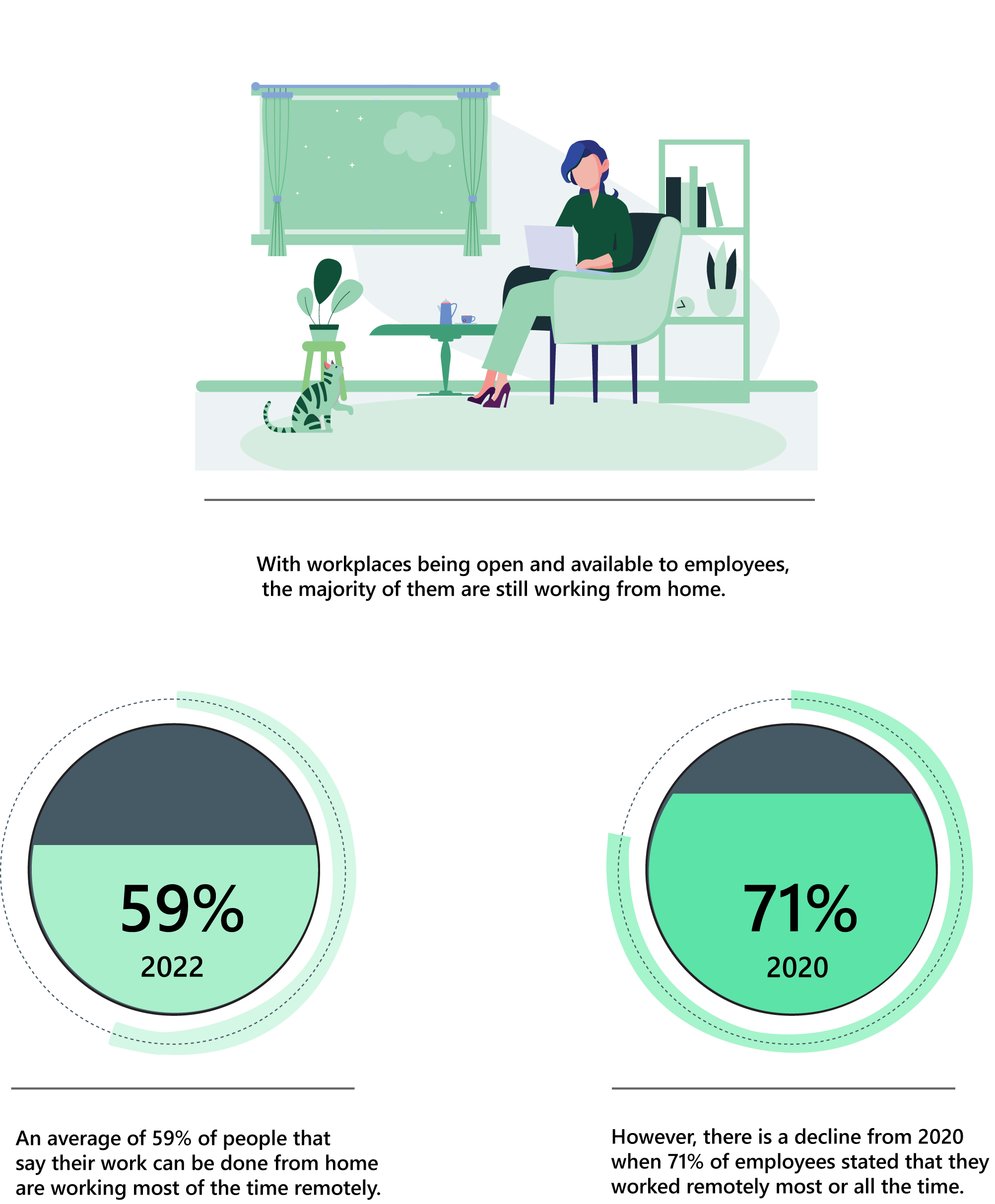 More than half of American workforce are working remotely
58% of the American workforce have the opportunity to work remotely. More than half are doing so at least part time. On average, Americans are working remotely on three days per week.
Who is working from home?
The difference in teleworking across educational levels continues. Due to COVID-19, nearly one in three employees with a bachelor's degree or higher still works from home (33.8%), compared to one in twenty employees with a high school diploma or less (4.8%).
Additionally, approximately 67% of higher-income employees work from home. In contrast, only 56% of middle-income and 53% of lower-income employees can work remotely, according to BLS.
Industries with the most and least remote working availability
Work-from-home availability varies by industry and roles. Currently, most industries support remote working flexibility, while the majority of digital innovators demand it. Computer, business, architecture, arts, and legal industries top the list with the most remote work flexibility.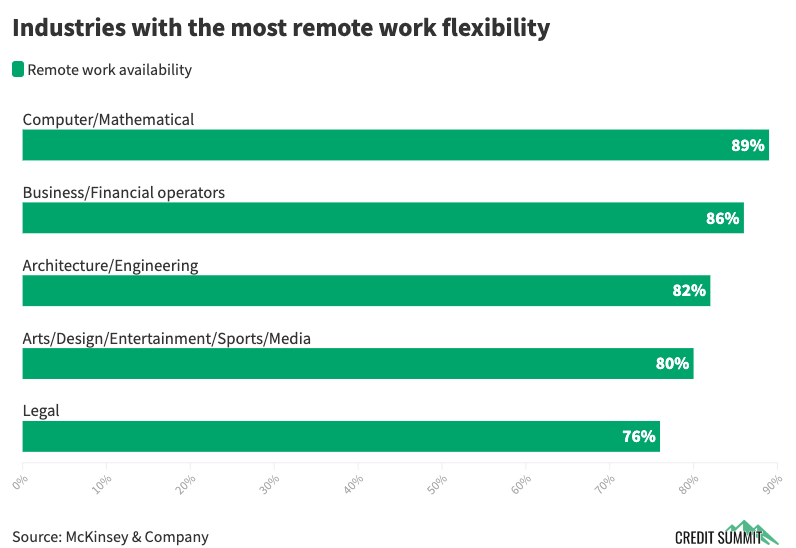 Protective services, production, food preparation, transportation, and farming offer the least remote work flexibility.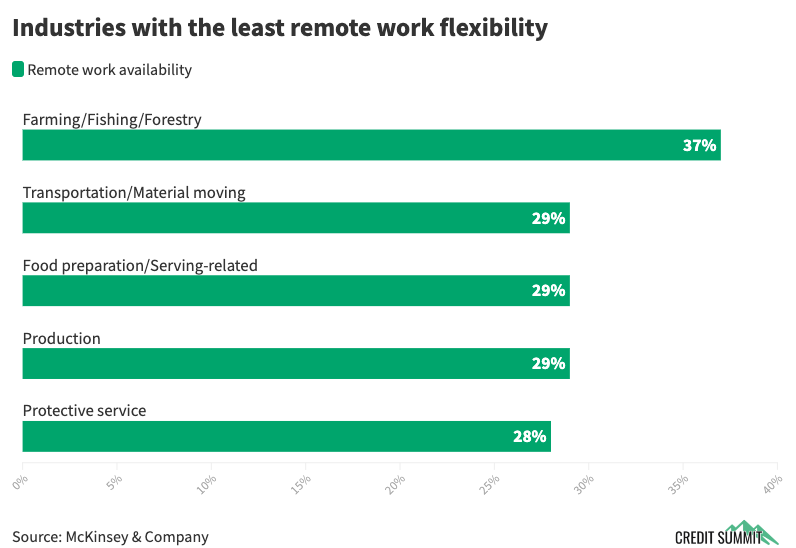 Reasons why employees choose to work from home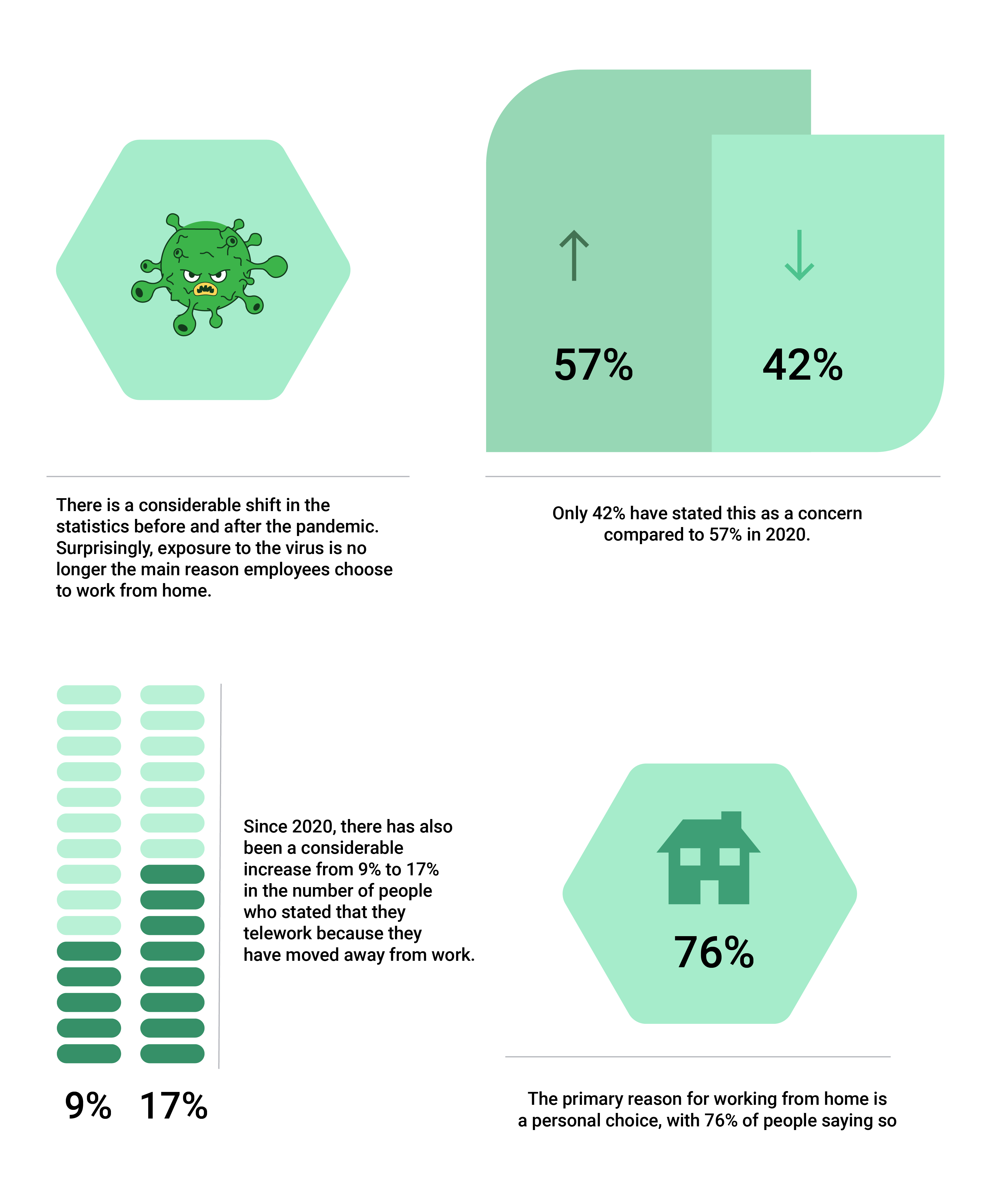 Personal preference is one of the main driving forces behind choosing to work from home
Nowadays, working from home for most employees has become a preference rather than a necessity. Data shows that 64% of employees worked from home during the pandemic because their workplace was closed, while 36% said they chose to work from home.
In 2022, the opposite is happening, with 61% choosing not to go into their workplace, while 38% work from home because their workplace is closed or unavailable to them.
Working from home has made a shift in productivity
There are reasons to be optimistic about the long-term consequences of working from home, including the prospect of increased productivity.
Overall, the latest statistics indicates that 62% of workers feel more productive when working remotely.
Life balance is achieved more easily for those who now work from home
64% of those who are working from home but rarely did before the pandemic believe it is now simpler for them to balance work and family life. And 44% of employees think working from home has made it simpler for them to finish their job and meet deadlines, while just 10% say the opposite.
Employees now have new requirements when considering a job switch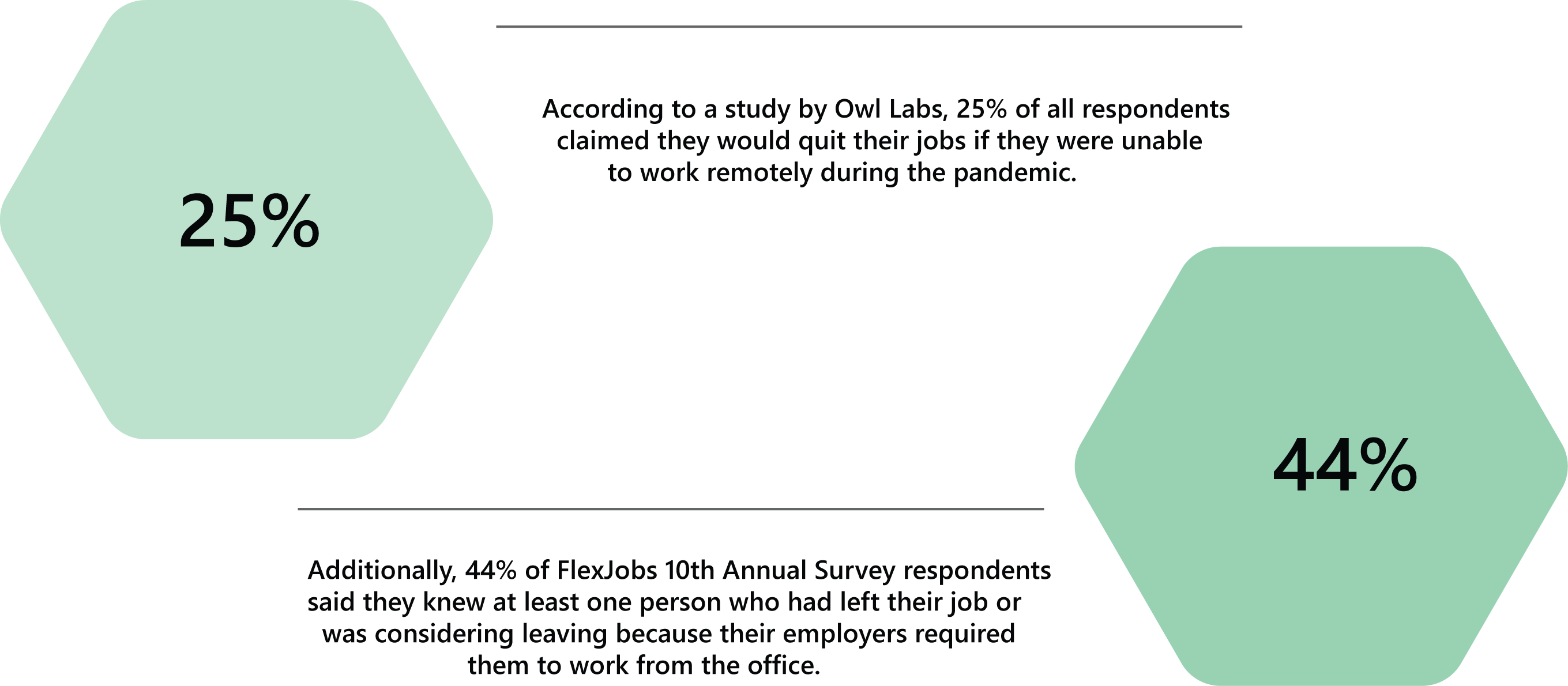 Working remotely has caused some employees to feel less connected to their coworkers
Data from 2020 shows that 65% of employees who have either sometimes or never worked from home before the pandemic say they now feel less connected to their coworkers. In 2022 however, there is a slight decline in this statistic, with only 60% of employees these feelings.
The number of those who would like to continue working from home is relatively large
Data from 2020 shows that 54% of the workforce who claimed that they can do most of their job duties from home indicate that, given the option, they would choose to work from home exclusively or primarily until the coronavirus outbreak is over.
In 2022, however, this statistic almost doubled, with 97% of workers wanting to work remotely, at least some of the time, for the rest of their careers.
Over half of workers would actively seek new employment or quit if forced to return to a traditional office setting.
If the ability to work from home was taken away, two-thirds (66%) of workers would immediately start looking for a job that offered flexibility. Under the same circumstances, 39% would quit.
The main reasons employees choose to work at their workplace
61% of the employees who have returned to the workplace have said that they feel more productive when working from the office, while 16% agreed that this is a minor reason, and 23% said this is not a reason at all. Other reasons include:
Lack of space - 21%
Pressure from their peers - 9%
More opportunities for advancement - 14%
Remote work has a bright future ahead
The number of people working outside the office is projected to increase, and the number of people working remotely was predicted to double by 2021. Looking further ahead, it is anticipated that by 2025, 70% of the workforce will be working remotely.
How to maximize productivity when working from home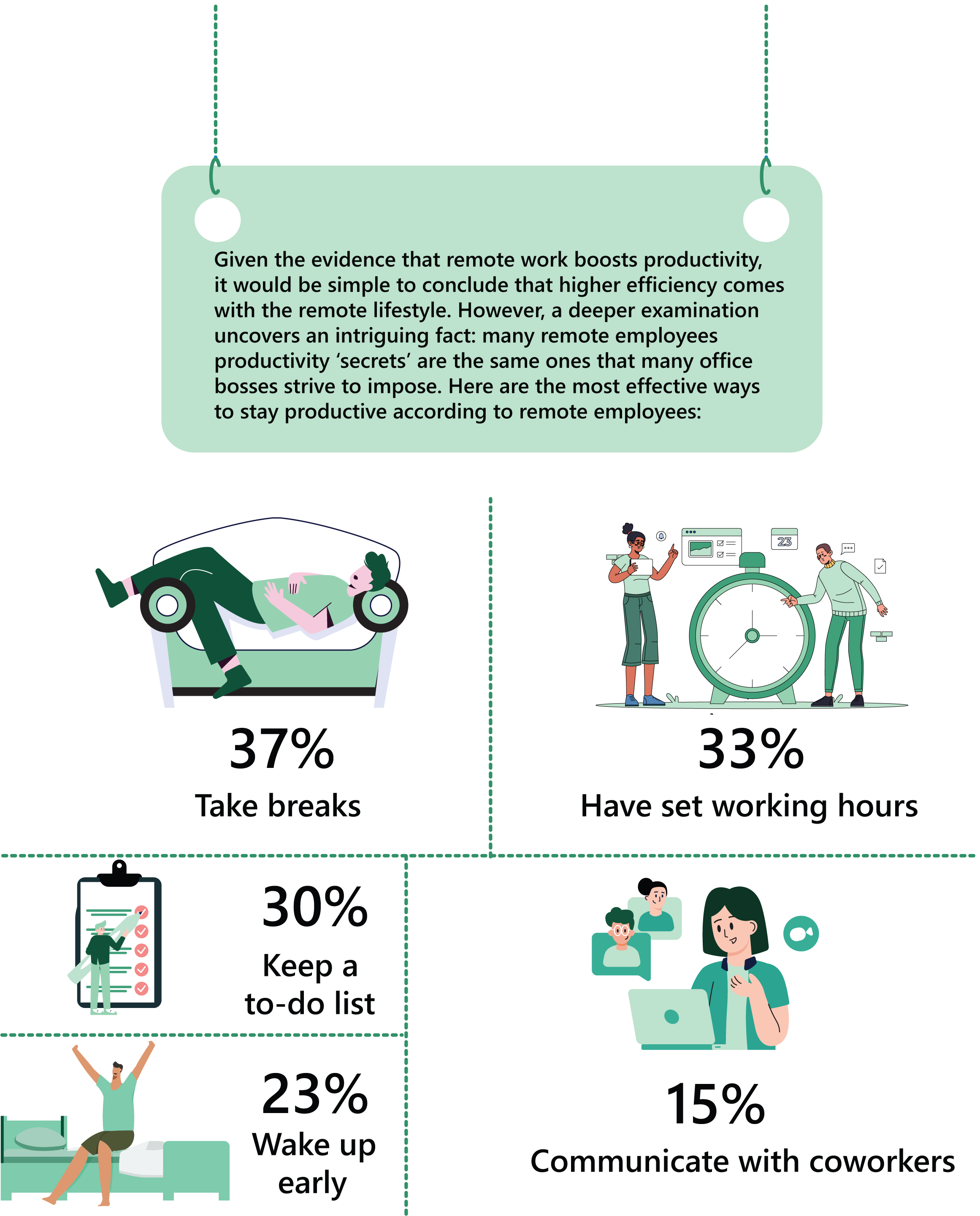 The pandemic-related move to telework has changed certain aspects for those who are new to working from home while mostly leaving others unchanged. According to statistics, most workers who transition to remote work rarely want to return to their workplace, while for the majority of people who have been working from home because of the pandemic, this situation remains the same.
Remote work is expected to become the new norm by many professionals and a preference for many other employees. That's the primary reason why this new trend is likely to play a key role in the future.