DebtHammer's mission focuses on helping people who are overwhelmed by unsecured debts, whether they're payday loans, tribal loans, credit card bills, medical bills or even private student loans.
DebtHammer works with people who have serious debt issues and helps them find a solution. They offer several different tools to help you break out of debt and give your financial situation a reset.
DebtHammer: What You Need to Know
DebtHammer was founded in 2020 to help victims of payday loan debt. This tier of borrowers is often desperate, usually lacks financial knowledge, and is often overlooked by other debt-relief programs, often because they aren't seen as a profitable customer base.
When DebtHammer was founded, its primary focus was to help payday loan borrowers consolidate their debts. Since then, the company has expanded that mission and helps a wide array of borrowers find affordable installment loans or negotiate settlements that will help them escape the high-interest debt trap.
DebtHammer places a high priority on listening to clients and understanding their situations. Many companies offer free initial consultations, but most treat them as sales opportunities. DebtHammer states that they do not pressure customers to use any particular strategy.
After reviewing your situation, the DebtHammer representative will offer you a menu of options. You will decide on the course of action you prefer. These options may include debt consolidation, debt settlement, bankruptcy or others.
DebtHammer at a Glance
Do they offer a free consultation?
Yes
How to get started
Call, email, or use the contact form at debthammer.org
Fees
Fees are variable. DebtHammer fees depend on your state of residence, type of debt, and which program you select
How it works
You will review your finances with DebtHammer's team and they will recommend the plan that they feel works best for your personal financial situation
Who owns DebtHammer?
Jake Hill, Founder & CEO
Mailing address and phone number
10900 Research Blvd. Ste 160C #1060 Austin, TX 78759
Phone: (512) 991-5303
BBB rating
4.6 out of 5
Trustpilot rating
4.8 out of 5
Minimum total debt
$7,500 in unsecured debts or $1,000 in payday loans
Noteworthy features
Education and transparency are staples of the company
What Makes DebtHammer Stand Out
Most debt relief companies specialize in a single debt relief strategy. When you contact them, they have a strong financial incentive to direct you to that option, even if it's not right for you. The "counselor" you talk to could be a salesperson in a thin disguise.
DebtHammer avoids that trip by offering multiple debt relief options and coaching you through the entire consultation.
Here's a look at what's on offer.
Solutions for an Array of Debt Issues
DebtHammer has expanded beyond its initial focus on payday loans and now works with debtors facing many different types of debt problems, including the following:
Credit cards
Personal loans
Medical bills
Debt in collections
Payday loans
Tribal loans
If you have a significant debt burden and don't know how to manage your payments, you can always try a free consultation and see what they have to offer. There's no commitment.
READ MORE: Best debt settlement companies
Debt Consolidation Loans
Many consumers believe they can't get a debt consolidation loan without good credit. This isn't always the case. You may not get the best terms if your credit isn't good, but you may still get an advantageous deal if you carry a high-interest payday loan or credit card debt.
DebtHammer maintains partnerships with lenders specializing in debt consolidation loans for borrowers with impaired credit. Consolidation can simplify your payments and budgeting, plus reduce your interest rate.
READ MORE: Debt settlement vs. debt consolidation
Debt Settlement
Debt settlement can be an effective way to reduce the amount that you owe and get creditors off your back.
Debt settlement can also be a minefield. Many debt settlement companies are scammy or dodgy. If not handled properly, debt settlement can harm your credit and you could face accelerated collection efforts — and even lawsuits.
DebtHammer will even provide access to legal representation if you need it.
DebtHammer works with you to settle your debts for substantially less than what you owe. This will take time, but it can be an effective way to put your debts permanently behind you.
Here's an example of some of how DebtHammer's consolidation and settlement services could help someone who has approximately $30,000 in unsecured debt:
| | | | |
| --- | --- | --- | --- |
| | Debt settlement | Debt consolidation | Making minimum payments |
| Monthly payment: | $408 | $676 | $729 |
| Total repayment: | $18,750 | $40,580 | $72,262 |
| Debt-free in: | 48 months | 60 months | 100+ months |
| Interest rate: | 0% | 21% | 23% (or higher) |
| One-on-one expert help: | Yes | Yes | No |
READ MORE: Is debt settlement the fastest way to get out of debt?
Exemplary Customer Service
Customer service is DebtHammer's leading competitive feature. The company's founder and CEO, Jake Hill, says the team prides itself on offering reliable, professional, non-judgmental help for anyone who calls, no matter how bad their situation is or how they got into it. Customer reviews indicate that they deliver on that promise.
Unique and Unduplicated Blog Content
Getting out of debt and staying out of debt starts with building knowledge. The more you know about personal finance, the less likely you are to fall into the trap of high-interest debt.
DebtHammer offers an extensive library of clear, concise, relevant articles designed to help you understand the pros and cons of different debt relief solutions and keep yourself out of debt down the line.
Bankruptcy Options
Nobody wants to file for bankruptcy, but it may be the only way out if you genuinely have no way to repay your debts. DebtHammer's counselors will give you an honest, non-judgmental opinion on whether bankruptcy is right for you.
If you choose bankruptcy, you will need professional legal assistance. Still, DebtHammer can help you assess your alternatives so that you are well-equipped to make the best decision for your own financial situation.
Timeshare Settlement
Timeshare companies use high-pressure sales techniques to pull people into perpetual contracts that require high annual fees for properties they may not use. Many timeshare exit companies are little more than scams, taking money and delivering nothing.
DebtHammer works with partners that can help customers close out timeshare contracts legally and without excessive fees.
READ MORE: Debt settlement fees
How to Sign Up
You can call (512) 991-5303 or click the "Get Started" button on the DebtHammer website.
To make the most of your free consultation, you will need a complete list of your debts, their interest rates and the terms, along with a summary of your income and household expenses.
Take some time to assemble this information and ensure that it's complete. You won't be able to develop an effective strategy to deal with your debts if you don't have a clear handle on your situation.
READ MORE: Is it better to settle a debt or pay in full?
How Does DebtHammer Work?
DebtHammer follows a straightforward process.
You'll start with a free consultation to review your situation.
The DebtHammer representative will explain a list of options for you to consider.
You select the option that you think best suits your situation.
You will receive advice and assistance until you reach your goal and become debt-free.
Fees will vary with the service selected, but all fees are disclosed upfront. Debt settlement fees will typically be between 15% and 27% of the amount settled and will not be charged until settlements are concluded.
DebtHammer offers payday loan solutions in the following states: Alabama, Alaska, Arizona, Arkansas, Delaware, Florida, Hawaii, Idaho, Indiana, Iowa, Kentucky, Louisiana, Maine, Maryland, Massachusetts, Michigan, Mississippi, Missouri, Nebraska, Nevada, New Hampshire, New Jersey, New Mexico, New York, North Carolina, North Dakota, Ohio, Oklahoma, Pennsylvania, Rhode Island, South Dakota, Tennessee, Texas, Utah, Virginia and Wyoming.
If you have more than just payday loan debt, DebtHammer also offers solutions for people with other unsecured debts. Residents of Alabama, Alaska, Arizona, Arkansas, California, Delaware, Florida, Georgia, Illinois, Kansas, Louisiana, Maine, Massachusetts, Michigan, Montana, Nebraska, New Jersey, New York, North Carolina, North Dakota, Ohio, Oklahoma, Rhode Island, South Carolina, Tennessee, Virginia, West Virginia and Wyoming are eligible. Some service options may not be available in all states.
READ MORE: How to choose a debt settlement company
Is DebtHammer a Scam?
The debt relief industry is beset with dodgy players and outright scams. If you're in debt and looking for help, you should learn about debt relief and credit repair scams and be able to spot the warning signs.
DebtHammer is a relatively new company, but in the time it's been operating, it has earned a solid reputation and generally excellent customer reviews. It is not a scam.
Pros and Cons
Every debt relief solution has advantages and disadvantages. Here are some to consider.
Pros
Free initial consultation
Strong customer reviews
Multiple debt relief options
Knowledgeable and caring team
Cons
Not available in all states
No mobile app
If you opt for debt settlement, your credit score may initially drop, and the IRS may consider the forgiven amount taxable income
The cons associated with debt settlement are common to any debt settlement process, whether DIY or through a debt settlement company.
READ MORE: Debt settlement's impact on your credit score
Who Should Consider DebtHammer
No debt relief company is right for everyone. Here are some signs that you might be a good fit with DebtHammer.
Your debts seem overwhelming
You feel like you're never going to pay off your loans
You're making payments on time, but your debts keep growing
Collectors are hounding you night and day
Pro tip: Remember that no debt relief company can work magic. If you want to get out of debt and stay out of debt, it will take time. You probably didn't build up your debt overnight, and you'll need patience and diligence to make it through the debt relief process. Plus, for long-term success after the program is complete, you will need to budget effectively, build an emergency fund, and get your spending under control.
Who Should Not Consider DebtHammer
Here are some signs that DebtHammer is not right for you.
Your debts seem manageable
Your credit is good enough to qualify for a suitable debt consolidation loan on your own
If you plan to take out a major loan soon, like a mortgage or car loan, you will want to avoid debt settlement
You live in a state where DebtHammer does not provide service
READ MORE: Debt settlement's impact on your credit score
Even if you aren't sure if you're a fit with DebtHammer's services, there's nothing to lose from discussing your debt situation with them!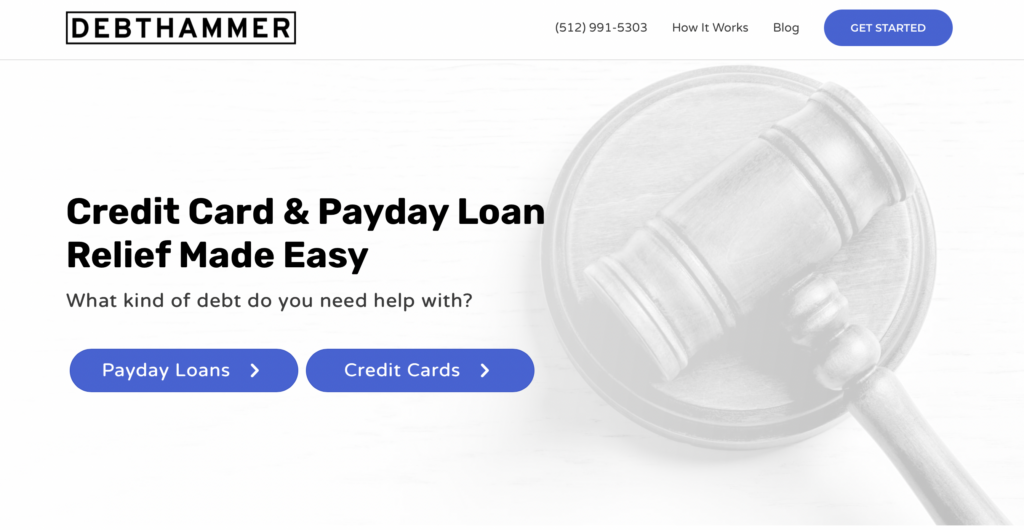 The Website
The DebtHammer website is simple and straightforward. The blog and statistics pages contain educational materials that are free for any site visitor.
There's a brief summary of what the company does and how it does it, a profile of the company and its owner, and a simple contact form if you want to start the process.
As with any debt relief company, you should pay attention to the terms of service and privacy policy. It's always important to stay informed.
Is DebtHammer Trustworthy?
DebtHammer may require bank details and other personal information in order to provide services to you. This information is retained only for as long as necessary to provide the services you request.
Information may be provided to DebtHammer partners as required to perform the services you have agreed to receive.
The privacy policy states that some contact information may be shared with partners "to offer you certain products, services, or promotions." This is often a red flag, but we can find no indication of customers complaining of unreasonable marketing contacts.
Any time you provide personal information to an outside entity, there is some risk of it being compromised. We have found no record or complaint of information provided to DebtHammer being compromised, and the risk appears to be very low.
What are Customers Saying?
Reviewers on the Better Business Bureau (BBB) site give DebtHammer 4.6 of 5 stars from 10 reviews and an A rating. There are no complaints, which is significant because whenever consumers encounter a problem, the BBB is usually where they first turn for help.
Here is a typical review: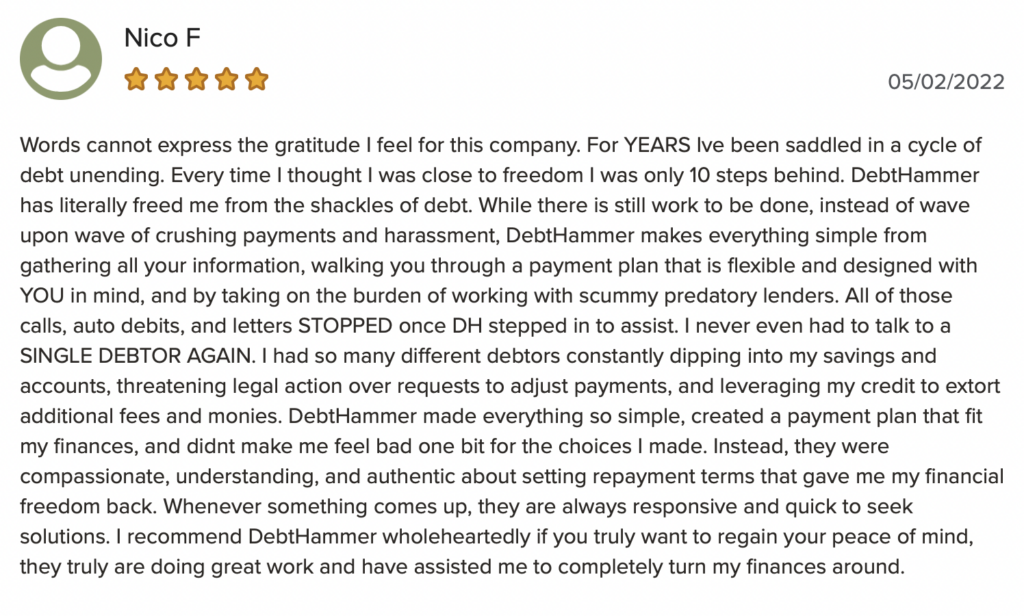 There is a single one-star review, and the company provided an extensive response that explains the situation.
On Trustpilot, DebtHammer gets 4.8 out of 5 stars from 53 reviews, with 98% 5-star reviews and 2% 4-star. Reviewers consistently praise the company for its responsive and highly personalized customer service.

The Bottom Line
High-interest debt can seem inescapable. No matter how much you pay the balance never seems to go down, and the collectors are always breathing down your back.
Many debt relief companies say they can get you out of that trap. Some of them even say they can make it easy, which is usually a sign of a scam. DebtHammer is one company that seems honestly committed to giving you straight answers and realistic solutions. The solutions may not be easy, but they are prepared to work with you through the entire process.
How does DebtHammer Compare to Other Debt Settlement Companies? Before selecting any debt relief company, do your research and look for customer reviews from credible sources!
FAQs
How Can I Contact DebtHammer?
Call (512) 991-5303 or click the "Get Started" button on the DebtHammer website.
Which Types of Debts Will DebtHammer Settle?
DebtHammer specializes in payday loans, tribal loans and credit card debt, but they can work with most unsecured debts, including personal loans, medical debt, and some student debt. They can also help you settle a timeshare contract that you don't want.
How Does DebtHammer Compare to Other Debt Settlement Companies?
DebtHammer offers several different debt relief solutions, including debt settlement. That means they don't have the incentive to direct you to debt settlement even if it isn't the right option for you. In fact, Credit Summit editors ranked DebtHammer the top pick when choosing the best debt relief companies.